Crock Pot Meatball Appetizer
Disclosure: This weeks Progressive Dinners sponsor is Nielsen-Massey Fine Vanillas and Flavorings
Welcome to week 2 of 7 in our Progressive Dinner Blog Hop. Last week I sent out an Progressive Dinner invitation. If you didn't get a chance to see it you can check it out in my Progressive Dinner Invitation post where you can see the beautiful full color magazine our hostess Glenda from Busy at Home created to announce the big event. It will also give you a sneak peek into what you can expect for the upcoming weeks of our Progressive Dinner.
What is a Progressive Dinner?
So what is a Progressive Dinner you might be asking? Well for 7 weeks myself and four other bloggers will each be sharing one course of a holiday dinner menu from appetizers to dessert in a round up style post. 
By the end of the seven weeks each of us will have shared a Main course, 2 side dish recipes, an appetizer, a  dessert recipe and a pot luck or gift from the kitchen recipe.
Below you will find the schedule of the recipes I will be sharing for each week and what giveaway will be available that week. You will find my fellow Blog Hop Bloggers Roundup of Progressive Dinner recipes,  Ziplist  recipe and Rafflecopter giveaway form below at the bottom of each weekly post. 
Be sure to sign up for updates from Flour On My Face so you will know when a new Progressive Dinner post is live and follow Flour On My Face  on Pinterest to see what I've been pinning.
Flour On My Face Progressive Dinner series schedule
Holiday Progressive Dinner Week 2 Recipe Links
Crock-Pot Meatballs
at Flour on My Face
Mom's Famous Bone-In Ham
at The Gunny Sack
Pomegranate Orange Spinach Salad
at Daily Dish Recipes
Sweet Potato Casserole with Pecan Crunch Topping
at Busy-at-Home
Mini Gingerbread Bundt Cakes with Cinnamon Vanilla Bean Whipped Cream
at Adventures in All Things Food
Week 2 Progressive Dinner Recipe Crock Pot Meatball Appetizer
Whenever we have a family dinner I make sure to make something for everyone to nibble on while dinner is cooking. This Crock Pot Meatball Appetizer recipe comes from Amber a friend of the family. Everyone raves about her Crock Pot Meatballs.  She was generous enough to let me share the recipe. I did make a little change though. Amber uses frozen meat balls. The only way I have ever eaten meatballs was to make them the way my mother did and that was from scratch. So for this recipe I made homemade meatballs.
Progressive Dinner: Crock Pot Meatball Appetizer
:
Arlene Mobley - Flour On My Face
Recipe type:
Crock Pot Appetizer
Ingredients
Meatball ingredients
1½ pounds ground beef
½ cup Italian Bread Crumbs
1 egg
1 teaspoon salt
½ teaspoon pepper
½ teaspoon garlic powder
Meatball Sauce Ingredients
1 jar Heinz Chili Sauce
1-32 ounce jar grape jelly
1 envelope Lipton Onion Soup
Directions
Turn the Crockpot on low and add all the Meatball Sauce ingredients. Allow to warm while mixing the meatball ingredients.
In a bowl mix well the first six ingredients in a bowl. Form about 30 small meatballs.
Brown meatballs in a skillet.

Remove meatballs from the skillet with a slotted spoon and drain on paper towels.

Add drained meatballs to the Crock Pot and stir covering all meatballs with the sauce.
Cook on high for 2 hours. Reduce heat and cook for another hour on low. Cook time will depend on the thickness of the meatballs.
Check the center of a meatball for done-ness. Center should be cooked through. The center should not show any pink. Temperature and Crock Pot size should be taken into consideration. If Meatballs are stick pink in center continue to cook
Notes
Can also be made with a bag of frozen meatballs if you are strapped for time.
Progressive Dinner Sponsor and Giveaway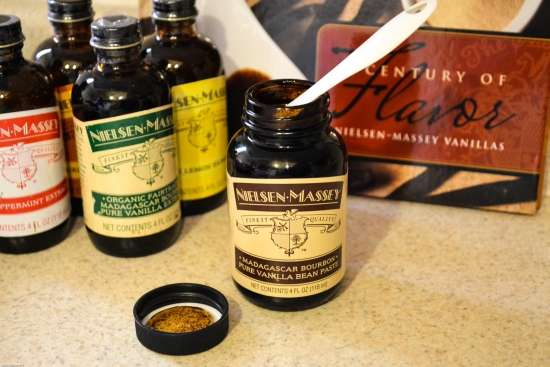 This weeks giveaway and sponsor of our Progressive Dinner Blog Hop is Nielsen-Massey makers of Fine Vanillas and Flavorings. I have had the pleasure and delight of using some Nielsen-Massey flavorings in the past and they are extremely good flavorings and very concentrated. I used the Vanilla Bean Paste in my first Progressive Dinner Vanilla Bean Cheesecake Dessert Recipe and fell in love. The thick Nielsen-Massey Madagascar Bourbon Pure Vanilla Bean Paste  is packed with a  pure vanilla scent and flavor. If you love vanilla like I love vanilla just open a bottle of this stuff and take a whiff. Wow is all I can say!
The Giveaway for this week will be a box of Nielsen-Massey goodies.
a Rafflecopter giveaway