Pepperoni Pizza Bombs
Disclosure: This Pepperoni Pizza Bombs recipe has been sponsored by LunchBox. All opinions are 100% my own.
Looking for something saucy and cheesy to munch on? How about these Pepperoni Pizza Bombs? These Pepperoni Pizza Bombs are the real deal made with real pizza dough.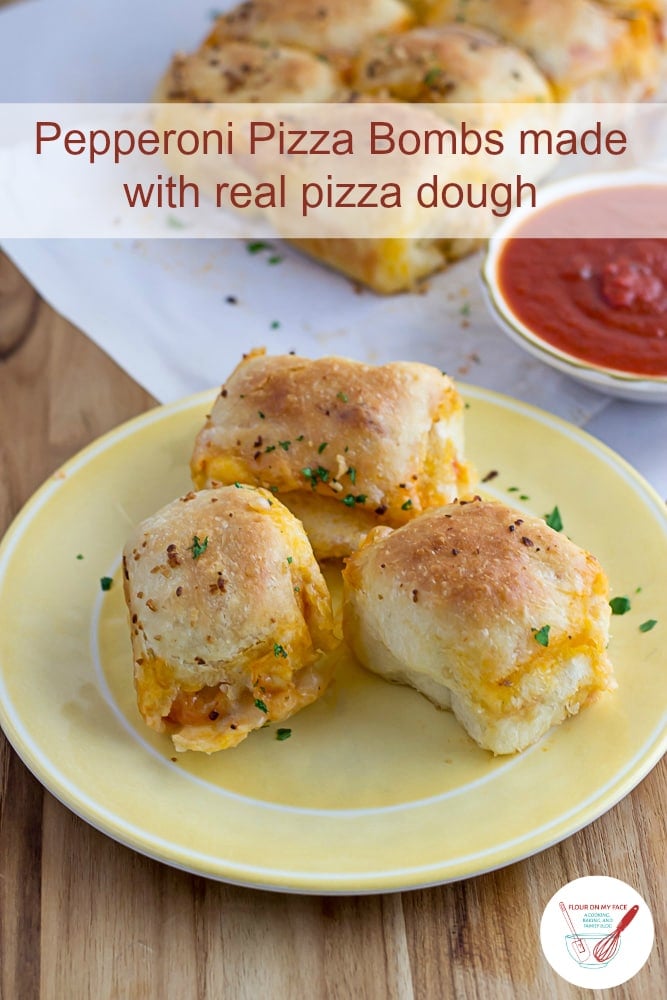 Sunday. In this house,  means two things, game day and awesome food. With a house full of guests, the last thing I want to do is serve something boring and expected. That's why I turn to Ragu to help make my game day appetizers more exciting and delicious. Here's my Pepperoni Pizza Bombs recipe for a full day of football and pizza goodness.
Now you may have seen Pizza Bombs recipes using canned biscuits before. While they taste pretty good and are okay when in a pinch I'm here to show you how easy it can be to make them with homemade pizza dough. All you need is a couple of envelopes of pizza dough mix ot my favorite personal pan pizza dough recipe.
Making Pizza Bombs with real pizza dough tastes so much better. And these Pepperoni Pizza Bombs are going to be the hit of your family.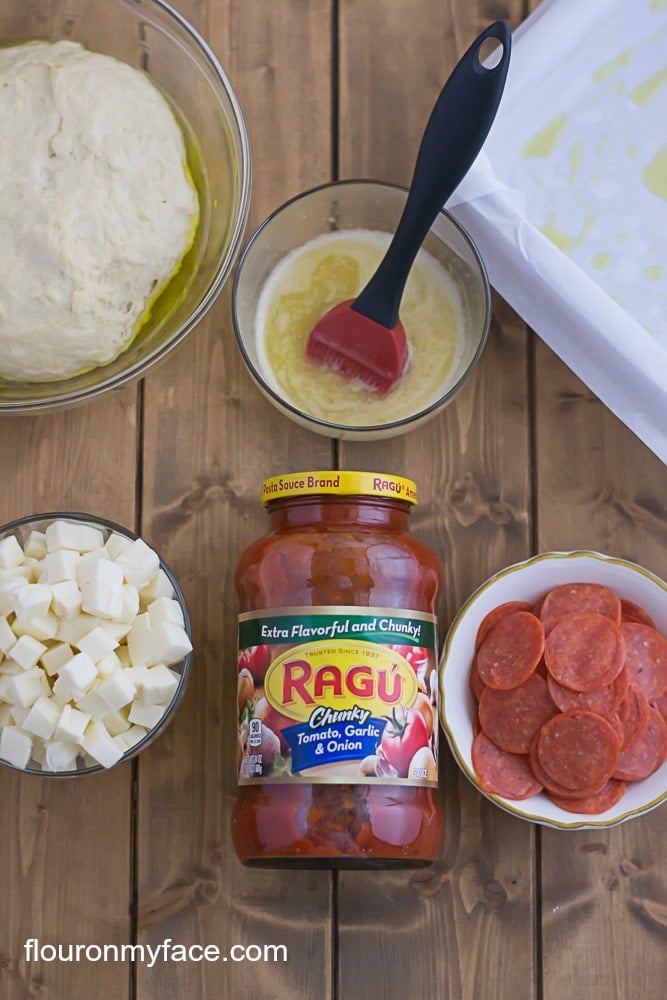 It's so easy to make these Pepperoni Pizza Bombs with a real homemade pizza flavor by using a pizza dough mix and Ragu Chunky Tomato, Garlic & Onion sauce that is faster to make than messing with those canned biscuits.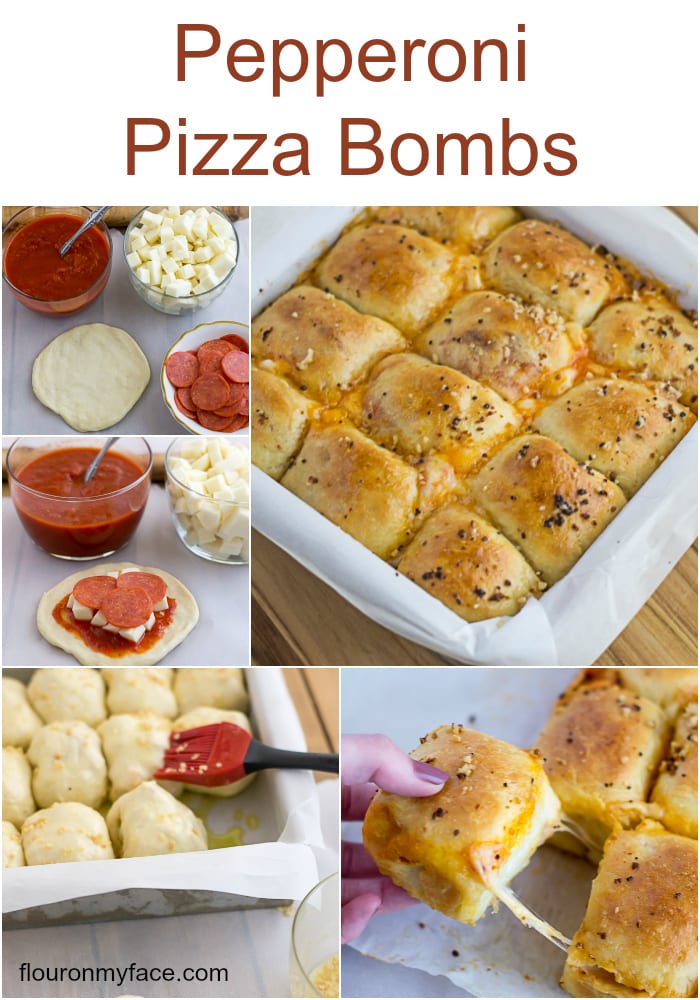 Just mix up the pizza dough. Roll the dough into balls. Flatten the dough and load up with Ragu sauce, mozzarella cheese and pepperonis.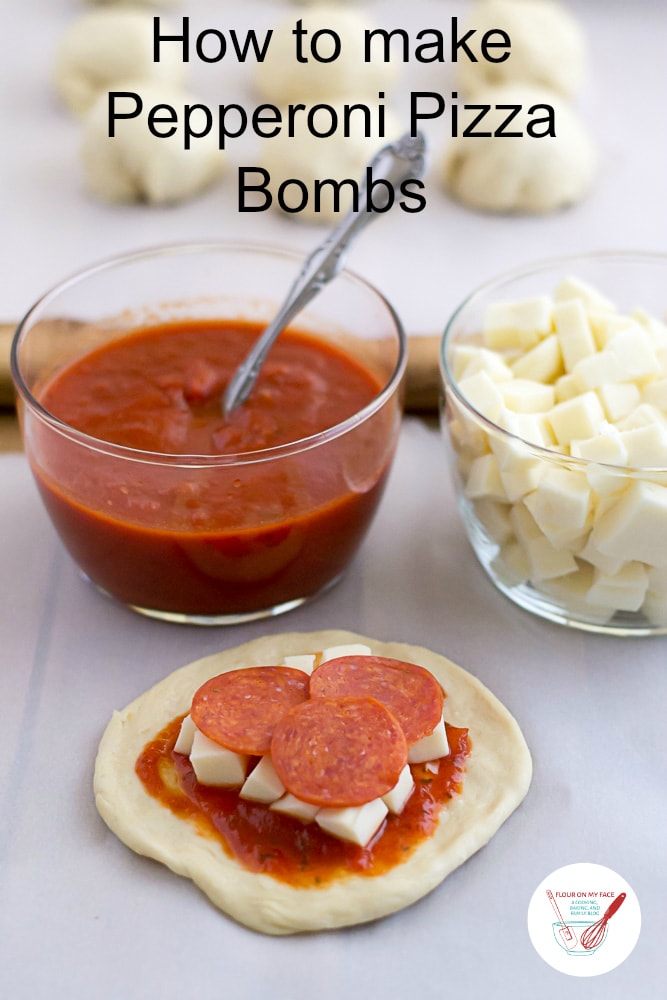 Slather on some garlic butter and bake to a golden brown.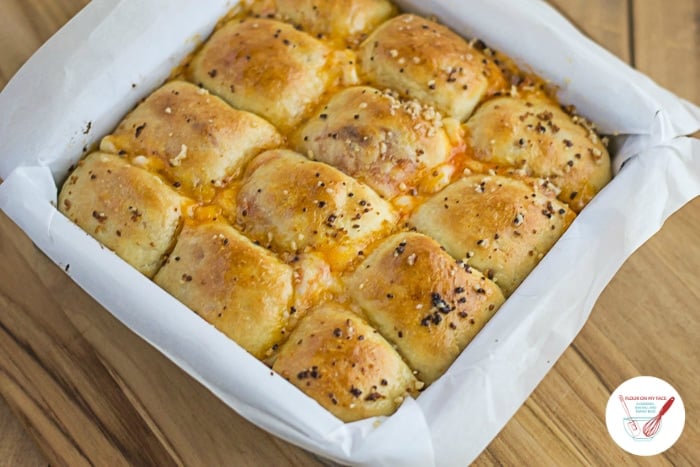 Head out to Safeway today and pick up the ingredients for these homemade Pepperoni Pizza Bombs so you can bake them up for the big game!
How to make this Pepperoni Pizza Bombs recipe
Ingredients
2 envelopes pizza dough mix or a double batch of my personal pizza dough recipe
1 cup warm water
1 cup pizza sauce sauce
1 – 3.5 package pepperoni slices
3/4 pound whole milk mozzarella cheese diced
2 teaspoons minced garlic
4 tablespoons melted butter
1 tablespoon olive oil
 Directions
Preheat oven to 350 degrees.
Prepare an 8 x 8-inch baking pan by layer it with parchment paper and greasing it with the olive oil.
Prepare the pizza dough following the instructions on the package.
Place dough in a warm spot like the microwave for 10 minutes to rise.
Mix garlic with melted butter and set aside.
For each Pizza Bomb pinch off a golf ball size of dough, roll into a ball then flatten into a circle.
Place 1 teaspoon of Ragu Chunky Tomato, Garlic & Onion sauce in the center of the circle.
Place some mozzarella cheese on top of sauce.
Add 3 slices of pepperoni and top with a few more pieces of mozzarella sauce.
Bring edges together and pinch to seal.
Place into the baking pan and using a pastry brush brush the ball with the melted butter and garlic.
Repeat with remaining dough and ingredients, making 12 Pizza Bombs.
Set aside to rise for 5 minutes.
Bake in the preheated oven for 30 minutes or until golden brown.
Remove from oven and brush with the remaining butter and garlic.
Let rest for 10 minutes before serving.
Serve with a side dish of Ragu sauce.
Makes 12 servings
Pepperoni Pizza Bombs
:
Arlene Mobley - Flour On My Face
Recipe type:
Pizza Bombs, Appetizer
Ingredients
2 envelopes pizza dough mix or a double batch of mypersonal pizza dough recipe
1 cup warm water
1 cup Ragu Chunky Tomato, Garlic & Onion sauce
1 - 3.5 package pepperoni slices
¾ pound whole milk mozzarella cheese diced
2 teaspoons minced garlic
4 tablespoons melted butter
1 tablespoon olive oil
Directions
Preheat oven to 350 degrees.
Prepare an 8 x 8-inch baking pan by layer it with parchment paper and greasing it with the olive oil.
Prepare the pizza dough following the instructions on the package.
Place dough in a warm spot like the microwave for 10 minutes to rise.
Mix garlic with melted butter and set aside.
For each Pizza Bomb pinch off a golf ball size of dough, roll into a ball then flatten into a circle.
Place 1 teaspoon of Ragu Chunky Tomato, Garlic & Onion sauce in the center of the circle.
Place some mozzarella cheese on top of sauce.
Add 3 slices of pepperoni and top with a few more pieces of mozzarella sauce.
Bring edges together and pinch to seal.
Place into the baking pan and using a pastry brush brush the ball with the melted butter and garlic.
Repeat with remaining dough and ingredients, making 12 Pizza Bombs.
Set aside to rise for 5 minutes.
Bake in the preheated oven for 30 minutes or until golden brown.
Remove from oven and brush with the remaining butter and garlic.
Let rest for 10 minutes before serving.
Serve with a side dish of Ragu sauce.
Makes 12 servings