Tuna Avocado Lettuce Wraps
Disclosure: This Tuna Avocado Lettuce Wraps recipe is a compensated post on behalf of Collective Bias. All opinions are my own.
We all know that to eat  healthy we need to incorporate some fish in our diet.  The easiest way to do that is to keep some wild premium tuna in the pantry.  Did you know that a serving of Ocean Naturals Skipjack Tuna has 90 mg of healthy Omega-3 fatty acids? And that Ocean Naturals Skipjack and Albacore wild premium tuna is responsibly caught using the safest measures and only in areas where wild tuna is abundant. 
I picked up a couple of cans of the Ocean Naturals Skipjack tuna in water at Walmart. They were all out of the Albacore so the next time I go shopping I will pick up a can or two of that to try out. I love the way the cans are packaged in a cardboard sleeve. It really stands out on the shelf making it easy to find.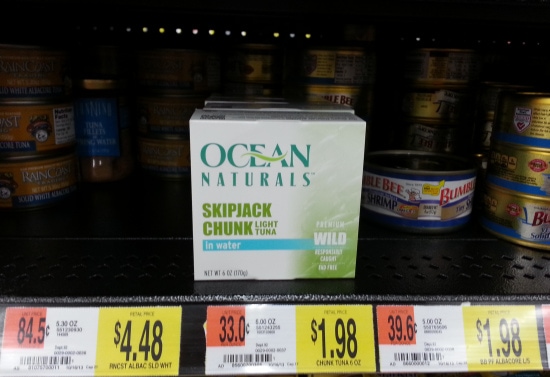 In my quest to eat healthier I decided to make myself some Tuna Avocado Lettuce Wraps as a healthier lunch option.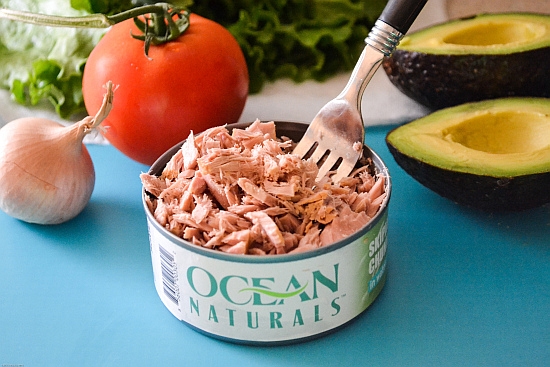 What is the difference between Ocean Naturals Skipjack Tuna and Albacore Tuna?
Incase you are like me and don't know what the difference is between Skipjack tuna and Albacore tuna I'll tell you because until now I did not know the difference. Skipjack Tuna is labeled "light" where as Albacore is labeled "white".  Skipjack tuna is a darker and a flakier tuna when packed in the can making it perfect for a healthy salad recipe. Albacore tuna is a whiter tuna meat and is packed more in chunks then flakes.  It really depends on your taste preferences. For me it's like comparing white and dark meat. 
Regardless of which type of Ocean Naturals tuna you prefer the Ocean Naturals Skipjack and Albacore tuna tastes good, is good for you and good for the planet.
Ocean Naturals Tuna is giving away free tuna every Tuesday. Stop by the Ocean Naturals Facebook page for a chance to win two free cans of tuna.
Here is something neat. Enter the code found on each can of Ocean Naturals tuna to see where your specific tuna came from by visiting the Ocean Naturals My Tuna page.
Ingredients needed for this Tuna Avocado Lettuce Wrap Recipe
 1 can of Ocean Naturals Skipjack or Albacore Tuna in water, 1 small tomato, diced and seeded, 1 avocado, diced, a small shallot or some green onions, finely diced, 1 hardboiled egg. roughly chopped, 1/4 to 1/2 cup of a creamy Vidalia Onion dressing, salt and pepper to taste. 3 to 5 large lettuce leaves, rinsed and patted dry.
The type of lettuce you decide to use is up to your personal taste preferences. I used a large leaved lettuce because it would be easier to roll the wraps up but you could also use endive. With the endive you just wouldn't roll the wraps up.
Continue below to find the printable recipe in  Ziplist format.
Healthy Lunch |Tuna Avocado Lettuce Wraps #OceanNaturals
:
Arlene Mobley - Flour On My Face
Recipe type:
Healthy Lettuce Wrap
Serves:
3-5 Tuna Avocado Lettuce Wraps
Ingredients
1 can Ocean Naturals Skipjack or Albacore Tuna in water
1 small tomato, roughly diced
1 small shallot, finely chopped
1 hardboiled egg, roughly chopped
¼-1/2 cup Creamy Vidalia Onion Dressing
1 avocado, roughly chopped
salt & pepper to taste
Lettuce of choice
Directions
To Make the Tuna Avocado Salad
Drain tuna well.
Add first four ingredients to a bowl and gently mix.
Add dressing to bowl and fold until all ingredients are covered in dressing.
Gently fold in the avocado.
To assemble the Lettuce Wraps
Rinse and dry 3 large lettuce leaves.
Add about 2 heaping tablespoons of tuna salad to each lettuce leaf, folding the leaf to enclose the salad.
Secure with bakers twine or tooth picks.