Chicken Cauliflower Fried Rice is a low carb option for my favorite Asian stir fry recipe.
It is very easy to make cauliflower fried rice.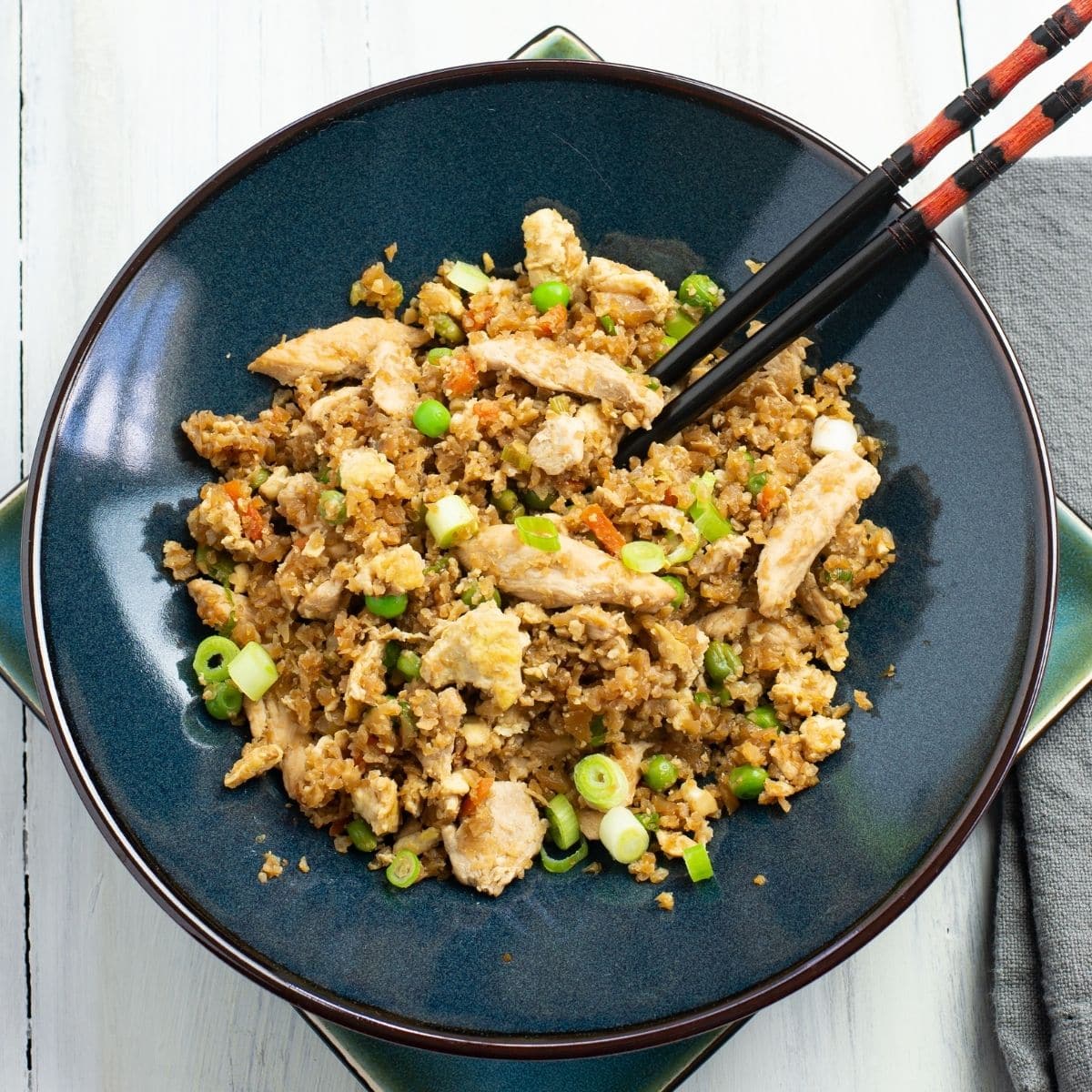 You can make plain cauliflower fried rice or you can make cauliflower fried rice with chicken like I have done today.
Cauliflower Rice Recipe
To make cauliflower fried rice you will need some cauliflower rice. I made the cauliflower rice I used in this Chicken Cauliflower Fried Rice recipe with a head of fresh cauliflower.
Homemade cauliflower rice is very uncomplicated to make.
It is also much cheaper to buy a head of fresh cauliflower and process it into cauliflower rice than it is to buy a package of frozen cauliflower rice at the grocery store.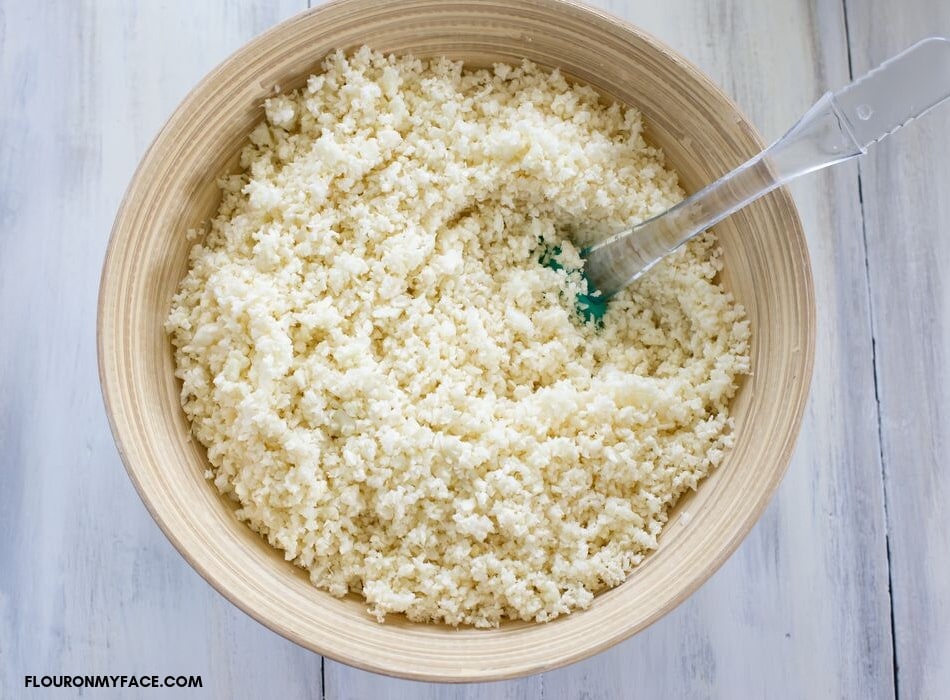 Frozen cauliflower rice has much more moisture than cauliflower rice made with a fresh head of cauliflower.
If for the sake of convenience you use frozen cauliflower rice to make this recipe you will need to thaw the cauliflower rice and squeeze out as much moisture as possible before cooking with it.
How To Make Chicken Cauliflower Fried Rice and alternatives for ingredients
Most of the work when making Chicken Cauliflower Fried Rice is prepping the vegetables. You'll need to make the cauliflower rice which only takes a couple of minutes when you use a food processor.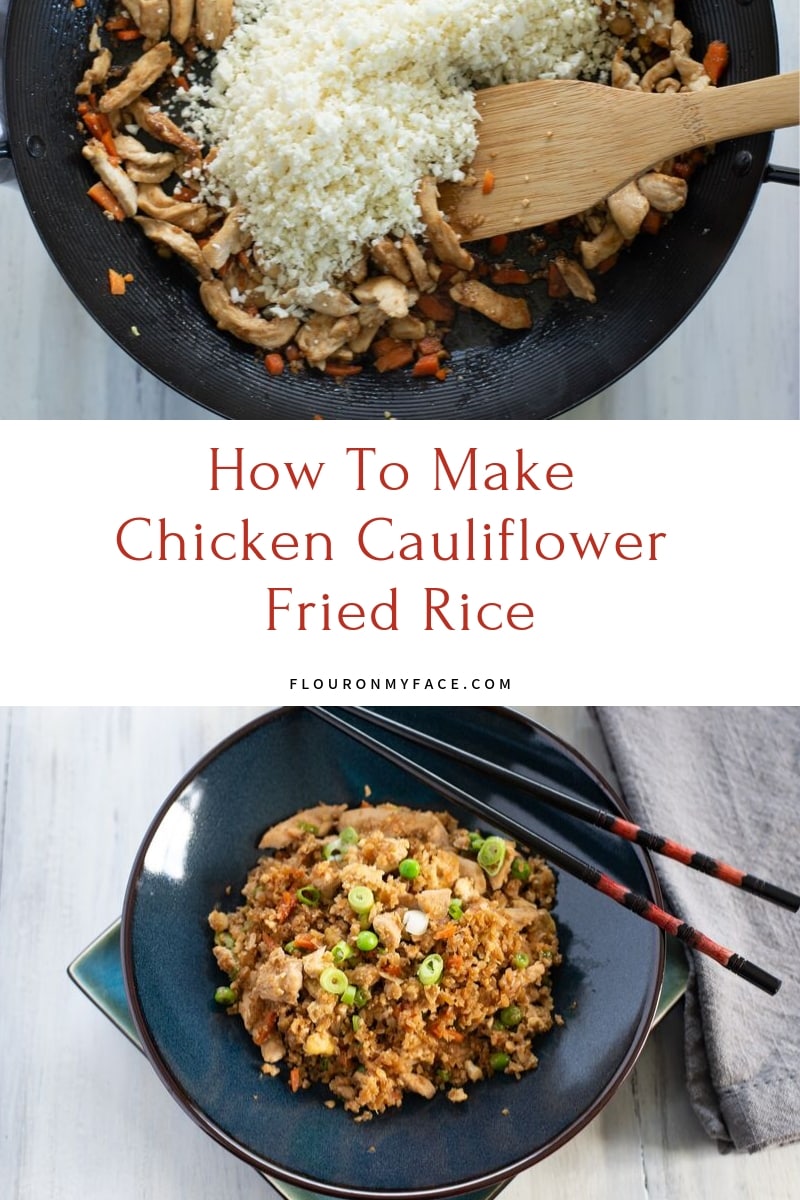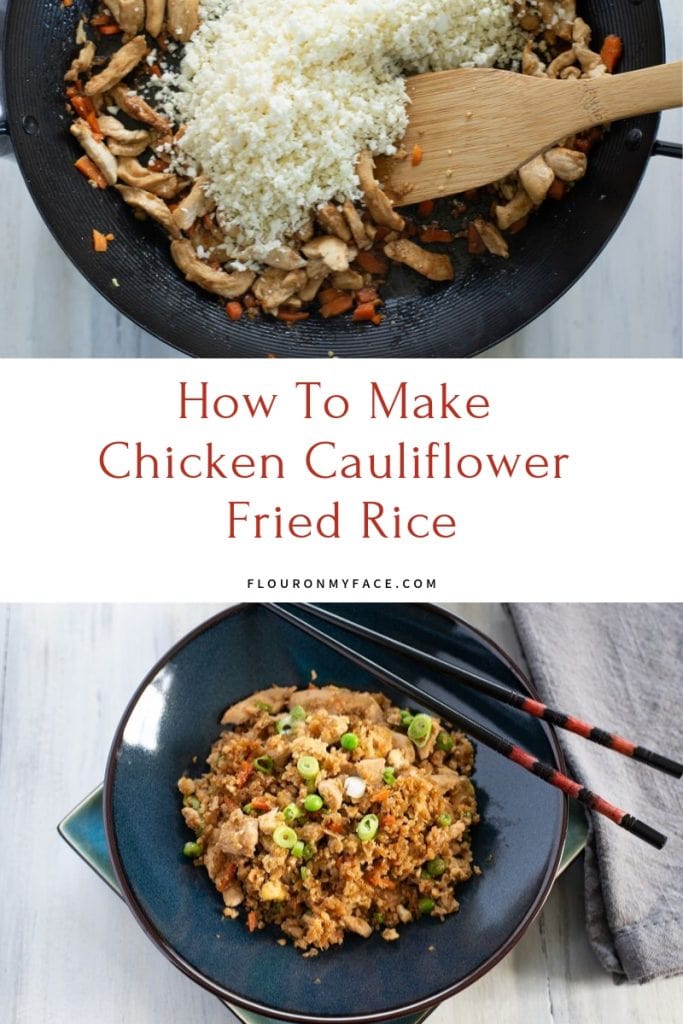 Dicing a fresh carrot is done quickly.
You can also buy a bag of frozen peas and carrots instead of using a fresh carrot. For some reason all I could find was frozen peas, not a bag of frozen peas and carrots.
Do not use canned peas for this recipe. Canned peas are too soft and will turn to mush very quickly as you stir fry the other ingredients.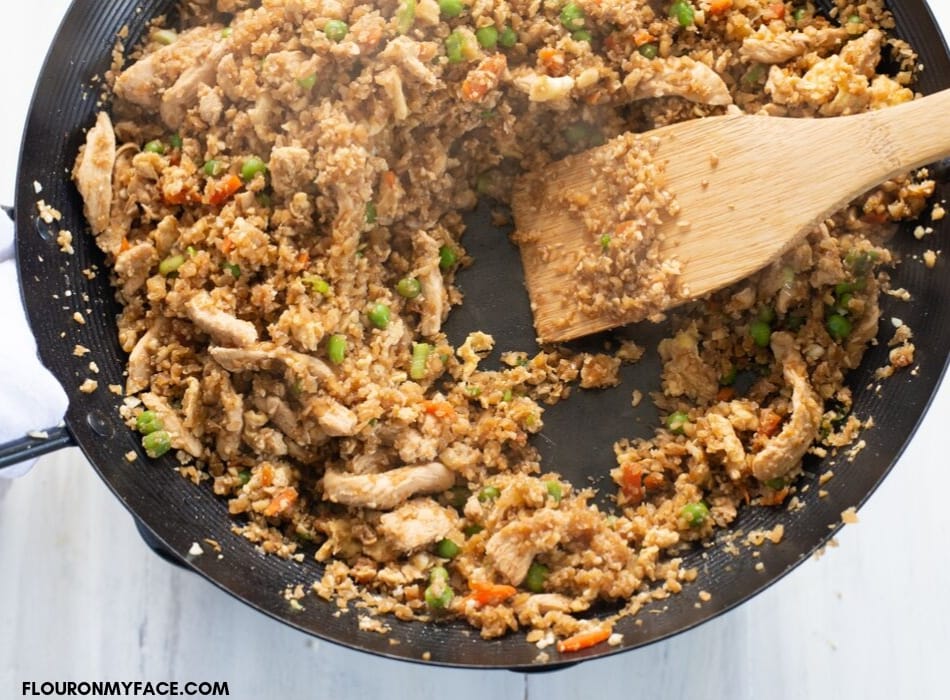 If you don't have fresh garlic jarred minced garlic will work as well.
In a pinch you can use ginger powder but the flavor pales in comparison to using a piece of fresh ginger.
If you have leftover ginger root stick it in a pot of damp soil. It will grow quickly in a warm environment and can even be grown on a window sill or in a sunny spot by a window.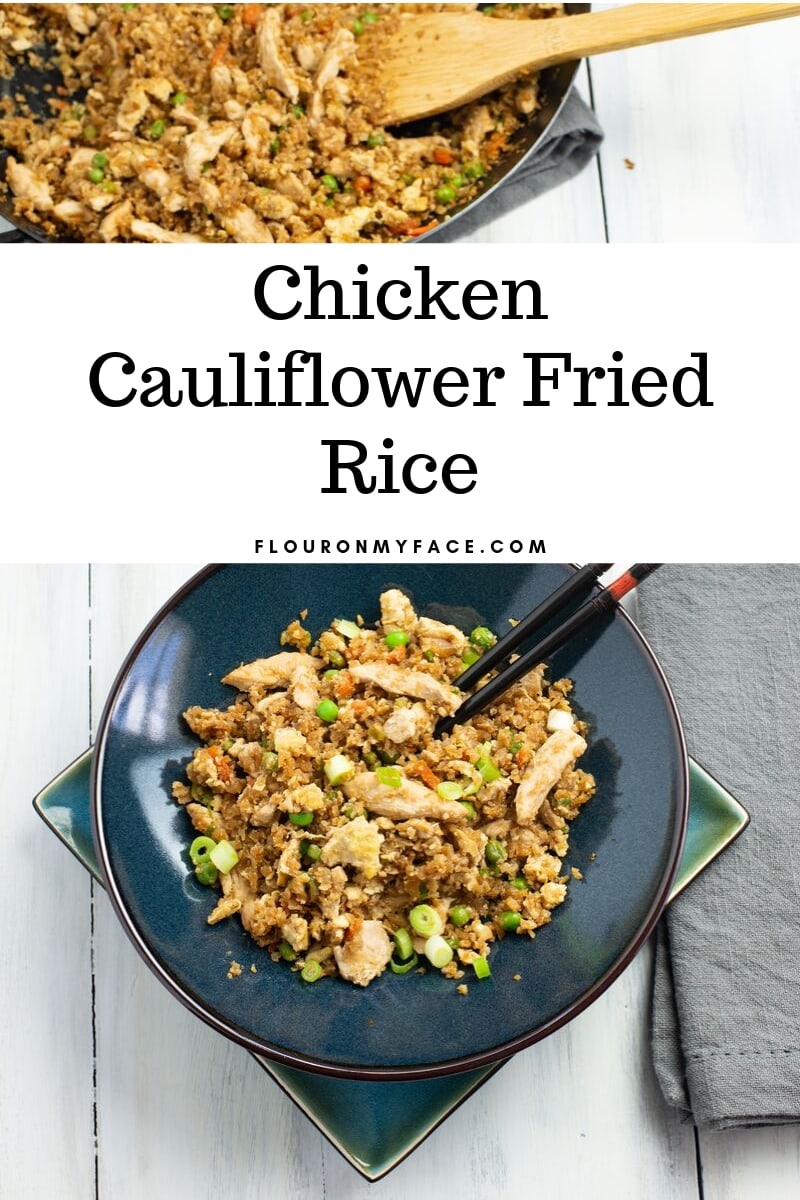 Vegetarian Cauliflower Fried Rice
To make a vegetarian cauliflower fried rice omit the chicken and eggs from this recipe and increase the amount of vegetables.
You can add more carrots, add shredded cabbage, fresh broccoli florets, water chestnuts, snap peas or any other Asian vegetable you like.
Just saute the raw vegetables in the skillet until slightly wilted before adding the cauliflower rice to the pan.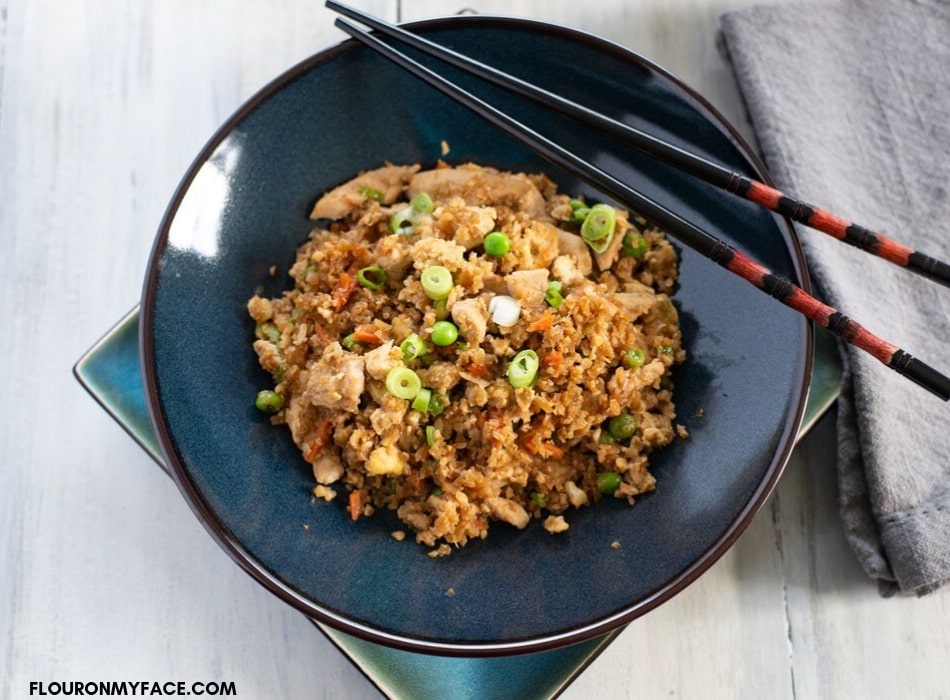 More Low Carb Recipes
If you love eating low carb and replacing starchy vegetables and pasta with vegetables that are low carb you can check out some of my other love carb recipes below.
For all of my low carb recipes click here.
Cheesy Gouda Cauliflower Casserole
This Cheesy Gouda Cauliflower Casserole recipe is my attempt at making a low carb Gouda mac and cheese recipe like the one they sell in the Publix deli. It turned out amazing!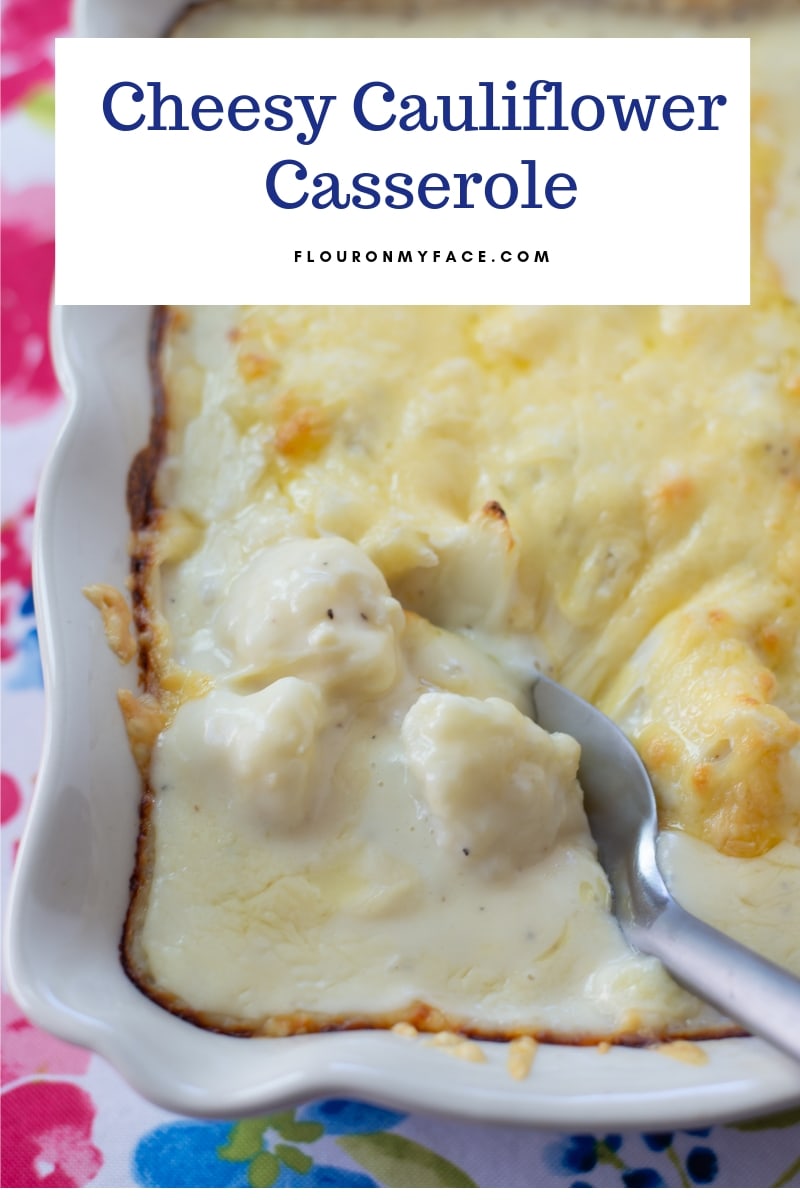 Low Carb Cauliflower Rice Recipe
This low carb cauliflower stir fried rice recipe turned out amazing. I used my own chicken fried rice recipe and just replaced the white rice with cauliflower rice. I hope you enjoy it as much as I did.
Email questions or recipe requests to flouronmyface@gmail.com. Follow me on Pinterest, YouTube, Instagram and Facebook.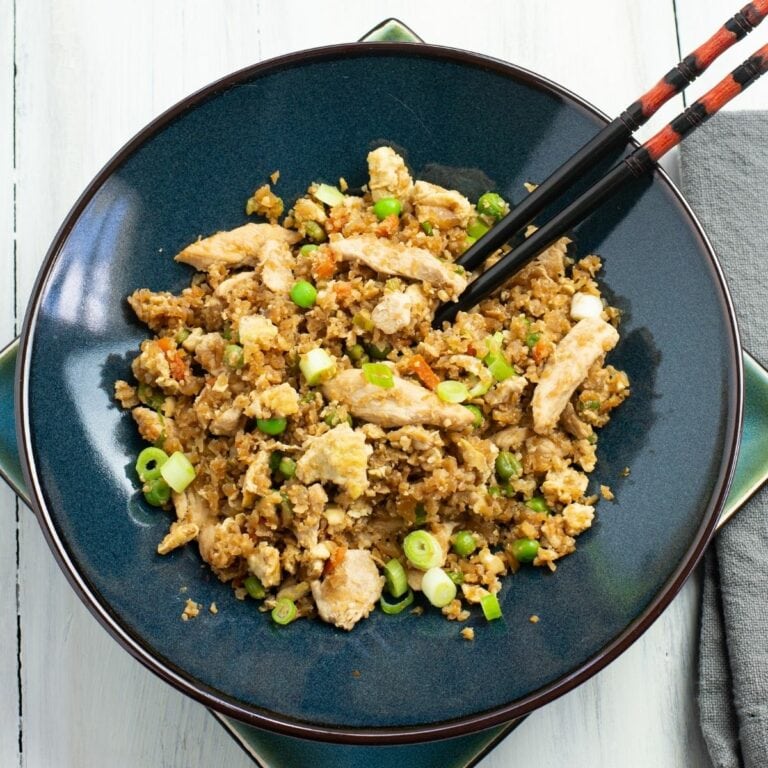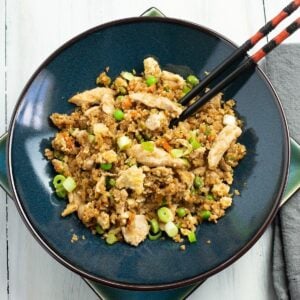 Chicken Cauliflower Fried Rice Recipe
Chicken Cauliflower Fried Rice Recipe is a delicious low carb fried rice option made with fresh made cauliflower rice and boneless chicken.
Rate this Recipe
Ingredients
2

tablespoons

vegetable oil

2

large

large eggs

(scrambled in a bowl)

1

large

boneless skinless chicken breast cut into small bite size pieces

(about 1 lb chicken meat)

¼

cup

diced fresh carrot

1

tablespoon

minced garlic

1

tablespoon

minced fresh ginger root

¼

cup

low sodium soy sauce

(to taste)

4

cups

of fresh cauliflower rice

½

cup

frozen peas

(thawed and drained)

3

medium

green onions

(sliced)
Follow Flour On My Face on Pinterest
Instructions
Measure 1 tablespoon of vegetable oil into a large skillet. Heat on medium. When hot the oil is hot pour the scrambled eggs into the pan.  Cook the eggs in the hot oil until done. Remove the eggs from the pan and place in a bowl. Set aside.

Add the remaining tablespoon of oil to the pan and heat. Once hot add the chicken pieces to the skillet and saute until cooked through, about 5 -8 minutes, depending on the size of the pieces.

Add the diced carrots to the skillet with the chicken. Sauté for about 3 minutes. Add half of the soy sauce to the pan and toss the chicken to coat.

 Add the minced garlic and ginger to the pan. Sauté for about 1 minute.

Add half of the cauliflower rice to the pan. Toss the cauliflower rice with the chicken and coat evenly with the soy sauce. Add the remaining cauliflower rice to the pan and add about half of the remaining say sauce to the pan. Fold the cauliflower rice into the ingredients in the pan until coated completely with soy sauce, adding more soy sauce without saturating the cauliflower if needed.

Continue to saute the rice for about 5 minutes.

Add the thawed peas and sliced green onion to the pan and toss for about a minute.

Turn the burner off and transfer the chicken cauliflower fried rice to a serving bowl before serving.

Makes 4 servings.
Recipe Expert Tips
Notes: Do not add too much soy sauce. The cauliflower will begin to release some moisture as it cooks.
I used cauliflower rice made with fresh cauliflower. If you are using store bought frozen cauliflower rice you will need to remove as much moisture as possible before cooking this recipe or it will be watery and affect the flavor..
Nutrition
Serving:
1
Serving
Calories:
203
kcal
Carbohydrates:
15
g
Protein:
14
g
Fat:
11
g
Saturated Fat:
7
g
Trans Fat:
1
g
Cholesterol:
111
mg
Sodium:
656
mg
Potassium:
762
mg
Fiber:
5
g
Sugar:
5
g
Vitamin A:
1731
IU
Vitamin C:
88
mg
Calcium:
72
mg
Iron:
2
mg
Tried this recipe?
Share a picture on Instagram and tag @flouronmyface2