Easy Crock Pot Meatball Sub Sandwiches
Easy Home Meals #HolidayHelper
Disclosure: This is a sponsored post for the National Frozen & Refrigerated Foods Association as part of a campaign for the Mom It Forward Blogger Network. All opinions are my own.
Having an easy to make recipe like this Crock Pot Meatball Sub recipe helps me get everything done for the holidays and have a great meal on the table for my family. This recipe has only 4 ingredients and as long as you have a crock pot, and who doesn't these days  you can have dinner on the table in under 4 hours if you are in a hurry or it can cook for the standard 8 hours in a crock pot on low. If you plan to be out all day at work or running around getting ready for the holidays it is an Easy Home Meal for a family. It will feed a family of 4 to 6 easily.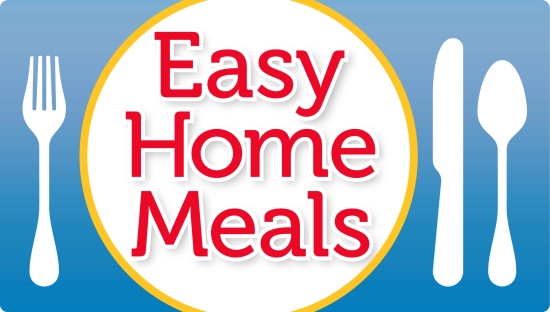 It is that wonderful time, the most craziest time of the year. Yes I am talking about the holidays. Here we are and Thanksgiving is over. It seems like the weeks up to Christmas will fly by faster than any other time of the year.
During this very hectic time of year I depend on fast family recipes that are fast to make and don't keep me in the kitchen. Between running around Christmas shopping and family gatherings I don't have as much time to cook. So I like to stock the freezer with ingredients from the frozen and dairy section of the grocery store. Keeping ingredients on hand with a well stocked freezer is the only thing that gets me through this time of year with my sanity still intact.
Using the crock pot is the second sanity saver I have. Throw all the ingredients in and I don't have to worry about what I am going to do about dinner.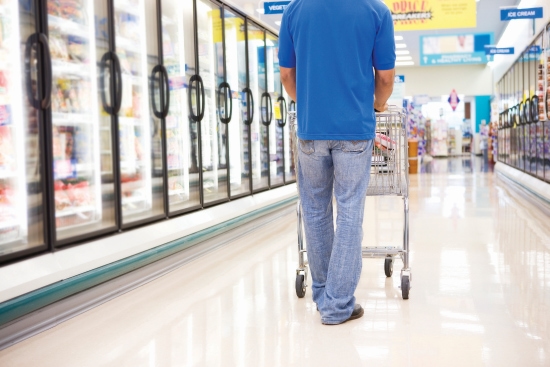 Why I Use Frozen Foods?
Frozen foods are real foods frozen at their peak of ripeness or prepared and seasoned by chefs.

There are over 3700 types of frozen foods available ranging from fruits and vegetables to sweet treats like ice cream and frozen desserts. You can find any cuisine you feel like eating and can find options that cover snack-time, breakfast, lunch, dinner, entertaining and specialty food occasions in the frozen department of your favorite grocery store.

Frozen foods can save you money and are packaged in perfect portions for my family. 

Frozen Foods make my life easier.
This easy crock pot recipe for meatball sub sandwiches only has 4 ingredients. A bag of frozen meatballs, a block or bag of shredded mozzarella cheese, a jar of spaghetti sauce and a package of sub rolls.
Head to the grocery store and check out the great selection of frozen meatballs available in the frozen section. There are beef or turkey meatballs, seasoned or unseasoned meatballs. Large meatballs or small meatballs. The small meatballs would make for a great meatball appetizer instead of serving subs for dinner you could also use this recipe for a holiday meatball appetizer recipe for any holiday party you may be hosting. Or instead of using sub rolls you could serve the small meatballs on slider buns. They would be easier to serve and handle at a holiday gathering. 
You can find this Easy Crock Pot Meatball Sub Sandwich recipe in it's entirety in the Ziplist format below. You can easily save, print or create a shopping list for this recipe when using Ziplist. 
Turn the crock pot on high. Pour 1/3 of the jar of sauce into the bottom of the crock pot. Add the entire bag of frozen meatballs then pour the rest of the sauce over the meatballs.
Put the lid on the crock pot and cook for about 3 hours, occasionally stirring the meatballs.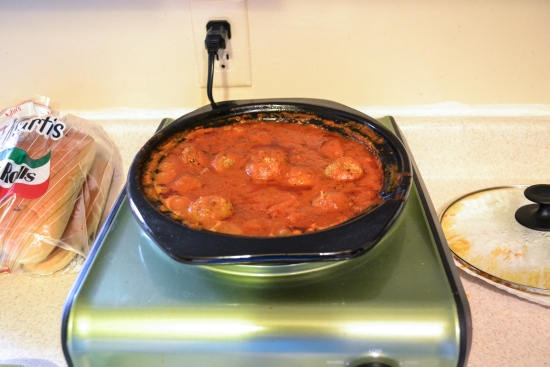 Cook meatballs until cook through, about 3 hours. Once the meatballs are cooked slice the block of cheese and lay the slices over the top of the meatballs. If using shredded cheese sprinkle the cheese over the top of the meatballs. Replace the lid.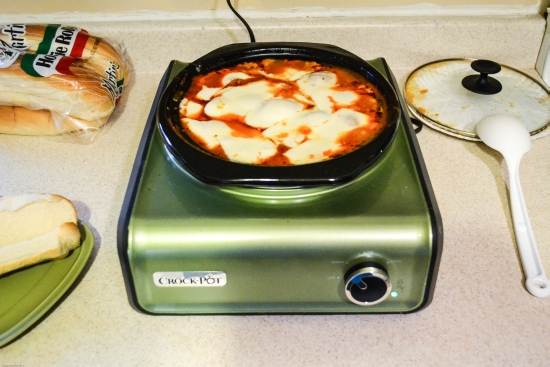 Continue to cook the meatballs until the cheese has melted. Serve on sub rolls.
Sign up for the Flour On My Face newsletter and get a new crock pot recipe every Friday straight to your inbox.
Looking for more crock pot recipes like this Crock Pot Meatball Sub Sandwich recipe? Head over to my crock pot page where you'll find 100+ Crock Pot Recipes.