Broccoli Casserole
This week's Progressive Dinner Broccoli Casserole recipe post will be a little different. I will still be sharing our roundup links but because of a previous contract with another brand I will not be sharing this weeks sponsor product or giveaway. You can still enter the #HolidayRecipes giveaway by visiting one of the other bloggers in this weeks Progressive Dinner Side Dish roundup of recipes. Thank you for your understanding. 
This weeks Progressive dinner recipe is for a side dish.  
 So far we have shared a main dish, salad and this week we will all be sharing a side dish recipe.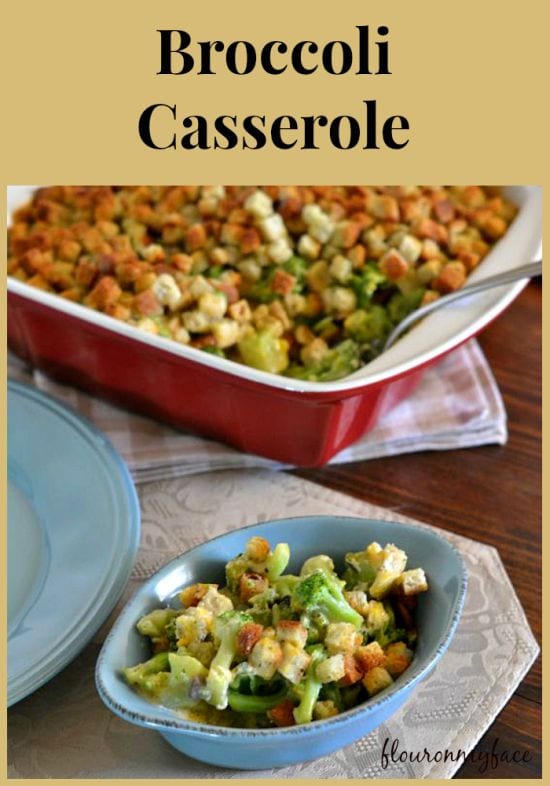 Thanksgiving and Christmas dinner just wouldn't be the same without a broccoli casserole. As much as I love turkey or ham I look forward to the side dishes the most. I have my favorites I make each year like this broccoli casserole. 
This recipe comes from my mother in-laws stash of old family recipes. I tweaked the recipe a bit as I always do when I am updating one of my Vintage Recipe Project recipes. Sometimes I make changes based on my families tastes. Other times especially with very old family recipes I have to update the recipe to modern day cooking methods.
Busy-at-Home : Creamy Garlic Mashed Faux-Tatoes with Parmesan
Daily Dish Recipes: Garlic Roasted Asparagus with Cranberries and Almonds
Flour on My Face: Broccoli Casserole
Will Cook for Smiles: Cranberry Stuffing
The Gunny Sack: Blooming Sweet Potato
Adventures in All Things Food: Warm Beet and Brussels Sprout Slaw
Check out my Broccoli Casserole recipe below. Then head over to the other Progressive Dinner posts to see what my friends have made. Don't forget to check out the giveaway shared in their post!

Broccoli Casserole
Don't forget the Broccoli Casserole this Thanksgiving!
Ingredients
2- 16 ounce packages frozen broccoli
1 can cream of mushroom soup
2 cups shredded cheddar cheese
½ cup milk
½ cup mayonnaise
2 eggs, beaten
4 cups of PepperRidge Farm Herb Stuffing, divided
6 tablespoons butter
½ teaspoon salt
1 teaspoon pepper
Directions
Cook broccoli in the microwave until unfrozen and heated. Drain well if needed.
Put the broccoli in a casserole dish. Mix the eggs, soup, cheese, mayo, milk, 1½ cups stuffing, salt and pepper in a separate bowl. Mix into the broccoli well.
Melt the butter and mix with the remaining 2½ cups of stuffing.
Spread stuffing over the top of the casserole.
In a preheated 350 degree oven bake the casserole for 30-45 minutes or until the topping is a golden brown and the casserole is bubbling.