The Best Cranberry Bread Ever
 Cranberry bread is one of my husbands favorite things that I bake. He would eat it all year round if he could. But for the fact that fresh cranberries aren't in season except in fall. I have made this recipe with dried cranberries also. I liked it better but my husband prefers fresh cranberries.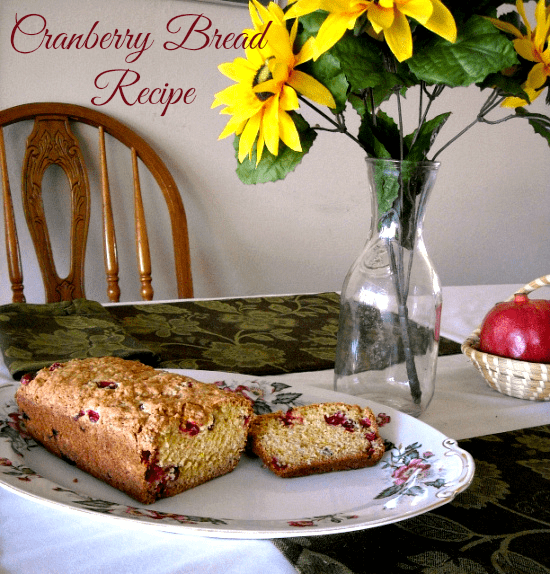 The Best Cranberry Bread Recipe you will ever make.
So as soon as I spotted the cranberries in the produce department of my grocery store I bought a bag and set about looking for my recipe.
But first there is a little story about this recipe I must share. I found this recipe on the internet somewhere. I did not note the name of the website I found it on.
Shame on me I know. There is not excuse for it but it happens. Now I make sure to copy and paste the website address at the top of the page of any recipes I find. I've redeemed myself, I think..
So back to my story. I have been collecting recipes for years. I have a big three ring binder that I keep my recipes in. It is full of page protectors stuffed full of recipes.
When I make a recipe, either one that I have torn out of a magazine, copied and saved from the internet, scribbled down on a scrap of paper or created myself. I stick it in a page protector in the binder. I have some recipes in there from 10 years ago that I have never even made but keep telling myself that one day I might need. So they stay there.
For the recipes that I do make. If it turns out really good and one of my family members love it I jot a little note on it for the times I am looking for something to make and don't really know what I want until I see it. You know what I mean don't you?
 The note says David loved it, made it 12/31/06. Two years in a row I made this recipe. I don't know how many times each fall when cranberries come into season.. I will guess I made at least 5 loaves the first year. It could have been more but it is definitely not less. Because the first time I made it I only made one loaf. He ate that loaf in no time at all. After that happened twice I got smart.  I doubled the recipe and made two loaves every time after. That way at least I had a chance to have a piece for breakfast. That first loaf did not last the day let alone over night.
Notice I said I made this recipe two years in a row. Well the third cranberry season rolls around and I can't find THE RECIPE!!!
I look all over the place. In the binder, stuffed in a cook book. Nope can't find it. So what do I do that year. I try some other cranberry bread recipes. Now mind you I have made cranberry bread for many years and have those recipes in my binder to prove it! But no those recipes are not good enough. My husband can tell immediately they are not THE RECIPE.
I don't know what it is about this recipe but it is good and the husband can tell this difference. He can be a pain sometimes.
The next fall rolls around and I am looking through the binder and there it is, THE RECIPE. I am not sure what happened. Maybe the pages were stuck together. I don't know for sure but I am happy to say THE RECIPE is safe and sound and I have made three loaves in the past two weeks.
Best Cranberry Bread
The Best Cranberry Bread Ever
Ingredients
2 cups all- purpose flour
½ tsp salt
1½ tsp baking powder
½ tsp baking soda
1 cup sugar
1 egg, well beaten
2 tbsp butter or margarine, melted
2 tbsp hot water
½ cup orange juice
¼ cup orange zest
1 cup fresh cranberries
Directions
Sift together dry ingredients. Add egg, butter, hot water, orange juice and orange zest: stir until moistened. Fold in cranberries. Bake about 60 minutes at 325 degrees oven in a well greased loaf pan.
When I make this recipe I sift all the dry ingredients into a large bowl and mix all the wet into a medium sized bowl. Then pour the wet into the dry and mix just until moistened.
It takes 2 large navel oranges to get almost a ½ cup of juice. You can add a bit of water to bring it up to a full cup. It's such a small amount it doesn't affect the flavor at all.
Also for the zest. I just zested the two oranges I used. I didn't even measure it. Do whatever you are comfortable with.
Note....the batter is very thick. Scoop it into your bread pan and smooth the top.
Notes
This recipe works fine if you double it. Make one loaf to test it out and see how you like it. Then next time double the recipe. You can freeze the extra loaf for another day.