Sweet Cherry Almond Cookie Bars
Update: The voting has ended and I am sad to say that I lost by 5 votes!
If you happened to vote for my recipe thank you very much!
I create recipes all the time. You've seen them here on my blog plenty of times. Just take a stroll through the archives and you will find plenty of recipes that I have created myself.  For me recipe creation is a creative outlet. Give me a product or some ingredients and tell me to come up with a recipe and I will. Some times it takes a while for the creative juices to get flowing and sometimes it's like bam!
I know just what I am going to make.
Bam is what happened here.
Solo the maker of almond paste and many flavors of cake and pastry filling approached me to create a recipe for they're Sweetest 16 Baking Contest.
As a food blogger there is no bigger compliment then when a brand reaches out and wants you to represent they're product.
The challenge was to use one Solo product to come up with a recipe.
They sent me a box of goodies.
It was up to me what I would make and which product I would use.
To be honest I didn't even have the box of products in my hand when I decided what I was going to make. I went to the Solo website to see what flavor of fillings they had. I have been wanting to bake with almond paste forever so it was a no brainer that my recipe would have the Solo Almond Paste in it somewhere.
So this is the recipe I came up with.  It taste so good I can't believe it. And it lasts. After I made this recipe 5 days ago I ate some of course, took my pictures and typed up the recipe and sent it off to Solo.
Then I started moving boxes in to the new rental. The cookies went into an air tight container and went into the refrigerator.  I pulled them out today and took a small bite to see if they were still good and they tasted just as good as they did on the day I baked them. I am betting they would also hold up to freezing really well as long as they are stacked with a piece of parchment paper between them then tucked into a freezer bag.
So with the move I haven't had a chance to promote BEG  for votes and this wonderful recipe is in danger of getting knocked out in the first round!
So please take a moment to check out the Solo Sweetest 16 Baking Recipe Contest and vote for my Sweet Cherry Almond Cookie Bar Recipe.
Sweet Cherry Almond Cookie Bars
Print
Sweet Cherry Almond Cookie Bars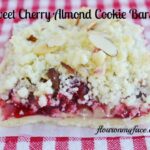 Prep Time:

15 minutes

Cook Time:

27 minutes

Total Time:

42 minutes

Yield:

9 large or 18 small cookie bars
Ingredients
Crust
1 1/3 cup all-purpose flour
2 tbs granulated sugar
½ tsp salt
1 stick unsalted butter
Filling
1 can Solo Almond paste
1 egg white
1 can Solo Cherry Cake & Pastry filling or 3/4 a can cherry pie filling
Topping
¾ cup all-purpose flour
3 ½ tbs granulated sugar
pinch of salt
4 tbs butter
1/3 cup sliced almonds
Instructions
Line the 8 x 8 pan with parchment paper.
Make the cookie crust by mixing together all the dry ingredients. Next cut the butter into the dry ingredients with a pastry cutter or your hands until it forms coarse crumbs.
Press the dough down into an 8 x 8 inch square pan. Use the back of a tablespoon to smooth the dough and spread it evenly over the bottom of the pan.
Bake for 10 minutes in a 350'F oven. When done remove from oven and cool slightly.
Beat the almond paste well with the egg white.
Evenly drop tablespoons of the almond filling over the slightly cooled cookie crust, leaving a ¼ inch border around the edges.
Spread the Solo Cherry Cake & Pastry filling over the almond paste also leaving a border at the edge of the dough.
To make the topping
Mix the flour, salt and sugar together. Using a pastry cutter or your hands mix the butter in until coarse crumbs form.
Gently fold the almond slices in.
Evenly sprinkle the topping over the entire top of the filling to the edge of the pan.
Bake in a preheated oven at 350'F for 20 to 25 minutes until the topping slightly golden.
Cool and chill for at least 2 hours before cutting.
Makes 9 large bars or 18 small cookie bars.
Disclosure: Solo furnish me with a goodie box of some of their products to help me create this recipe. Other then that this is an uncompensated posts.