Homemade Fresh Pasta
How to make Fettuccine Noodles
 Out of the blue this afternoon I decide I am in the mood for some fresh pasta. I've made fresh pasta a few times in the past. I have also made fresh homemade ravioli. I love my homemade ravioli filled with homemade ricotta cheese.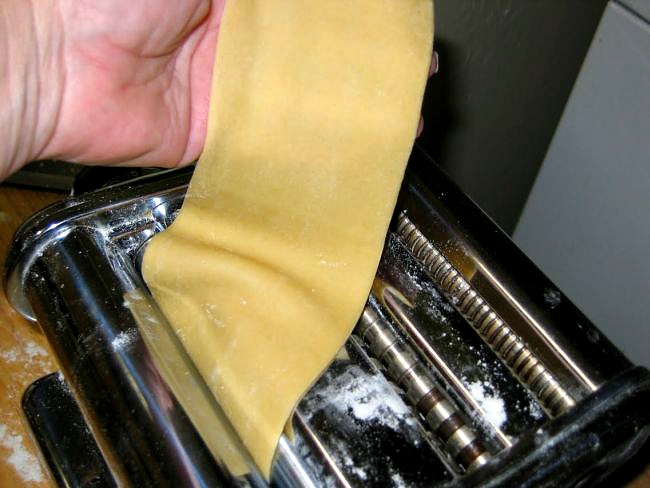 Just last week I hoisted my Altea lusso 160 up onto the top shelf in my laundry room to get it out of the way for my holiday baking. The minute I slid it onto the top shelf I thought to myself…..what if I decide to make ravioli? I shook my head and thought I will not be making any ravioli in the next week. What with Christmas baking and dinner to prepare.
Oh by the way I bought the pasta machine at the local Goodwill for $10 about eight years ago. It was the best ten bucks I ever spent.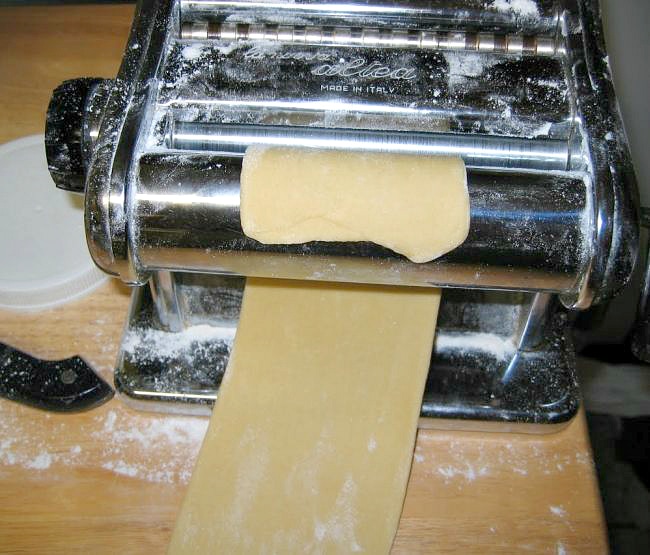 So here we are making homemade Alfredo noodles. I can blame it on the Food Network. I was watching something on there today with Alfredo noodles and thought to myself I need to make some
homemade Fettuccine Alfredo
. So here we are. it was late in the day when I started so I made the Alfredo noodles and put them in the fridge. I will be making broccoli fettuccine Alfredo for lunch tomorrow.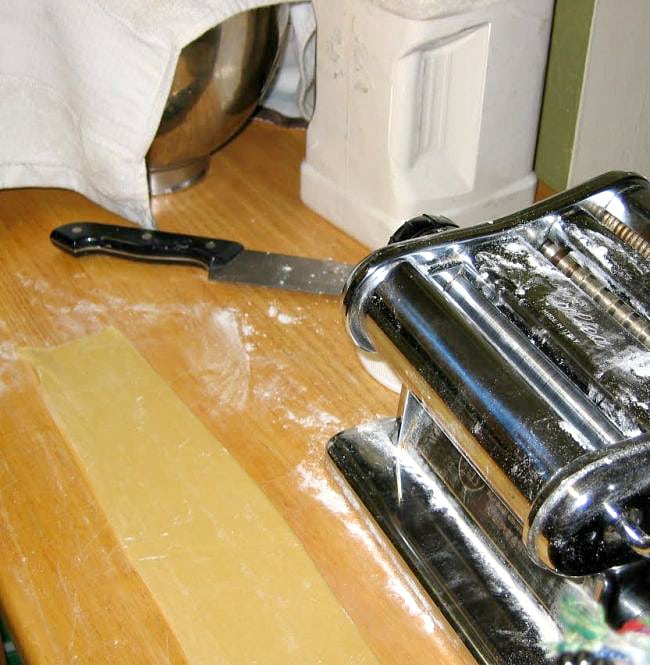 I used my Kitchenaid mixer and let it do all the hard work. If you don't have a Kitchen Aid mixer you can do it by hand. Normally I would do all the kneading by hand. I love to knead dough by hand. I guess I am old fashioned when it comes to kneading. I enjoy the process of making pasta and bread from scratch, feeling the dough come together.
Homemade Pasta Recipe
Ingredients
 2 1/2 cups unbleached all purpose flour
4 eggs
2 teaspoons olive oil
Placed all the ingredients into a kitchen aid mixer bowl.
On the lowest setting allow the machine to mix the flour into the wet ingredients.
Remove the dough from the mixer bowl and form a ball.
Place the dough back into the bowl and cover with a damp towel.
Let the dough rest for 30 minutes.
After 30 minutes cut the ball of pasta dough into 8 equal sized pieces.
Return all but one section of pasta dough to the bowl and cover with a damp towel.
Flour the piece of dough and begin kneading it on the widest setting of the pasta machine, gradually working the dough down to the #4 or #5 setting on the pasta machine.
Cut the kneaded dough piece into thin strips of fettuccine.
Lay the pieces of fettuccine pasta on a floured cookie sheet.
Repeat until all of the pasta dough has been kneaded and cut into noodles.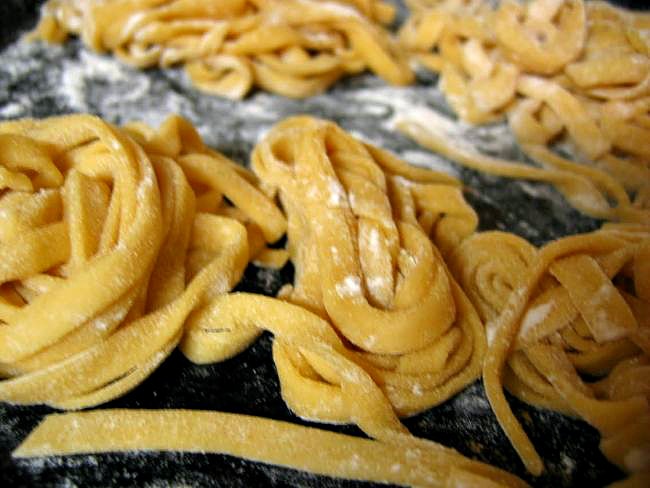 Here is my pretty pasta! What do you think? Doesn't it look yummy?
Thanks for stopping by!