How to Make Homemade Ravioli: Ricotta Filling Recipe
If you only learn to make one thing you should learn How To Make Homemade Ravioli with easy homemade Ricotta Filling. Homemade ravioli is tender and delicious.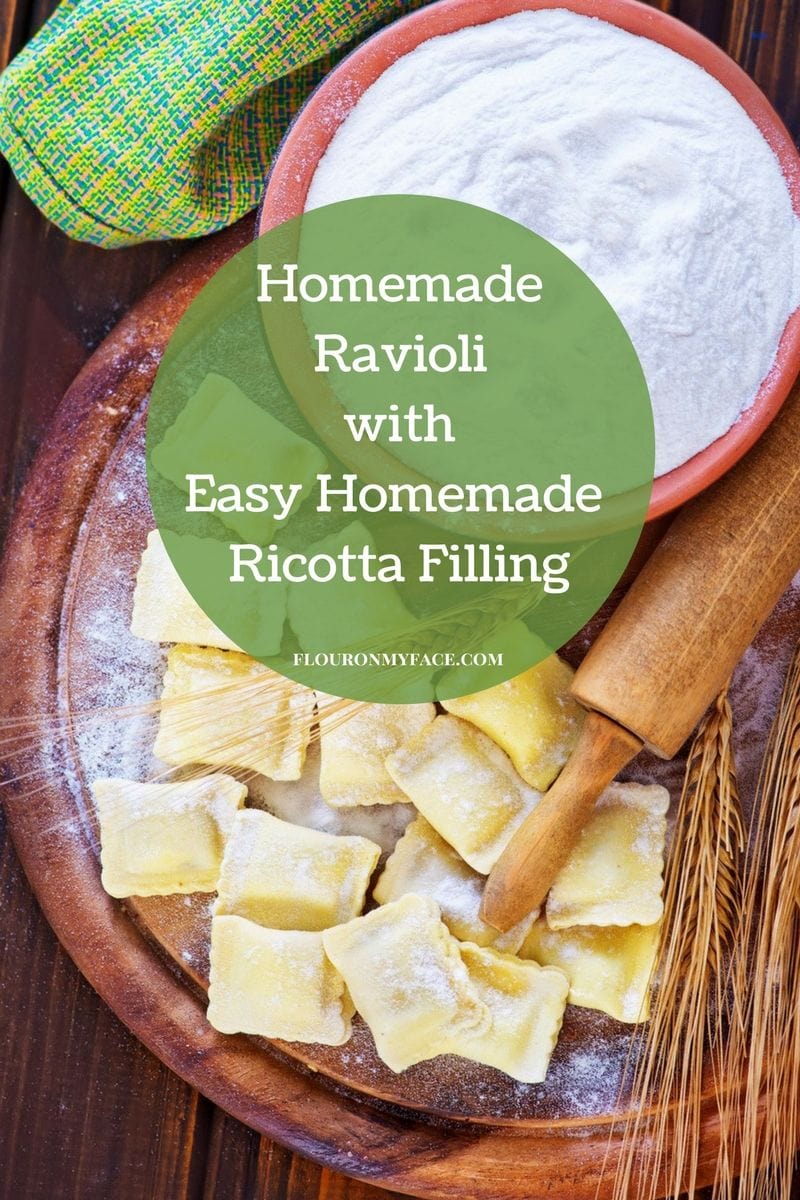 Warning! Most of pictures in this post suck! I wrote this homemade ravioli post many years ago when I first started this food blog. Many things have changed including my food photography skills.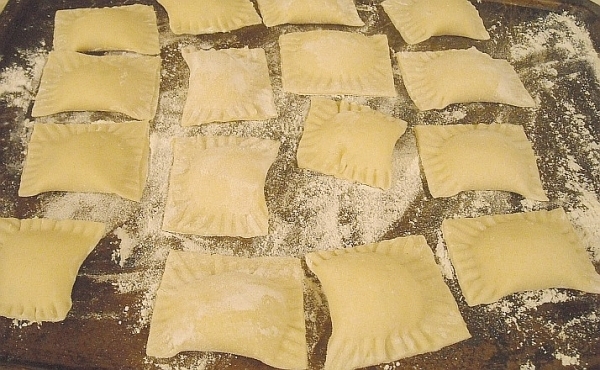 I didn't plan to actually write up a post on my homemade ravioli but I had a recipe request on twitter. So while I was making them I pulled out my camera and snapped just a few pictures hoping for the best.
What you see is what you get! LOL
Is homemade Ravioli Better Than Store Bought?
I've made homemade ravioli a few times before and really when you hear someone say that homemade ravioli is so much better then store bought they are not exaggerating.
I've used a few different recipes for the pasta. I've used a recipe with semolina flour. I've used a recipe using eggs and now I have used a simple recipe using just plain all purpose flour and water.
I have to say the recipe with water and all purpose flour turned out the best. I was very happy with it.
The pasta and filling will make about 55 medium ravioli.
The trick to getting a tender pasta dough is the boiling water. Adding boiling water to the flour makes dough magic.
 The homemade gordita recipe I just love also uses boiling water and the gorditas also turn out very tender.
Print the How To Make Homemade Ravioli with Ricotta Filling below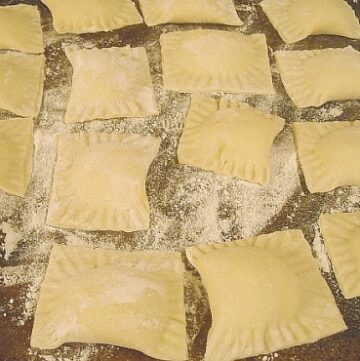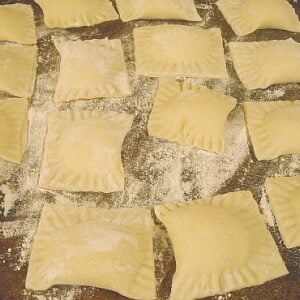 How to Make Homemade Ravioli with a homemade Ricotta Filling
How to make Homemade Ravioli pasta filled with ricotta cheese filling.
Rate this Recipe
Ingredients
Homemade Ravioli Pasta Ingredients
2 ½

cups

all purpose flour

1

cup

boiling water
Ricotta Filling Ingredients
2

cups

whole milk Ricotta cheese

1

tablespoon

minced garlic

1

tablespoon

fresh parsley

(finely chopped)

¼

cup

Parmesan cheese

(grated)

¼

tsp

salt

¼

tsp

pepper

¼

cup

shredded mozzarella cheese

1

large

egg
Follow Flour On My Face on Pinterest
Instructions
How to make the ravioli
Measure the flour into a glass or metal bowl, boil the water.

Carefully measure the boiling water and pour into bowl of flour.

Stir the flour and water with a wooden spoon until the dough forms a ball.

Cover the bowl with a towel and let it rest for 10 to 15 minutes.

While your dough is resting mix up the ricotta filling.

Roll the pasta out and cut the ravioli.

Place about a teaspoon of ricotta filling in the center of each ravioli.

Seal the edges of the ravioli by painting water or an egg wash on the edges and pressing with a fork.

Dust a cookie sheet with flour and place each filled ravioli on the cookie sheet. Cover with a damp towel to keep the ravioli from drying out. Repeat until all the ravioli have been filled.

At this point you can freeze the ravioli in a single layer and transfer to a container once frozen.

Drop a few ravioli into a pot of salted boiling water. When the ravioli floats they are done.

Serve the ravioli with sauce.
Ricotta Filling Directions
Put all ingredients in a small bowl except the egg and mix together.

Taste the ricotta mixture and adjust any of the seasonings to your taste.

Beat the egg in a small bowl and add it to the ricotta mixture and stir until completely incorporated.

Set aside if immediately making the ravioli. If not refrigerate until ready to use.
Recipe Expert Tips
Mixing the pasta dough: You're not going to get a perfect ball of dough like you would when making bread dough. It may be crumbly and look lumpy and gummy. Don't worry about it when you start rolling it out it turns out beautiful.
Rolling the ravioli: Take care not to roll the ravioli pasta too thin or they will fall apart when boiling.
Freezing homemade ravioli: Homemade ravioli can be frozen. 
Nutrition
Serving:
1
Serving
Calories:
377
kcal
Carbohydrates:
43
g
Protein:
18
g
Fat:
14
g
Saturated Fat:
8
g
Trans Fat:
1
g
Cholesterol:
79
mg
Sodium:
277
mg
Potassium:
171
mg
Fiber:
1
g
Sugar:
1
g
Vitamin A:
532
IU
Vitamin C:
1
mg
Calcium:
260
mg
Iron:
3
mg
Tried this recipe?
Share a picture on Instagram and tag @flouronmyface2
Rolling the homemade pasta dough.
I happen to have a pasta machine. If you don't you can still make ravioli your just going to have to roll the pasta out with a rolling pin.
I have done this myself. It is a lot of work but it can be done. You just need to roll the dough out really thin. Do not roll the dough out too thin. The pasta will split when you are cooking it and most if not all of your filling will be floating in your pot of water.
Yes, I have done this so I know what I am talking about. If your going to be rolling it out by hand make a few ravioli and cook them in a small pot of boiling water.
Homemade pasta cooks really fast, about 2 minutes. You will be able to judge whether your pasta is too thin or thick if you cook a few when you first get started.
It can be really disappointing to do all the work and then find out that your pasta was rolled too thin and splits when you cook it.
My pasta machine is a hand cranked beast that weights about 6 pounds and attaches to the edge of a counter. This is the only pasta machine I have ever used so I am not sure if the setting are the same on all pasta machines. My machine goes from 8, the widest setting to 1, the narrowest setting. You always start rolling your pasta at the widest number and work your way down.
Number 8 and 7 is where your pasta dough will go from lumpy to nice and smooth as you roll it through those two settings. It is like kneading your dough. I work back from 8 to 3 and my pasta was perfect. If your machine is different you are going to have to make adjustments.
I found that when making my ravioli it works much better if you roll out a piece of dough, fill and seal the ravioli and then start all over again.
If you roll all your dough out at once you take the chance of your dough drying out too much and it will make it more difficult to work with and you'll end up with a very tough pasta.
Remove your ball of dough from the bowl and knead all of the flour and crumbs in for a couple of turns. Now cut the dough in half. Then cut each half in 4 pieces. You will end up with eight balls of dough. Put all of the dough except for the piece you are working with back into the bowl and cover it with the towel.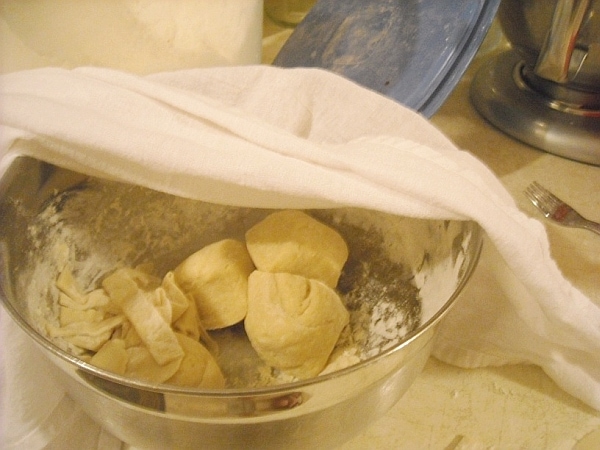 Flatten your dough a bit and dust with flour. If you need a visual follow the direction in the video  at the bottom of this post to roll out your dough.
Now place the piece of dough on your clean and floured counter surface.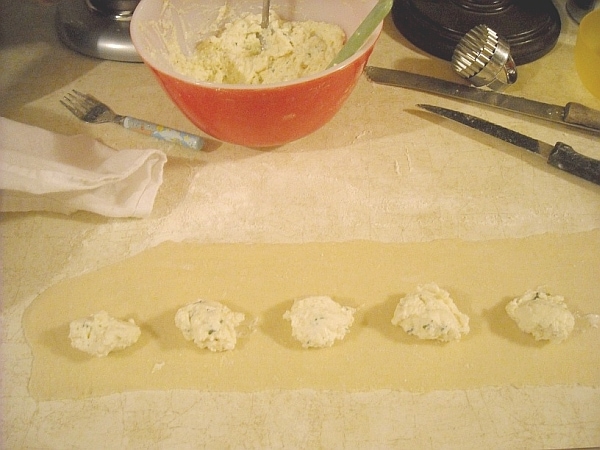 How to fill homemade ravioli with ricotta cheese filling
Using a spoon place a dollop of filling along your piece of dough in a straight line, leaving about an inch of space in between and on each end. Each dollop is a little bit less then a teaspoon of filling. You really have to play with your filling because each piece of dough is going to be a different size. No two pieces of pasta roll out the same width or length.
Some will be wider and some longer. Have a small bowl of water on the counter and dip your finger in and run a damp bead of water down each edge of the pasta and between each spoon full of filling.
Now flip the dough from the back over your filling.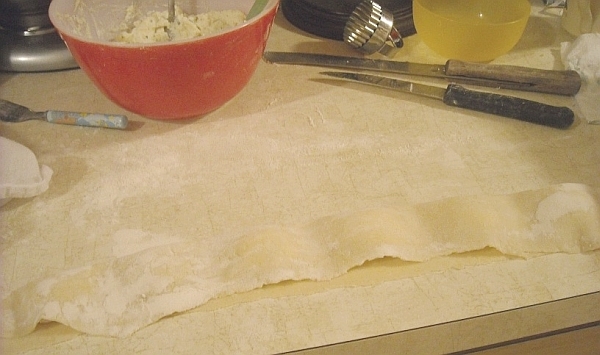 Run your finger between each pocket of filling to remove most of the air and cut each ravioli apart. Trim it up just to even the edges.
Run your fingers around the edge of the filling forcing the air out. Use a fork to seal the edges.
How to cook homemade ravioli
To cook the ravioli boil a pot of water and add ravioli. Gently boil until the ravioli float. Once they are floating the filling and pasta are cooked through. Serve with your favorite sauce or do like I do and eat with just a bit of butter and salt and pepper. If I am in the mood I will sprinkle with some more grated mozzarella and Parmesan cheese. Enjoy