DIY Calendula Salve
Here is the DIY Calendula Salve recipe I promise back when I shared how I make a DIY Calendula Oil a few weeks ago. We've used it to help soothe and speed along the healing of dry and cracked skin on our hands.
During the winter when the weather turns cold our hands are exposed to the harsh changes of temperatures and exposed to the elements. Our skin takes a beating.
Many people including my husband and myself occasionally suffer from very dry and cracked skin on our hands. The skin on the very sensitive tips of our fingers seem to be prone to very painful cracking.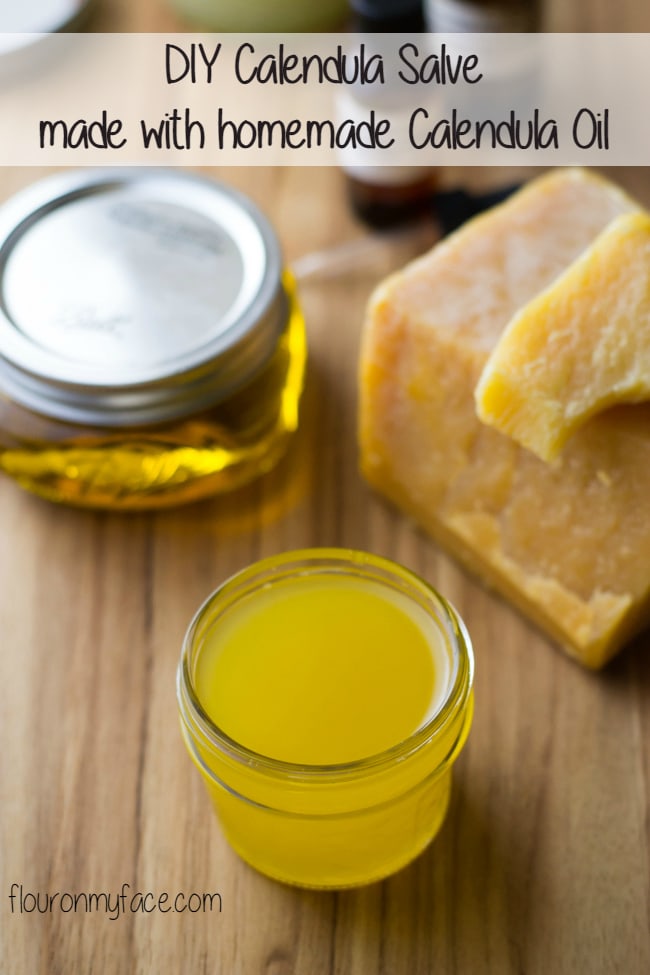 Many people are turning to homemade all-natural herbal products that do not contain harmful chemicals.
Homemade herbal products are very easy to make at home.
Regardless of the reason, you decide to make homemade herbal products calendula oil is a must-have in your herbal medicine cabinet.
Calendula Oil can be used as the base oil for many natural homemade salves, lip balm, and lotions.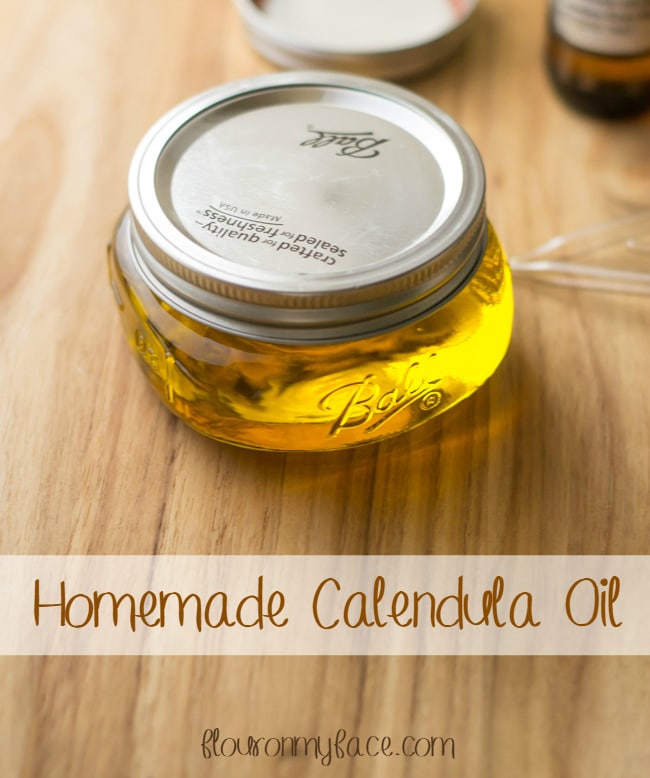 The herb Calendula has healing properties and can be used topically to soothe dry and cracked skin.
I've made this DIY Calendula Salve many times over the years for my husband who suffers from very dry and painfully cracked fingers during the winter.
If you love easy & amazing recipes join the Flour On My Face Newsletter and get each of my new recipes delivered right to your inbox.
Back when I shared the DIY Calendula Oil post I mentioned that back in the day I used to make homemade soap, lotions and bath salts.
Part of the reason I got into making homemade bath and body products was because of my love of growing herbs.
I love growing herbs and feel at a loss when I don't have at least a few pots of herbs to tend to.
Growing and using herbs
I've grown many different herb plants over the years. I love using herbs in my home and kitchen. I enjoy them so much.
I love to run my hands over the fragrant leaves so I can breathe in their aromatic and healing scents.
Just running your hands over the leaves of herbs can be so soothing to your senses.
Once you start growing herbs at home you try to find other ways to use those herbs that you have tenderly cared for over the growing season.
Herbs like calendula can be grown fairly easily from seeds and before you know it you will have an overabundance of fresh calendula flowers to harvest.
Growing your own calendula flowers and air drying them yourself is a good way to ensure that you are using organic calendula flowers when you make your homemade calendula oil.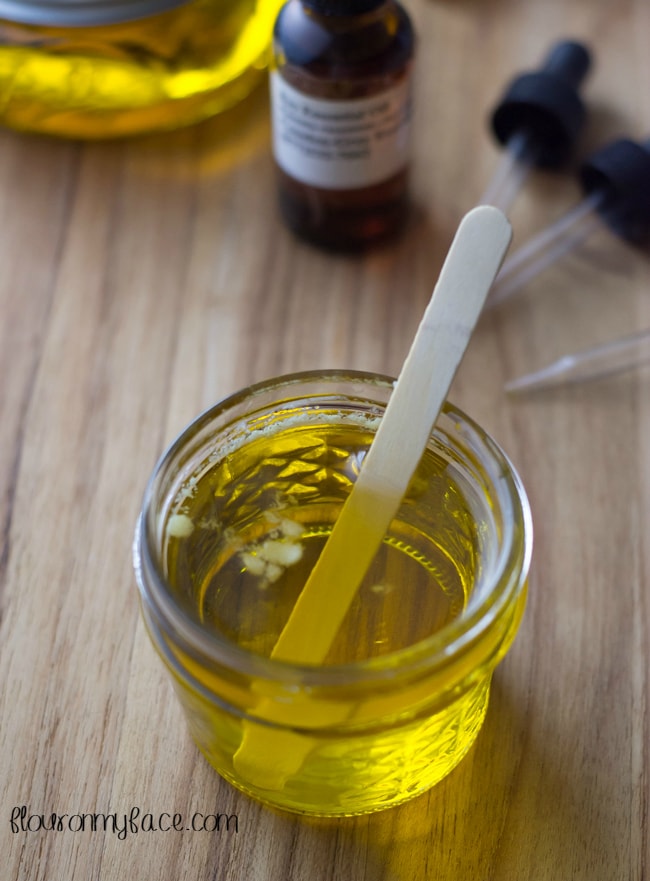 How to make Calendula Salve
Supplies
4 oz mason jar
3 ¾ oz calendula oil
2 teaspoon organic beeswax
5 drops lavender essential oil
3 drops bay essential oil
wooden popsicle stick
Instructions
Place the calendula oil and beeswax into the jar.
Heat in the microwave for 20 seconds and stir.
Return jar to the microwave and heat at 10-second intervals, stirring until the beeswax is almost melted completely.
Carefully remove the jar from the microwave and stir with a wooden popsicle stick until the beeswax melts completely.
Add essential oils and stir.
Set aside to harden.
Once cool cover and store until use.
I've used lavender essential oil and bay essential oil to scent my jar of calendula salve.
You can use any essential oil you would like. Just be sure you are using a good pure essential oil and not fragrance oil.
Store your homemade Calendula Salve in a cool place. Avoid exposure to heat as it will cause the salve to melt and kill off the healing properties of the calendula oil.
Can be stored in the refrigerator.
My eBook: Backyard Herb Gardening: Simple Tips to Help You Grow a Successful Herb Garden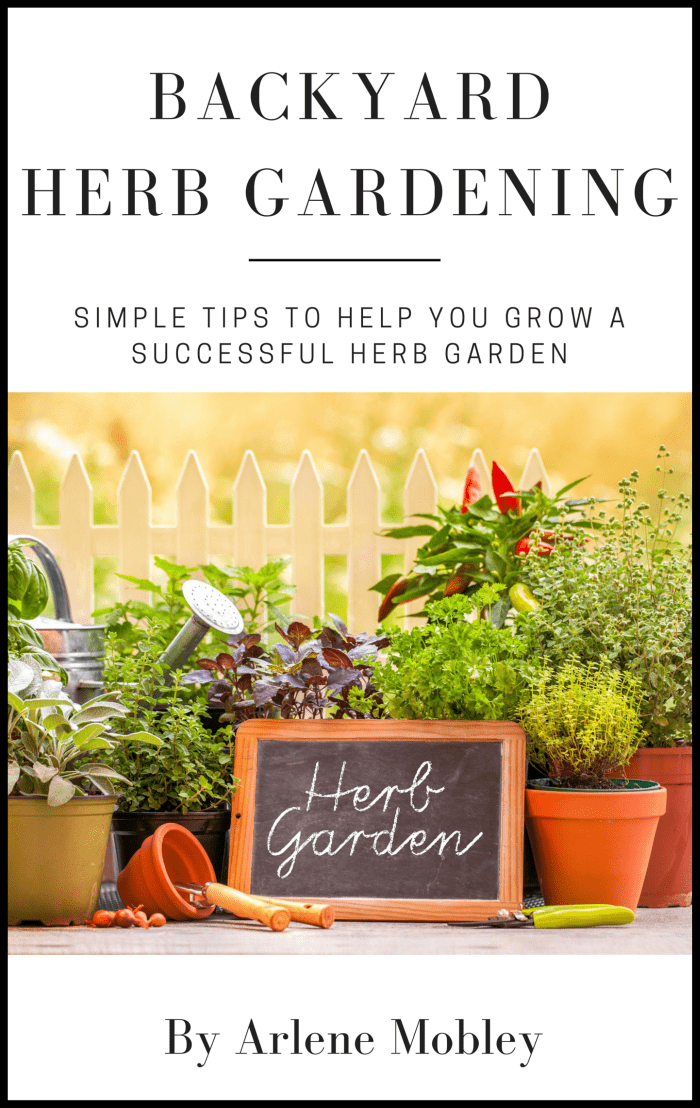 What are some of your favorite herbs to grow at home?