How To Make DIY Calendula Oil
Calendula oil is a wonderful thing to make. You can use DIY calendula oil to make lip balms, lotions, and salves.
The herb Calendula has many uses when it comes to homemade bath and body products.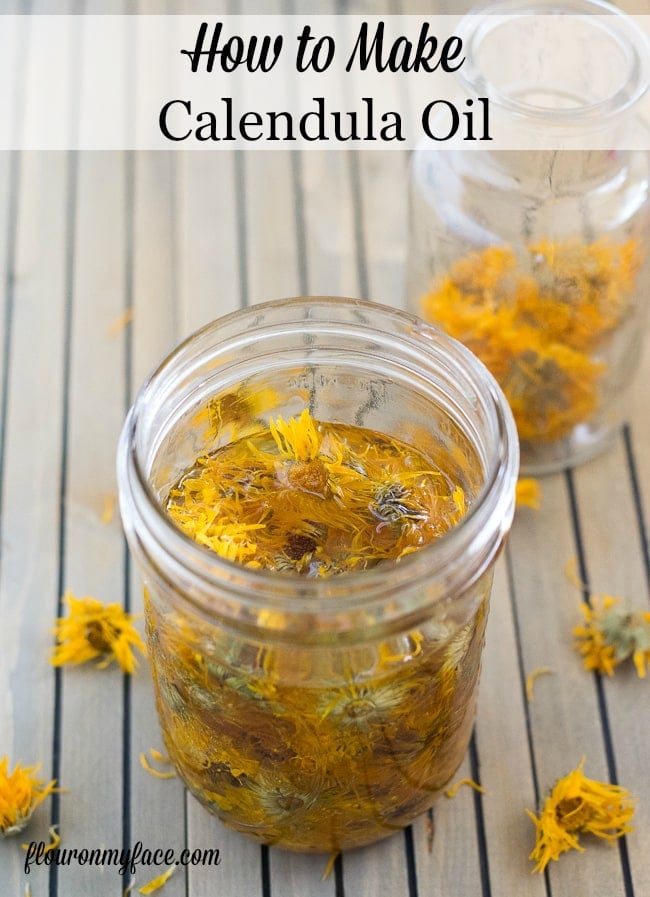 Now you may be wondering why I am sharing a recipe for DIY Calendula Oil.
Well back in the day, I made homemade bath and body products. I had a sweet little homemade soap business.
I haven't made any cold-pressed soap in years, but I never lost my love of homemade herbal products.
I have been making lotions, salves, lip balms and bath salts for personal use, as gifts and for friends and family for over 15 years.
I gave up creating recipes for homemade soap and bath products and moved on to sharing my family food recipes here on this blog instead.
Growing Herbs
I also love growing herbs. I always have about 10 different herbs growing in pots outside my backdoor.
Most of them are culinary herbs that I use for my cooking but last year I finally planted a big pot full of calendula seeds just so I could make this Calendula Oil.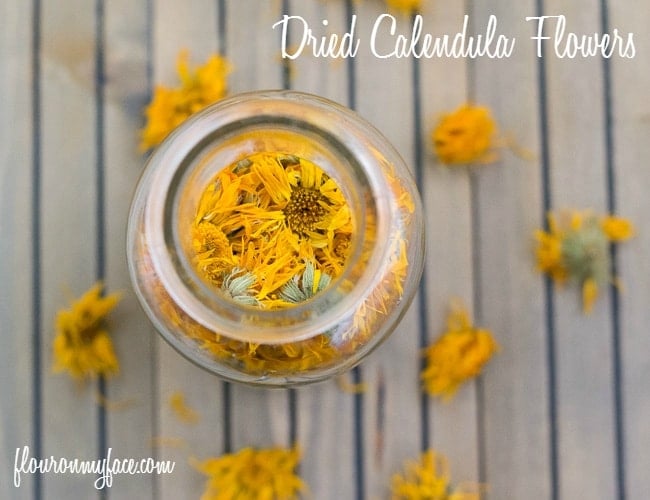 Disclosure: The information in this post is in no way meant to be medical advice. My opinion is based on my own and family's personal use of products containing calendula infused oil. Please seek the advice of a medical professional for your own needs.
Calendula is said to have healing properties and is very soothing on your skin. My husband suffers from dry and cracking skin during the winter.
A salve made with calendula infused oil has helped him when his hands are very dry.
You can find my favorite calendula salve recipe I love to make.
I've mentioned a few times how I make this calendula salve for my husband's dry and cracked hands during the winter.
I've had a few requests for the calendula salve recipe from readers. I'll be making the calendula salve as soon as this new batch of calendula oil is ready to use.
How to make Calendula Oil
Supplies
1 cup organic dried Calendula flowers
8 oz almond oil
2 oz vitamin E oil
a glass container or mason jar
Directions
Place the dried calendula flowers in a jar and cover with oils.
Place a lid on the jar and place it on a sunny windowsill.
Shake the jar once a day.
Allow to steep one or two weeks.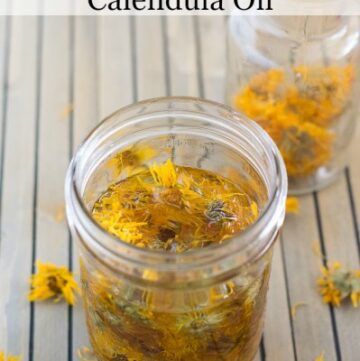 Print
DIY Calendula Oil
How to make calendula oil using dried calendula flowers. Use this oil for making salves and lotions.
Materials
1

cup

organic Calendula flowers

8

oz

almond oil

2

oz

vitamin E oil
Instructions
Place the flowers in a jar and cover with oils.

Place a lid on the jar and place on a sunny windowsill.

Shake jar once a day.

Allow to steep one or two weeks.