Disclosure: I am a member of the Collective Bias® Social Fabric® Community. This shop has been compensated as part of a social shopper insights study for Collective Bias® and Bigelow Tea #CBias #SocialFabric #AmericasTea
For Earth Day this year I decided to have a little Bigelow Tea Earth Day celebration with my granddaughter Hailey. We needed some Hailey & Grammy time, as she likes to call it. Hailey and I don't have many chances to spend some one on one time together. I was planning to get things ready by myself then surprise her for our little garden tea party.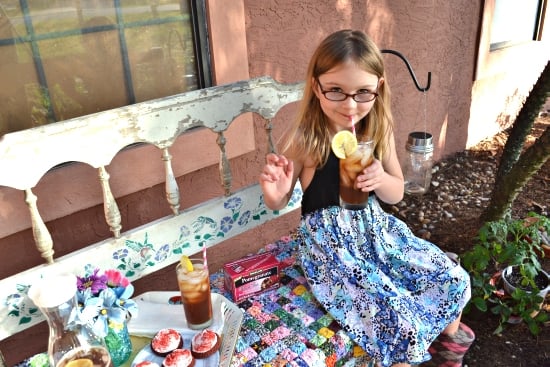 Then I decided to take her along on the shopping trip to pick up all the supplies. I knew she would get a kick out of helping pick out all the plants for our edible garden and the Bigelow Tea we would be enjoying for our Earth Day Celebration garden tea party.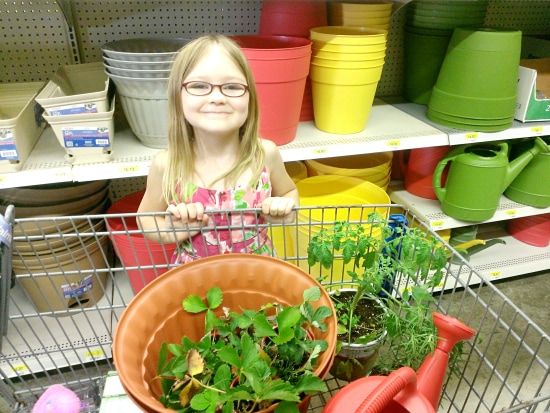 One of the many reasons I love the Bigelow Tea Company so much is because it is a family owned business that has been creating delicious tea blends for 65 years. I love when a company has been in business for generations. What is even more special about the Bigelow Tea Company is that Bigelow family members still run it. Cindy Bigelow is the third generation president of the Bigelow Tea Company. The original Bigelow Tea founder was her grandmother Ruth Bigelow, who started the company back in 1945 in her home kitchen.
If that isn't enough and you are looking for another reason to love the Bigelow Tea Company they are also a zero waste company. They have an extensive sustainable program in place. The SustainabiliTea program applies to all aspects of Bigelow Tea from creating a new blend to protecting the employees and their families for future generations. Last month it was announced that Bigelow Tea joined the Ethical Tea Partnership, an organization that works with tea growers to establish methods for responsible conservation of the world's tea fields and improve the lives of the people who work in them. The Bigelow Tea company is dedicated to their sustainable program.
By the time we got home from shopping it was pretty late in the day. Planting and the tea party would have to wait for the next day. But Mother Nature wasn't working with us. It rained and rained all day long. The potted plants and the grass were happy but the bad weather really messed up my plans.
The next day was a school day but we would have to do it then after Hailey got home. Those potted plants needed to be repotted in bigger pots as soon as possible.
When we were shopping Hailey picked out the Bigelow Pomegranate Black Tea for our party. I picked up two other flavors. The Constant Comment and the Vanilla Chai Tea. I had to try the Constant Comment after I learned that it was the first tea blend that Ruth Bigelow created back in 1945. I wanted to taste a cup of Bigelow Tea history.
The day we had been rained out I brewed a pitcher of the Pomegranate and Constant Comment iced tea. Once the tea party with Hailey was cancelled the family drank all the iced tea. Both iced teas were so good I haven't been able to keep the pitchers filled.
Finally the weather cooperated enough for Hailey and I to have our Earth Day Celebration with Bigelow Tea.
I fixed a tray with our tea and cookies.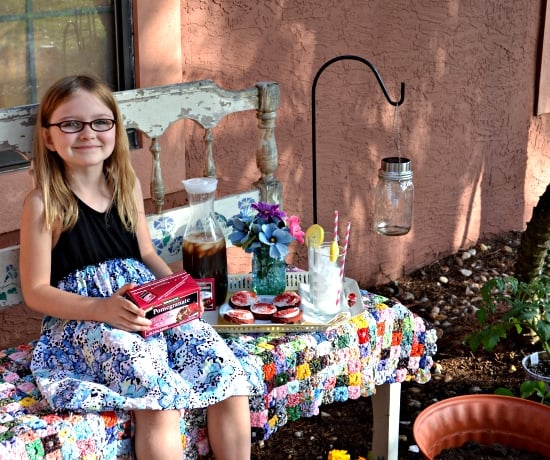 I helped Hailey plant a pot full of strawberry plants. We planted some marigolds in the middle as a natural bug repellant. Marigold's are a great natural pesticide. Many garden pests don't like the scent of marigold's and will stay away.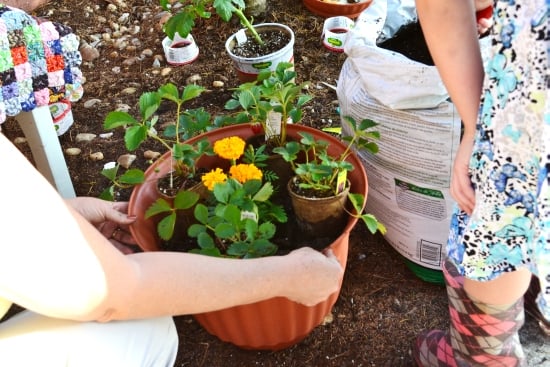 Once I showed Hailey how to fill the soil around the plants she had it covered and got to work.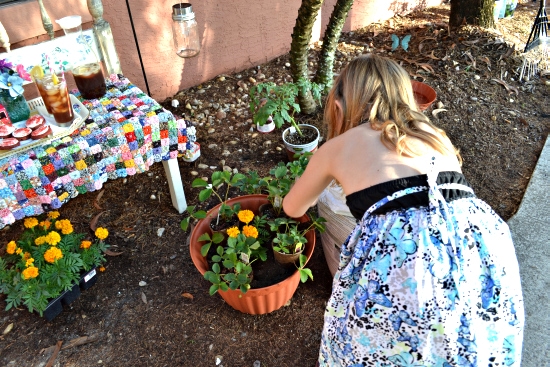 As soon as the pot was filled Hailey couldn't wait to use the watering can to water the re-potted strawberry plants and other plants we hadn't repotted yet.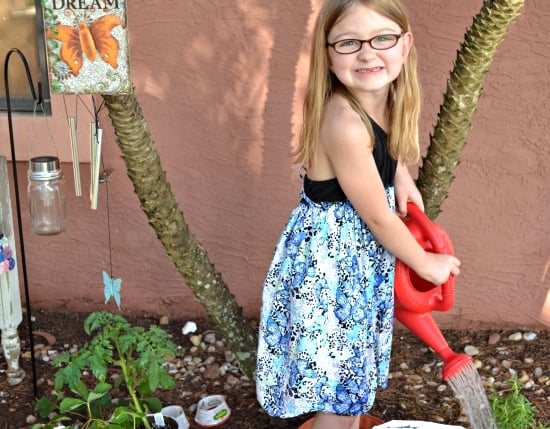 It was time for a break. Hailey was excited to enjoy her Pomegranate Iced Tea and Red Velvet cookies.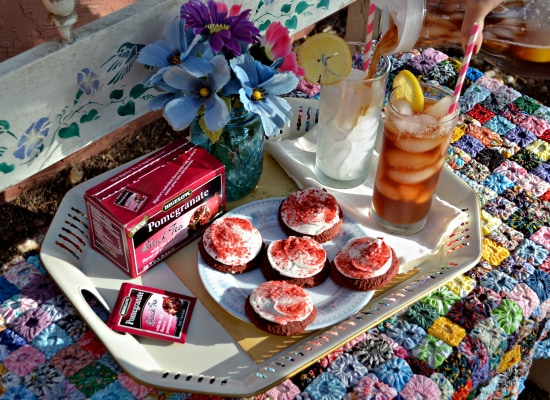 We finished planting and watering the plants. It will be a little while before we can enjoy some homegrown strawberries but Hailey will be helping me tend to the plants and learning a great lesson in growing her own strawberries. We will also be enjoying more Hailey and Grammy time as we do.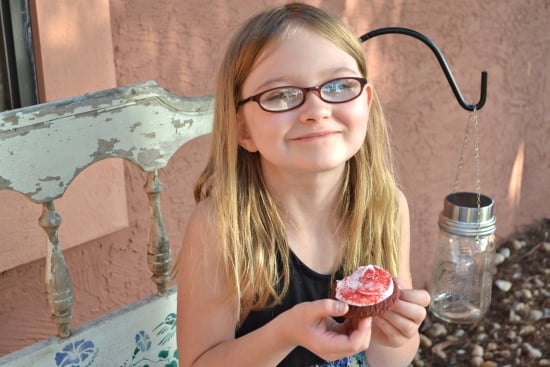 What is your favorite flavor of Bigelow Tea?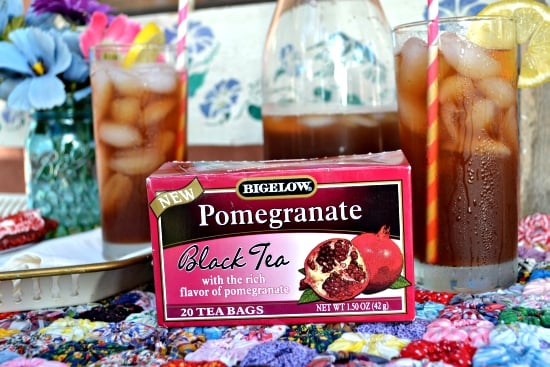 For more information about Bigelow Teas you can check out the Bigelow Community
For your daily Bigelow fix check out the Bigelow Facebook page or follow them on Twitter