25 Fabulous Fall Decorating Ideas
I look forward to Fall every year for a couple of reasons. One for the cooler weather. Two for the pumpkin spice recipes and three for decorating with all those beautiful colors of fall.
These beautiful 25 Fabulous Fall Decorating Ideas are going to have you running to the craft store!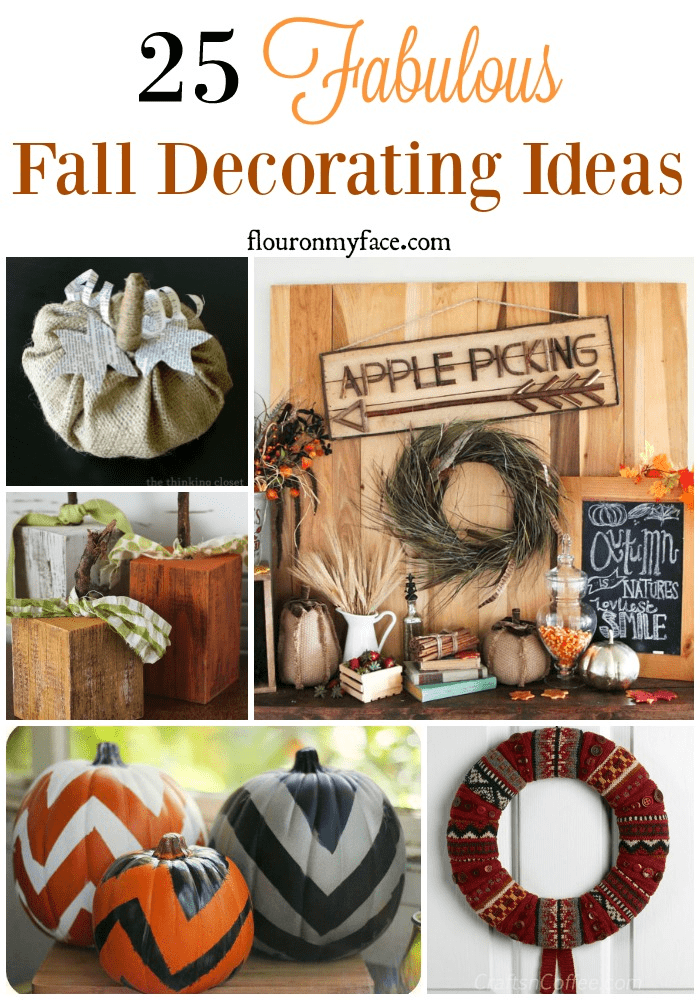 I may be obsessed with Fall decorations,  pumpkin crafts and the beautiful colors of Fall because I live in Florida. Florida is great for sunny beautiful weather most of the year, but it sucks when it comes to Fall colors.
There are no leaves changing colors.
There are no real pumpkin patches.
There are very few Hay rides.
There is no apple picking!
And all the corn fields are off limits for mazes.
There are a few fun Fall Activities in Fort Myers, Florida, but it just isn't the same as it is up north where real Fall shows it's beautiful shades of orange, brown and yellow.
The only thing we've got over the north when it comes to Fall is our Farmer's Markets start opening up. Florida is a bit backward when it comes to Farmer's Markets and fresh produce. Our big season is during the winter.
I'll try not to be too jealous when I think about most of you picking your pumpkins from a real pumpkin patch. Instead, I'll head out to a few of our Southwest Florida Farmer's Markets and see what kind of pumpkins are available this year.
25 Fabulous Fall Decorating Ideas
1. Fall Mantle
2. Burlap Book Page Pumpkins
3. Chevron Pumpkins
4. Patchwork Sweater Wreath
5. Tissue Paper Pumpkins
6. Monogrammed Cross Stitch Pumpkin
7. Rustic Wood Pumpkins
8. 2 Minute No Sew Fabric Pumpkins
9. Mason Jar Luminary Leaf Centerpieces
10. Glitter Glam Pumpkins
11. Rustic Reclaimed Wood Pumpkins
12. Dryer Duct Pumpkins
13. Sparkly Pumpkins
14. Constellation Pumpkins
15. Nautical Fall Mantel
16. Studded Craft Pumpkin Vase
17. Mason Jar Lid Pumpkin
18. Dried Citrus Wreath
19. Gold Glitter Polka Dot Pumpkins
20. Pink Pumpkin Pillows
21. Gold Leaf Acorns
22. Gold Painted Fall Leaves
23. DIY Confetti Pumpkin
24. DIY Chalkboard Wreaths
25. Bronze and Purple Fall Wreath