Homemade Fig Preserves
I have been wanting to make fig preserves for many years.  My obsession with making fig jam or homemade fig preserves started over 10 years ago when I bought a self-pollinating brown turkey fig tree. 
If you have ever planted a fruit tree you know it takes a few years for the fruit tree to mature enough to bare fruit. Well, let's just say someone came a little too close to the base of my fig tree  a couple of times too many with a lawn mower or weed eater. The fig tree has been gone awhile now but I still have dreams of growing my own figs one day.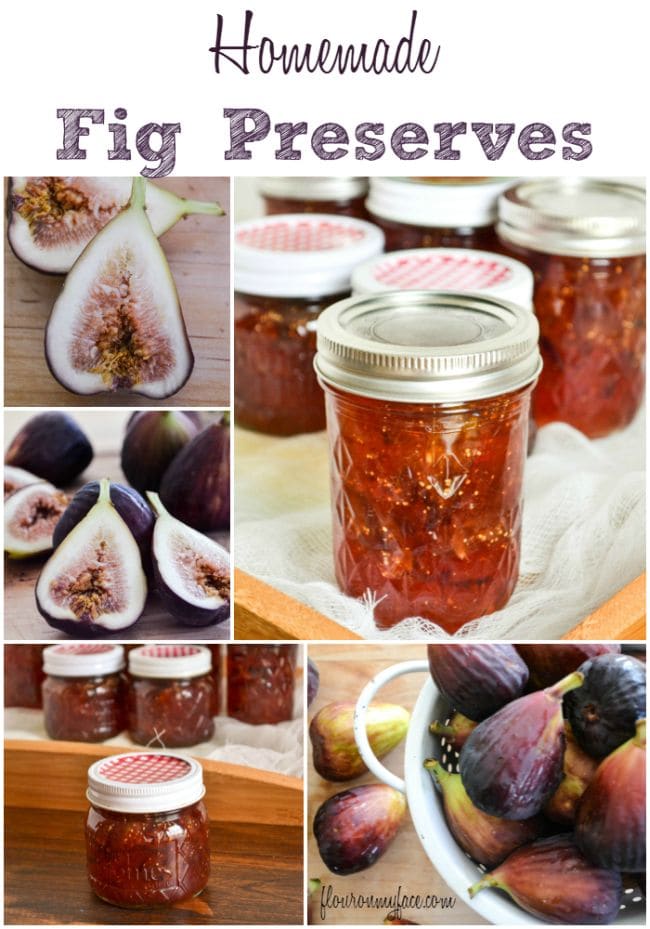 Figs are only available in the grocery stores for a very short time here and they are usually very expensive. Last summer I got lucky and caught some brown turkey figs on sale and snatched a couple of containers up. Since it was an impulse buy I had no idea how many figs I would need so I bought a couple of containers and hoped I had enough to make a batch of fig preserves. 
I love the way this homemade Fig Preserves recipe turned out. It tastes great on toast and on a bagel with cream cheese. I can also see using it as a filling for cakes or a strudel.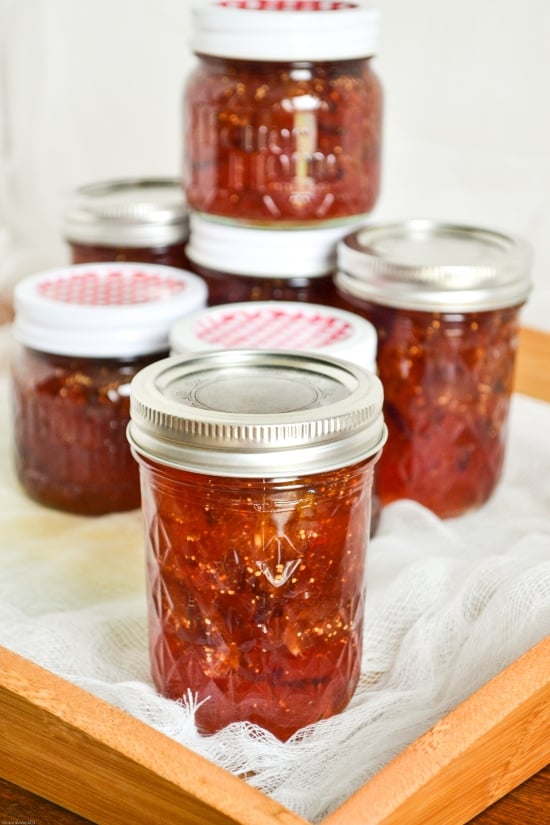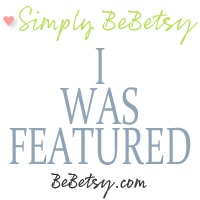 Enjoy the recipe Summer will be here before you know it and when it's fig season you will be looking for the perfect fig preserve recipe!
Canning Supplies Used to Make Fig Preserves (affiliate links)
These are affiliate links. I will earn a small commission at no extra cost to you should you make a purchase after clicking a link.
canning jars
Fig Preserves
:
Arlene Mobley - Flour On My Face
Ingredients
6 cups trimmed, and roughly cut brown turkey figs
7 cups sugar
½ cup water
¼ cup lime juice
1 tsp lime zest
1 teaspoon margarine or butter
1 packet liquid pectin
Directions
Wash, trim stems and slice figs into 4th.
Add first six ingredients to a large pot and let sit about 30 minutes, stirring occasionally.
Meanwhile boil jars.
Put flat lids in a small pot of water and boil then turn off the heat.
On medium heat bring ingredients to a full rolling boil.
Boil for about 10 minutes.
Stir in packet of liquid pectin.
Continue stirring until ingredients come to a full boil.
Stop stirring and boil for exactly one minute.
Remove pot from hot burner.
Allow preserves to settle.
Skim foam off top.
Fill jars.
Process 20 minutes in a hot water bath.
Searching for more
canning recipes
like this
homemade Fig Preserves recipe
? Check out my
Canning recipe page
where you will find more canning recipes.