Crock Pot Italian Swiss Steak
Disclosure: I am a member of the Collective Bias®  Social Fabric® Community.  This shop has been compensated as part of a social shopper amplification for Collective Bias and its advertiser.
#DinnerDone #Collective Bias
This Crock Pot Italian Swiss Steak is just like a recipe my mother made when I was a kid. The original recipe came from a friend of  my mothers. I updated the recipe my mother made so I could make dinner time easier and the kitchen cooler by making her Italian Swiss Steak recipe in the crock pot. This way I could sit back and enjoy the day while dinner cooked on the counter. Crock Pot Italian Swiss Steak is a perfect summer recipe.
One of the best reasons to cook Italian Swiss Steak in the crock pot is because a cheaper cut of meat can be used. The low and slow cooking in a crock pot will make even the toughest cut of meat fall apart tender.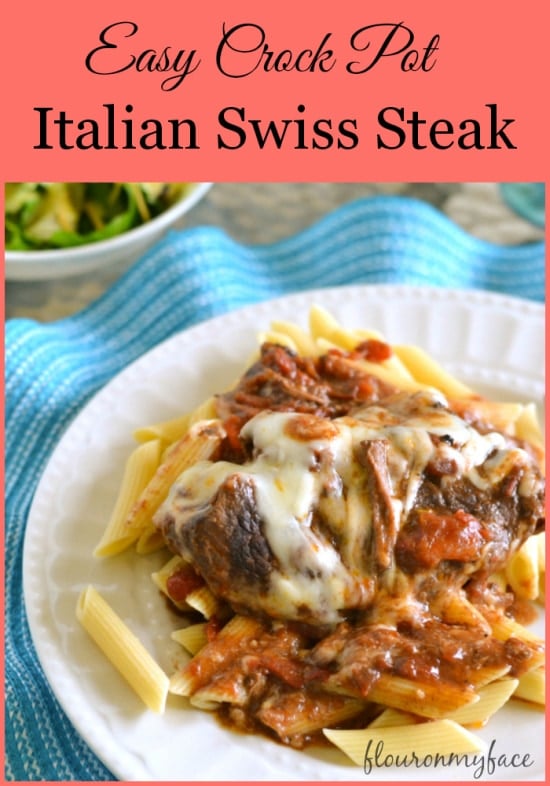 While I was shopping at Walmart for the ingredients for this recipe I found a wonderful thing. Hunt's diced tomatoes are available in some delicious flavors like Sweet Onion and Basil, Fire Roasted, and Garlic & Oregano just to name a few.
I love the flavor of roasted tomatoes so for this recipe I used 2 cans of the Hunt's Fire Roasted Diced Tomatoes. You can use any flavor of Hunt's diced tomatoes you have on hand but this recipe turned out so good I am going to suggest you pick up a couple of cans of the Hunt's Fire Roasted Diced Tomatoes for it.
I am always looking for recipes with tomatoes as I am trying to eat more healthy. Did you know that Hunt's uses a unique flashsteam peeling method? All Hunt's diced, stewed and whole tomato varieties
As I mentioned earlier this is a recipe I ate when I was a kid. My husband and son have never eaten it before. I wondered if they would eat it because they never eat anything they can see pieces of tomato in. I am happy to report that this recipe blew their taste buds away.
They both loved it! The meat was so tender that it cut like butter.  I may have tricked them just a bit because I thickened the sauce with just a bit of cornstarch so it looked more like a gravy then a sauce. Shhh….don't tell. If you have never used cornstarch as a thickener I've included the directions in the Ziplist recipe app below.
Ziplist is a recipe application. If you have never used it I urge you to check it out! You can easily save and print any of my recipes with it.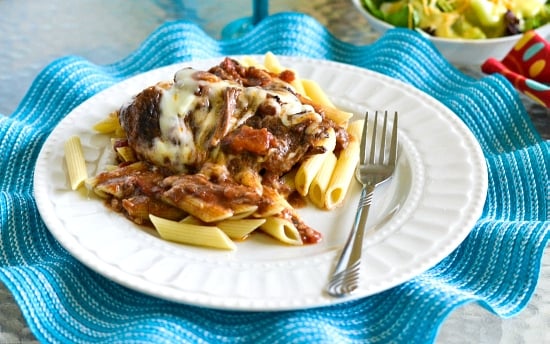 The recipe for this Italian Swiss Steak is so easy. All you do is add one can of Hunt's Fire Roasted diced tomatoes, the tomato paste, the onion, garlic, salt (if using) and pepper in the bottom of a crock pot set on high. Cut the roast into serving size pieces and add to the crock pot. Then pour the remaining can of diced tomatoes over the top of the meat. Cook on high for 6-8 hours. That is it and why I love cooking in my crock pot. Life is so much easier when dinner is taken care of early in the day.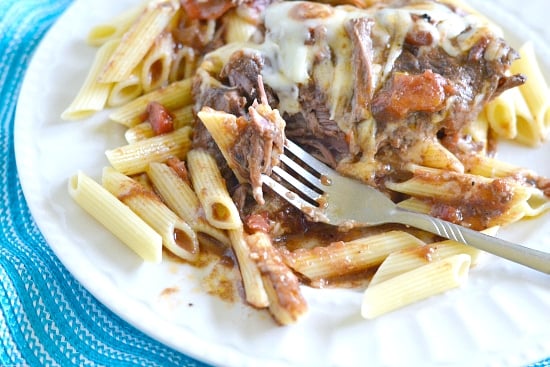 You can find the entire Easy Crock Pot Italian Swiss Steak recipe and directions below in Ziplist format.
 You can find more great recipes and information on Hunt's tomatoes at www.hunts.com and http://www.readyseteat.com/
You can also follow Hunt's on Facebook  Twitter and Pinterest
Easy Summer Recipes | Crock Pot Italian Swiss Steak
Crock Pot Italian Swiss Steak is fork tender no matter what cut of beef you use. The slow and low cooking time in the crock pot with turn a cheap cut of roast into a dream.
Ingredients
1 3-4 pound chuck roast
2 14.5 ounce cans of Hunts Fire Roasted diced tomatoes
1 small onion, roughly diced
2 tablespoons Hunts tomato paste
2 heaping teaspoons chopped garlic
1 teaspoon salt (optional)
1 teaspoon pepper
½-1 cup diced red or green peppers (optional)
1 tablespoon cornstarch
2 tablespoons water
1 to 1½ cups grated mozzarella cheese
½ pound cooked penne pasta
Directions
Turn the crock pot on high.
Add 1 can of Hunts diced tomatoes, tomato paste, onion, peppers (if using) garlic, pepper and salt (if using) to the bottom of a crock pot.
Cut the roast into serving sizes. I cut my 3½ pound roast into 4 pieces for easier handling.
Layer the roast pieces over the ingredients in the bottom of the crock pot.
Pour the remaining can of diced tomatoes over the top of the roast and spread to cover the meat.
Occasionally turn the meat over.
After 5 hours of cooking mix the cornstarch with the 2 tablespoons of water and add to the crock pot and stir.
Cook for an hour longer to allow the sauce to thicken.
After an hour using a measuring cup or ladle remove most of the sauce from the crock pot and set aside.
Evenly sprinkle the cheese over the top of the meat. Cover and allow cheese.
While the cheese is melting cook the pasta and drain.
Serve each cooked portion of Swiss Steak over a bed of pasta with a salad on the side.
Ladle a bit of the reserved sauce over the pasta if desired.