Top 10 Spices I use in my Kitchen
These are the Top 10 Spices I use in my Kitchen and as long as you have them in your pantry you can make just about any recipe you will find here on Flour On My Face. A well stocked spice cabinet makes cooking and baking so much better.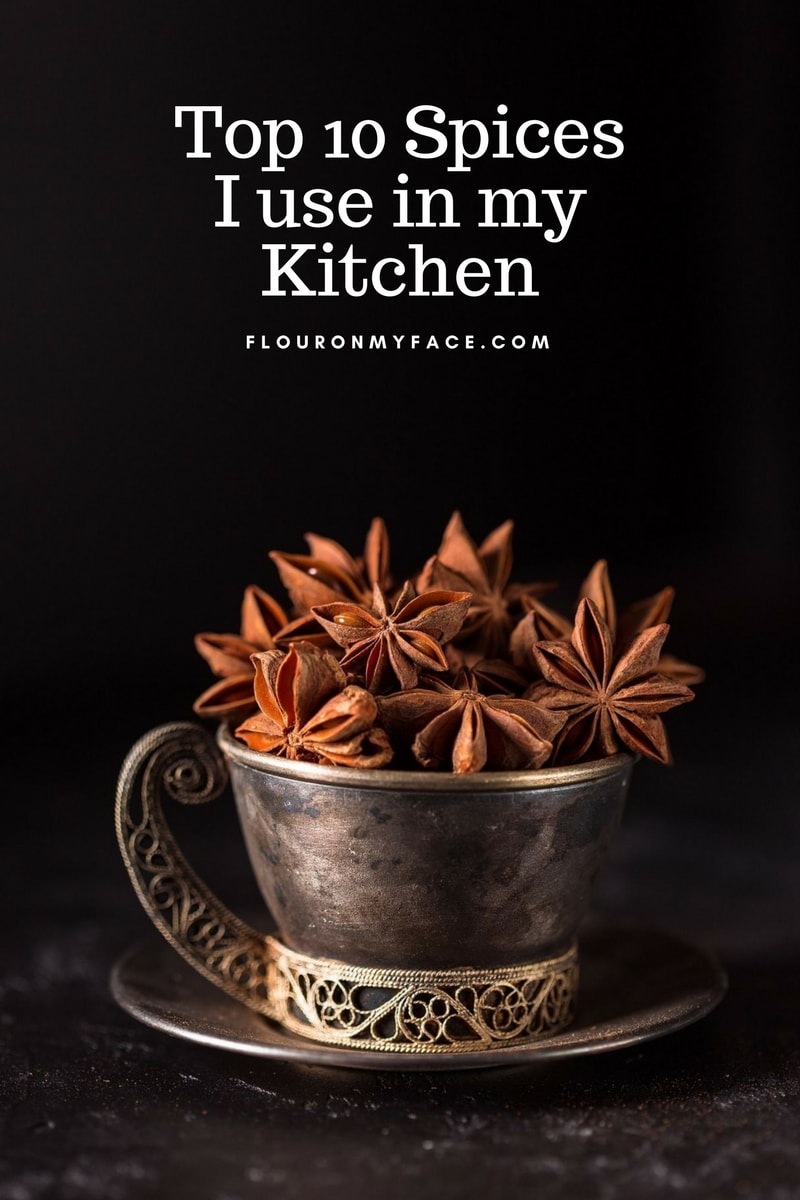 You may already have many of these spices in your cabinet. If your are just starting to stock your new home with kitchen supplies you'll find the 10 most basic spices you should start with.
Top 10 Spices I use in my Kitchen
Ground Cumin: Ground cumin is used in many Mexican, chili and southwestern style recipes.Cumin can be used to season meats, soups and chili recipes.
Ground Cinnamon: Ground cinnamon is use in many dessert recipes.
Ground or fresh ginger is used for dessert recipes and most Asian recipes.
Salt: Used to season just about every recipe imaginable. Even sweet recipes will benefit from adding a dash of salt to the ingredients. Salt helps bring out the best flavors in the recipe of the ingredients.
Ground black pepper or pepper corns:
Garlic: Fresh garlic is one of my favorite spices.
Rosemary: You can buy dry rosemary but fresh rosemary is so much better.
Bay Leaves: Used to season meats, soups and stews.
Vanilla: Vanilla is the queen of spices. Always use pure vanilla extract when using vanilla in your recipes. You can make your own homemade vanilla extract and save lots of money. Vanilla beans are also used in many decadent cheesecake, puddings and dessert recipes.
Nutmeg: Is the winter spice of choice. It seasons many Fall pumpkin recipes. Nutmeg is almost a seasonal spice for me during the holidays but I am finding I reach for it much more while baking. I also love to grind fresh nutmeg over a glass of homemade eggnog.