Ten Tips to throw a Stress Free Birthday Party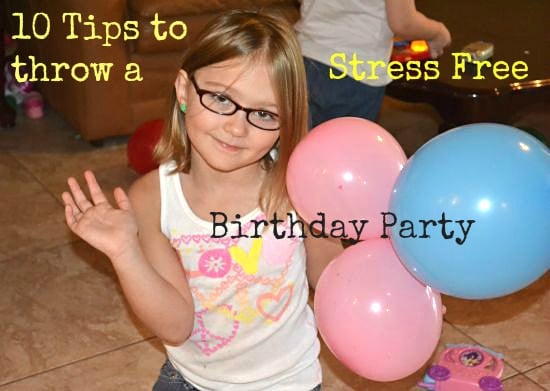 If you have ever thrown a childs birthday party then you know how stressful they can be.
 If you are a parent of at least one child then you obviously have at one time or another been the host of a children's birthday party.
Being the mother of three children and grandmother to three granddaughters I've thrown a party or two.
Back when my kids were little some years I would cheat and host the birthday parties at a local venue like the skating rink. Then all I had to do is show up with the kid, a cake and a birthday present. I was happy to pay  them to do all the set up and clean up.
It was cheaper that way.
Now the prices have sky rocketed at all the venues that would host birthday parties.
Now it is so much cheaper to throw one yourself. It's plenty cheaper but so much more stressful.
 I have hosted a birthday party or two or three or about 36.... yes I figured it out.That's just my kids. My grand kids are 6, 3 and 2.
I've have helped with those parties also.
 After about the age of 12 my three kids started having sleep over parties instead of a traditional birthday party. A few of the parties were as I mentioned thrown at a local venue but the majority were thrown by me at home.
I've learned a few things along the way. So I sat down with my oldest daughter Megan, mother to the 6 and 2 year old granddaughters and we came up with the Top 10 tips to hosting a stress free birthday party.
Now I don't think there can ever be a completely stress free birthday party but I promise you if you keep these tips in mind it will go a little easier.
Top 10 Tips to throw an Stress Free Birthday Party
 Pick your theme as soon as possible.
Six months is not too soon to start planning. That way it will be so much easier to gather all the decorations, especially if your theme is very popular or one that will have colors that are no easy to find. It can take time to find all the pieces you will need like matching plates, napkins, streamed and cups. We had a horrible time finding things that were a solid purple color for one of our parties.
 Keep the guest list manageable 10-15 kids.
10 or 15 kids are manageable and you won't go broke buying goodie bag stuff. If the child is very young 6-8 kids might be best as it is very easy for the little ones to get overwhelmed.
 Ask friends or family to help with decorating and food.
Grandparents, aunts, uncles and close friends are great sources for pitching in and helping with the cost of a party
 Plan activities to keep the kids busy based on your theme.
Color pages, games and cookie or cupcake decorating are a few activities we have used.
 Have a back up plan if planning an outdoor party.
Weather can be unpredictable. If planning an outdoor party be sure that if need be you can move the party indoors at a moments notice.
 Pick up party supplies and goodie bag items whenever you find them on sale or clearance.
Party City, Target and Walmart all put seasonal party items on clearance. Keep an eye out each time you go shopping and grab things when you find them marked down. I have scored big in the Target dollar section for goodie bag items and party decorations.
 Decide well in advance if buying or baking a cake or cupcakes.
Keep in mind your time frame  for party decorating and set up. If you work or have other obligations and time will be an issue buying a cake instead of baking one or making 50+ cupcakes the day before may be a better choice. You don't want to have to stay up till the wee hours of the morning the night before the big event baking and decorating.
 Clear your schedule at least 2 days before the big event to finish up last minute preparation.
If possible clear your schedule before the party day and give yourself enough time to clean the house, decorate and setup. Nothing is more stressful then running around hours before the guest arrive cleaning and setting up.
 Schedule your party for late afternoon to give you plenty of time for set up on the morning of the party.
We use to do our parties around 1 pm so they were scheduled right after lunch ut before dinner time. Over the years we figured out that the earlier in the day the party was set to start the more running around like maniacs we did doing set up and last minute stuff. Now we do our parties at 3 pm and have plent of time the morning of the party to get ready.
 Don't forget the candles!
I can't tell you how many times we have forgotten to pick candles up before the day of the party. Put them on your shopping list first and out won't forget to pick them up!
Nestles has these cute birthday  sugar cookies imprinted with cute birthday pictures.
Have you seen them yet?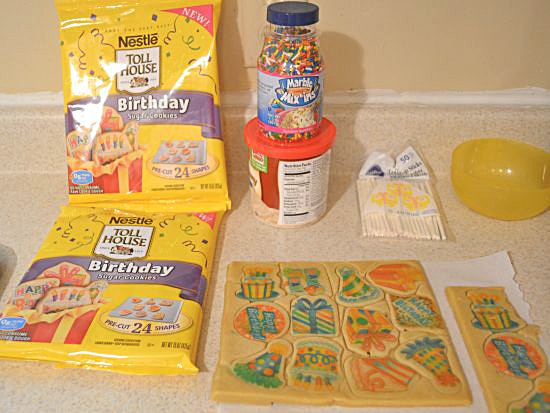 I wish I would have known about these last month when we celebrated my granddaughter Hailey's 6th birthday.
They make such cute cookie pops.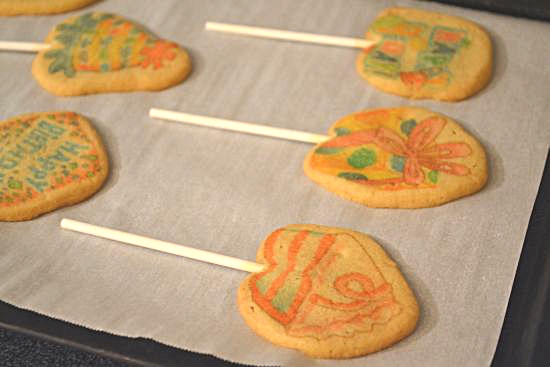 I decided to fancy these up with some frosting and sprinkles.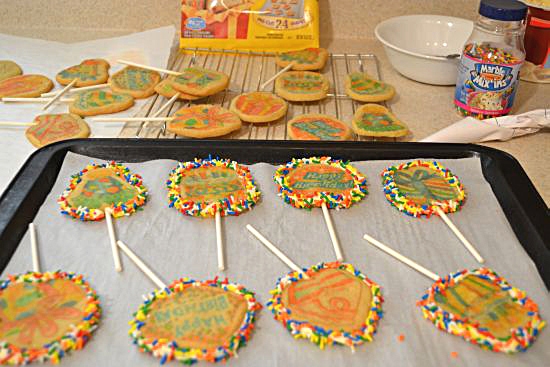 This would be a great birthday party activity.
You could bake the sugar cookie pops the night before and let the kids decorate them with some frosting and sprinkles as I have.
This post is brought to you by Nestle Toll House Birthday Sugar Cookies. Bake some birthday love.
Disclosure: This post is part of a DailyBuzz Food Tastemaker program with Nestlé® Toll House®