This post contains affiliate links. As an Amazon Associate, I earn from qualifying purchases.
Step by Step How to Make Sourdough Focaccia with a Video
Want a Step by Step How to make Sourdough Focaccia guide? The most important part of making any type of homemade bread is kneading the dough properly. It doesn't matter if you are making focaccia or a loaf of white bread the dough will need to be kneaded. If you are newly embarking on making homemade bread at home it can be a little confusing figuring out the correct amount of time kneading the dough.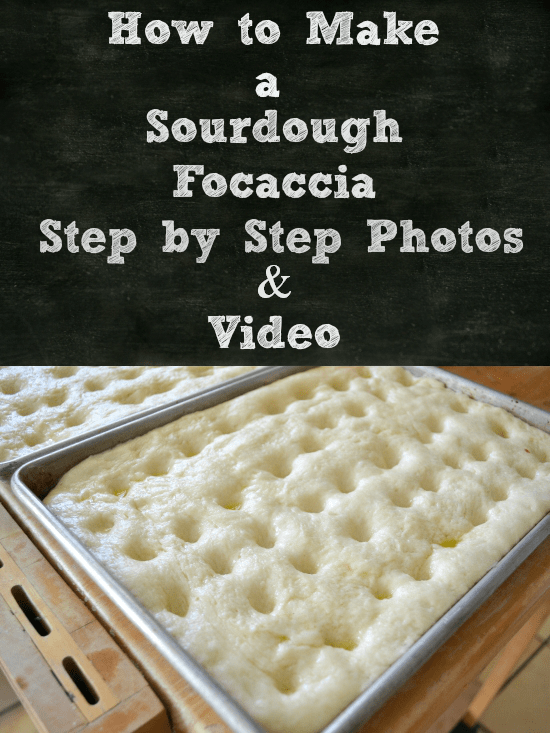 You can read a hundred recipes giving you the amount of time to knead the dough but a recipe can not show you or teach you how a properly kneaded batch of dough should look or feel.
The only way to learn how to make homemade bread and knead the dough correctly is to get your hands into a batch of dough and knead it yourself.
Bread Making Tips
Almost all bread recipes will give you an estimated amount of time to knead the dough. That time is an estimate only.
There are many factors that come into play when you are making homemade bread.
The type of flour used, the amount of humidity in the air and the temperature in your kitchen will affect the dough.
If you love easy & amazing recipes join the Flour On My Face Newsletter and get each of my new recipes delivered right to your inbox.
To Make a Sourdough Focaccia
Obviously you are going to need an active sourdough starter to make this recipe. For those of you who do not have a live starter already going you can find my very easy instructions on How To Make a Sourdough Starter.
It is very easy to make a sourdough starter. If you need to make a sourdough starter to make this recipe you will need to start the starter at least 3 days before making the sourdough focaccia recipe.
If your house is cold it may take longer to get a starter going. You will need to keep your starter in a very warm place like on top of the refrigerator or in the kitchen on the top of your stove when you are first getting it going.
The yeast needs warmth to develop.
If you already have a live and healthy sourdough starter in the refrigerator take it out at least 24 hours before starting this recipe and feed it at least 3 times to get it active and bubbly.
To make this recipe you will need an active sourdough starter, all-purpose flour, warm water, olive oil, honey, and sea salt.
For this recipe, I will be showing you how to make the focaccia dough and how to knead it. You can top it any way you like. Or bake it plain with no toppings with a sprinkle of sea salt over the top.
I like to add toppings to mine like this White Cheddar Cheese and Onion Sourdough Focaccia.
Or you can top your focaccia with some of the toppings I love to use below.
Favorite Focaccia Toppings
Thinly sliced red and green peppers
Tomato
Thinly sliced onion
Green or black olives
Chopped garlic
Cheese
The first thing you will need to do to get started on this sourdough focaccia recipe is to create a sponge using the sourdough starter, warm water, olive oil, honey, and flour.
Do not skip the honey or substitute sugar if you are tempted to. Even though there is a very small amount needed it is a very important part of the ingredients.
It will make a huge difference in the amount of rise and softness the final baked bread will have.
Mix all of those ingredients together and place the bowl in a warm place like inside a cold oven with the light turned on. Allow the sponge to get bubbly.
This could take one to two hours depending on the warmth of the area where you place the bowl of sponge.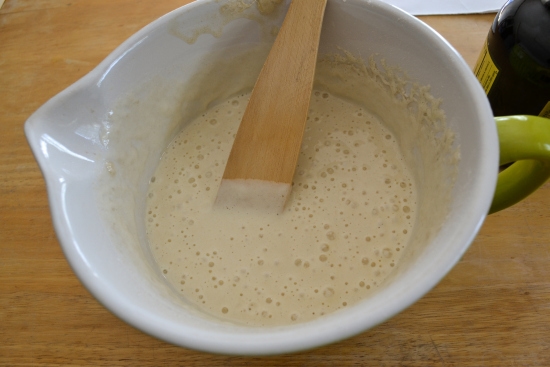 See all the bubbles on top of the sponge? This is how your sponge will look when it is ready to use. When it looks like this you are going to add more olive oil, flour and some sea salt and mix it well.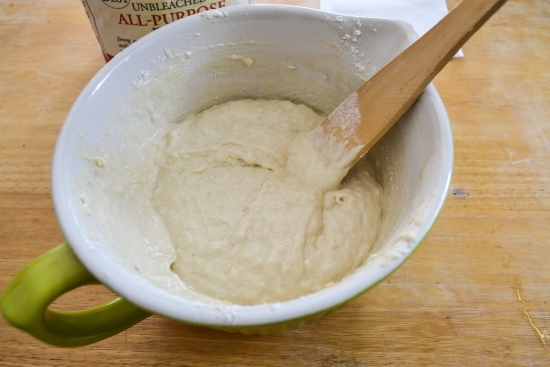 Add about 1 cup of flour at a time and mix well with a wooden spoon.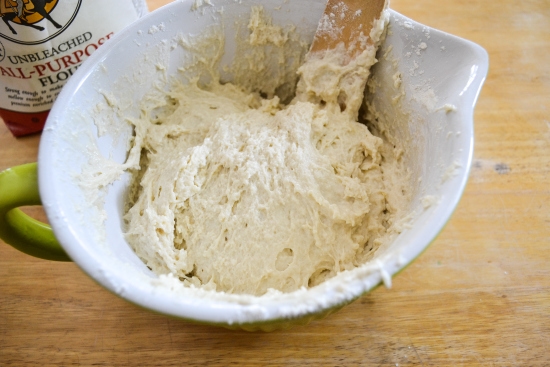 After each cup of flour, the dough will begin to stiffen.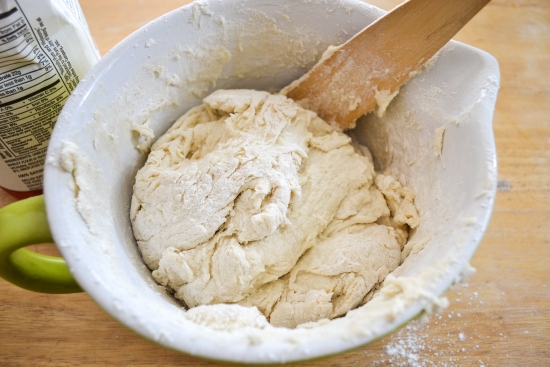 By about the third cup of flour, the dough will be too hard to mix with the wooden spoon.
Sprinkle 1 cup of flour over the counter where you will be able to knead the dough and turn the dough out on top of the flour.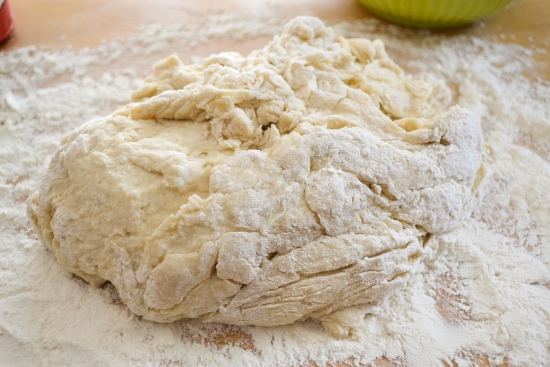 Knead the flour into the dough. You may need to knead in an additional 1 to 1 1/2 cups of flour into the dough depending on how moist the dough is.
Please see the video below on how to knead this sourdough focaccia dough.
After you have kneaded the dough place it in a bowl that has been greased with olive oil. Loosely cover and allow to rise in a warm area (oven with the light on) until doubled in size, about 1-2 hours.
This recipe will make one large rimmed 11 x 17-inch baking sheet or two 9 x 13-inch baking sheets of focaccia. I made the two 9 x 13-inch pans as seen in my photos.
Once the dough has risen gently punch it down. If you are using two pans divide the dough in half.
Pour 1/4 (for the 9 x 13-inch baking sheet) or 1/2 cup (for the 11 x 17-inch baking sheet) of olive oil into the bottom of the baking sheet.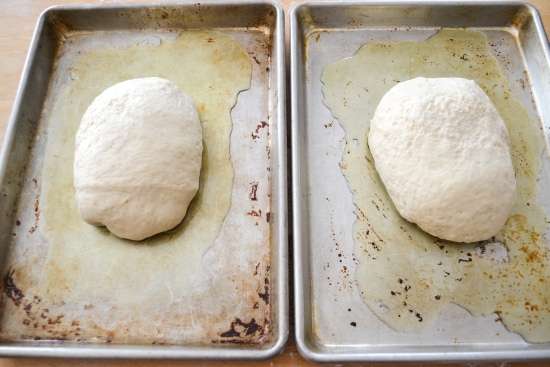 Flatten the Focaccia dough out into the corners of the baking sheet. Use the heel of your hand to gently work the dough to the sides of the pan and into the corners.
Allow some of the olive oil to pool on the top of the dough. Do not pour out what looked like excess olive oil!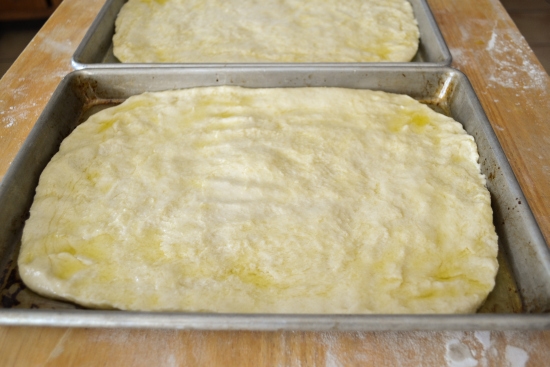 If the dough seems too elastic and will not move into the corners allow the dough to rest for 5 minutes then continue to work the dough into the corners.
Loosely cover the dough with a dish towel and allow to rise until doubled in size. This could take 1 to 2 hours. In a warm kitchen, it takes around an hour.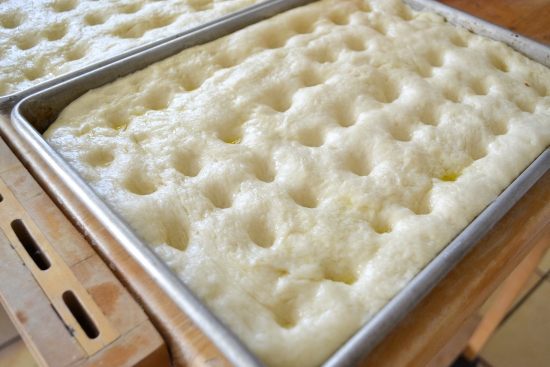 The Focaccia is now ready to be baked. You may add any toppings you would like. Drizzle with more olive oil and sprinkle it with coarse sea salt and bake.
Focaccia is one of those recipes that are perfect because you can top it with whatever you want or eat it plain.
Check out this Onion Cheddar Cheese Focaccia Appetizer recipe I made using this Sourdough Focaccia recipe.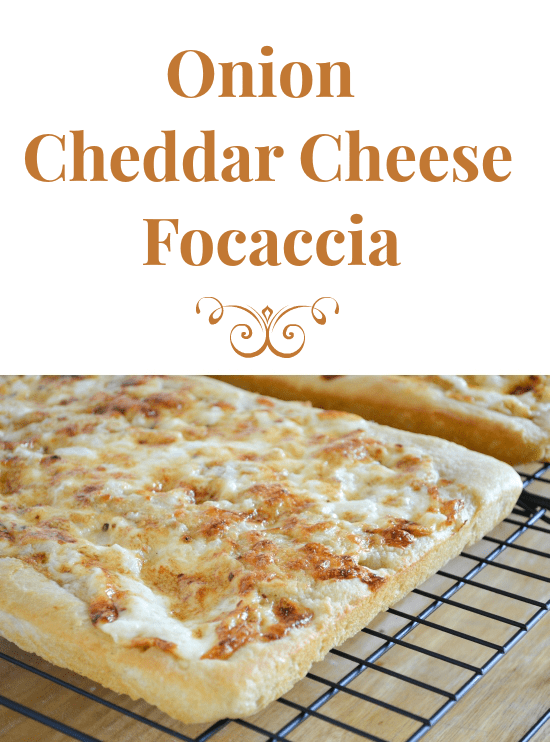 Print the How to Make Sourdough Focaccia recipe below
Print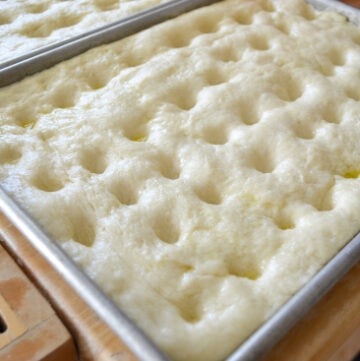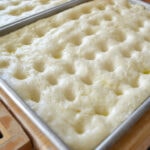 Step by Step | How to Make Sourdough Focaccia
Author:

Arlene Mobley – Flour On My Face

Prep Time:

3 hours

Cook Time:

21 mins

Total Time:

3 hours 21 minutes

Yield:

2

Flatbreads

1

x

Category:

Breads

Method:

Baked

Cuisine:

American
---
Description
How to Make Sourdough Focaccia
Step by Step How to Make Sourdough Focaccia with a video showing how to properly knead bread dough for this sourdough focaccia recipe.
---
Scale
Ingredients
In a bowl, combine the following ingredients to form a sponge:
1

–

1/2

cups sourdough starter (always feed your starter the day before you are going to bake and stir before measuring)

1 cup

warm water

1/4 cup

olive oil

1 tablespoon

honey

1 cup

flour
Allow sponge to ferment and bubble for about an hour until bubbles of differing size are on top.
Add to sponge:
---
Instructions
Mix ingredients together and turn out onto a floured board, kneading for 5-7 minutes. Depending on the hydration of your starter, you may end up adding 1/4 – 1 cup more of flour while kneading. The dough will be soft and slightly moist from the oil and the kneading.
Form into a ball and place in an oiled bowl. Cover with plastic wrap and allow to rise until doubled, about 1-1/2 to 2 hours.Once dough has risen, gently punch dough down and then place your dough in the prepared pan. Using a large, rimmed baking sheet or two smaller baking sheets, add 1/4-1/2 cup olive oil to the bottom of the pan, swirling to cover the bottom and sides.
With your fingers, press dough into the bottom of the pan until it fills the pan. If your dough is very elastic and pulling away, allow it to rest for about five minutes and then continue.
Cover with a kitchen towel and allow to rise until roughly doubled in size, about an hour.
Preheat oven to 450 degrees Fahrenheit.
Once dough is ready, lightly dock dough with your fingers all over, leaving little impressions. If the dough is a little dry on top, brush on a bit more extra virgin olive oil and then sprinkle with coarse sea salt (mine was not dry; extra olive oil had spilled over onto the dough when I pressed the dough into the pan so all I did was sprinkle with salt. You be the judge of your dough.)
Bake for 20 minutes or until golden brown. Remove from oven and allow to cool in it's pan on a rack.
---
Nutrition
Serving Size:

1 wedge

Calories:

440
Keywords: How to make Sourdough Focaccia, Focaccia video, Sourdough Focaccia recipe, Kneading Dough
Recipe Card powered by