Raspberry Kefir Ice Pops
#KefirCreations  #CollectiveBias
 Disclosure: This Raspberry Kefir Ice Pops recipe shop has been compensated by Collective Bias, Inc. and its advertiser. All opinions are mine alone.
These Raspberry Kefir Ice Pops are a great way to get a healthy probiotic packed snack while cooling off this summer. It is also the perfect way to get the kids to eat a healthy snack rich in probiotics.
My Raspberry Kefir Ice Pops are so easy to make with a Raspberry Lifeway Kefir Lowfat Cultured Milk 32oz Smoothie.  Lifeway Kefir has about 3 times of the amount of live cultures as yogurt and we all know how important probiotics are for a healthy gut.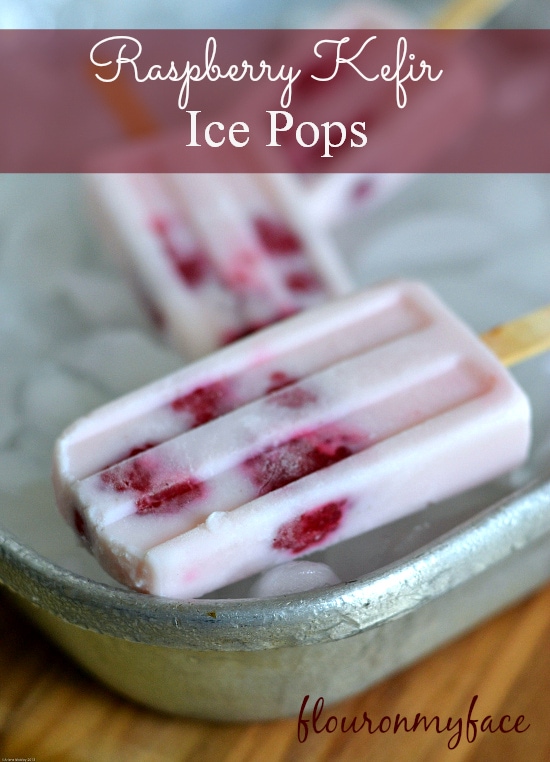 A few years ago when I first learned of the benefits of Kefir I bought some kefir grains so I could culture my own kefir at home. I soon learned keeping up with kefir grains takes a lot of work. After just a couple of months I was done with culturing my own kefir. Back then it wasn't as easy to find kefir in my local grocery stores.
I'm so happy that now I can buy it at my local Winn Dixie. It's right there on the dairy shelf next to the non dairy products.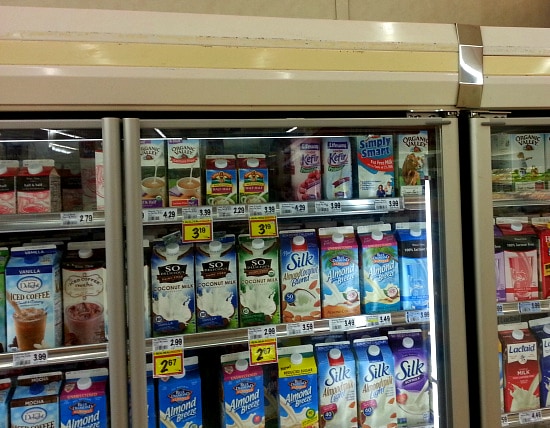 Lifeway Kefir Lowfat Cultured Milk 32oz Smoothie is available in a wide selection of flavors. I found the raspberry and plain lowfat cultured milk 32oz smoothie on this shopping trip. I picked up a bottle of both flavors. The raspberry for this recipe and the plain unflavored so I can add it to other recipes. Using Lifeway Kefir in my morning smoothies is another great way I like to drink kefir.
Reasons to Love Lifeway Kefir Smoothies
Lifeway Kefir has 12 live and active cultures

These probiotics support the immune system and balance digestive health

It is Gluten free

It is 99% lactose free

It contains no artificial sweeteners

It is rich in calcium

Lifeway only uses milk that comes  from cows that are pesticides, antibiotics, or synthetic growth hormones free

Lifeway only uses milk from cows that are grass fed and GMO free.
Have you ever tried Lifeway Kefir? Kefir is very much like a liquid yogurt. It tastes a bit tangy like yogurt and is a little bubbly but Kefir has so many more health benefits than yogurt. Not only do you get the health benefits from drinking kefir but there is a feeling of well being that comes along with all those healthy probiotics. Sounds crazy doesn't it but the word kefir comes from the Turkish word keif meaning good-feeling for the sense of well being you get after drinking it. Try it yourself if you don't believe me. 
There is actually some science behind it. Kefir contains the same amino acid as turkey. You know the one that makes you feel all relaxed and drowsy after Thanksgiving dinner. 
During the hot summer months I love to make ice pops. These Raspberry Kefir Ice Pops pull double duty as they cool you off and have the added health benefits of kefir. Don't tell the kids that they are healthy. They will never know they are getting a good dose of probiotics as they cool off with these delicious Raspberry Kefir Ice Pops.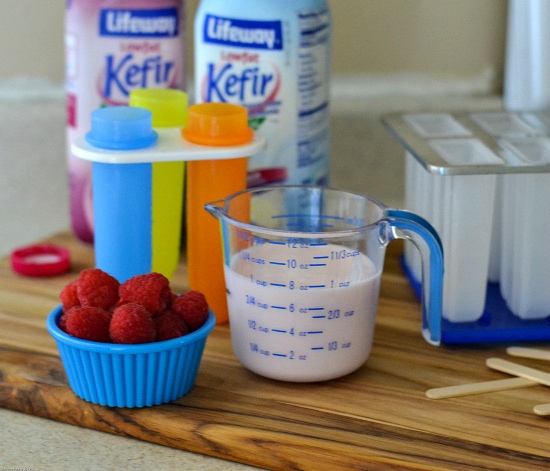 You only need 2 ingredients and an ice pop mold to make these healthy kefir ice pops. I am making raspberry kefir ice pops today but you could use whatever flavor Lifeway Kefir you have on hand and change the fruit to match the kefir flavor.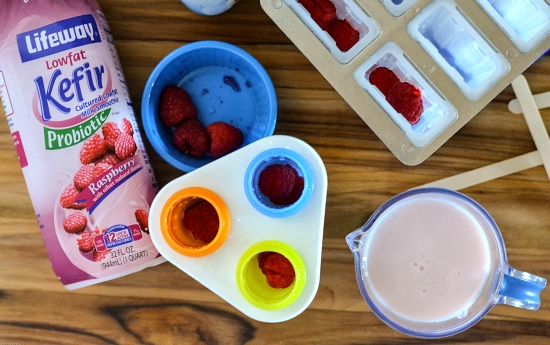 Add some raspberries to the ice pop molds. You can add as many or as little raspberries as you like. 
Pour the Lifeway Raspberry Kefir into a spouted measuring cup so it is easier to fill the ice pop molds.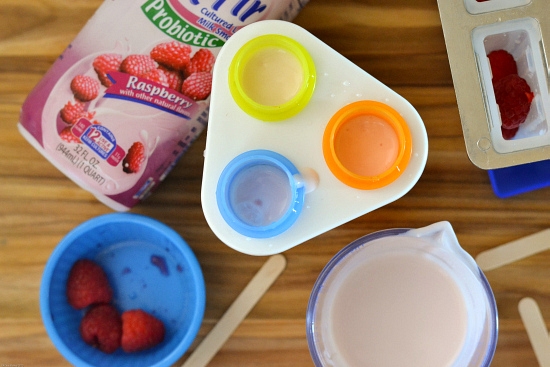 After pouring the kefir into the molds wait as the thick kefir fills in between the fruit pieces. Gently taps the ice pop mold on the counter after the bubbles settle. Pour more kefir into the mold to the fill line. 
Once the molds are filled add the sticks or tops of the ice pop molds and freezer for about 2 hours. 
Print the Healthy Raspberry Kefir Ice Pops recipe below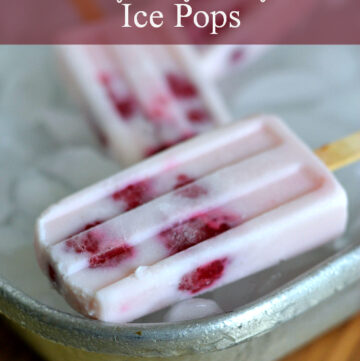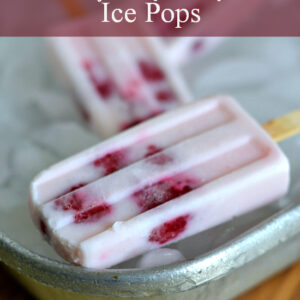 Healthy Raspberry Kefir Ice Pops
Make healthy summer ice pops treats for the kids like this Raspberry Kefir Ice Pops recipe.
Rate this Recipe
Ingredients
2

cups

Lifeway Lowfat Raspberry Kefir Smoothie

½

pint

raspberries

ice pop mold and sticks
Follow Flour On My Face on Pinterest
Instructions
Divide the raspberries between the ice pop molds.

Pour in the Raspberry Kefir Smoothie until the mold is filled.

Allow the thick kefir to sink to the bottom of the mold in between the fruit pieces.

Gently tap the ice pop mold on the counter and top off each cavity of the ice pop mold as needed.

Add the ice pop sticks or tops.

Freeze for 2 hours.
Nutrition
Calories:
42
kcal
Carbohydrates:
5
g
Protein:
2
g
Fat:
2
g
Saturated Fat:
1
g
Polyunsaturated Fat:
1
g
Monounsaturated Fat:
1
g
Cholesterol:
6
mg
Sodium:
25
mg
Potassium:
36
mg
Fiber:
2
g
Sugar:
3
g
Vitamin A:
106
IU
Vitamin C:
6
mg
Calcium:
66
mg
Iron:
1
mg
Tried this recipe?
Share a picture on Instagram and tag @flouronmyface2