This post contains affiliate links. As an Amazon Associate, I earn from qualifying purchases.
Margarita Lime Chicken Rice Bowls
These Margarita Lime Chicken Rice Bowls will get dinner done in 25 minutes or less! Busy Mom's will love this easy dinner recipe while enjoying the flavors of Chili's restaurant from the comfort of home.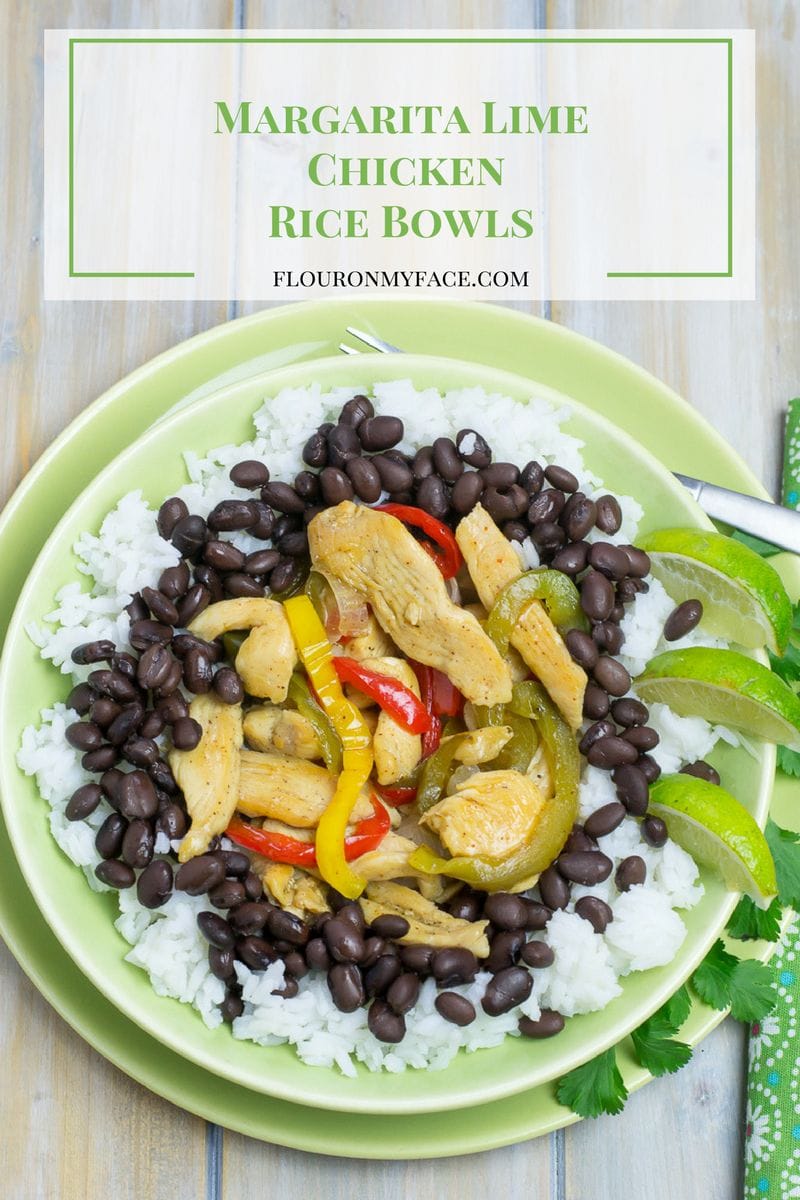 You might wonder where food bloggers get inspiration for their recipes. Would it surprise you to know that sometimes inspiration comes while walking down the grocery store aisle?
On a recent grocery store trip I came across a couple of flavors of Chili's Bold Skillet Sauce. I don't believe I have ever eaten at a Chili's restaurant but since Mexican food is my idea of heaven I couldn't wait to try it. The Chili's Bold Skillet Sauce can be used to make chicken tacos, fajitas or this Margarita Lime Chicken Rice Bowls recipe I made with it.
What is really great about these Chili's restaurant flavored sauces is that you can have dinner on the table in about 15 minutes.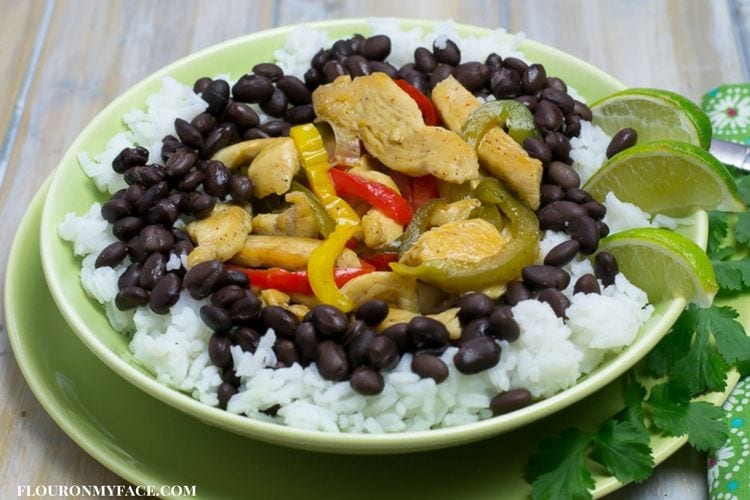 When I sent out my survey a few months ago many of you that responded told me you needed help getting a delicious meal on the table quickly. Well this Margarita Lime Chicken Rice Bowls recipe is a meal that doesn't take much time.
I made some long grain white rice which takes about 20 minutes to make but you can have a big pot of instant rice ready in about 8 minutes if you don't want to wait that long for the rice to cook.
If you start cooking the long grain rice before you start cutting the chicken the white rice it will be ready to serve just about the time the Margarita Lime Chicken is finished cooking.
Top the Margarita Lime Chicken Rice Bowls with my Easy Cilantro Green Chile Lime Sauce.
How To Make Margarita Lime Chicken Rice Bowls
Ingredients
1 tablespoon olive oil
1-2 pounds boneless skinless chicken cut into thin slices
8 oz. package Chili's Bold Skillet Sauce Margarita Lime
2 cups mixed green, yellow, and red pepper slices. (I use the green, red, yellow peppers and onion mix I vacuum sealed and froze with my FoodSaver)
3-4 cups cooked white rice
15 oz. can black beans, drained, rinsed and heated
lime wedges
 Directions
Cook the rice following instructions on the package and set aside until chicken is done cooking.(Instant rice is done in about 5 minutes.)
Heat the olive oil on medium high in a large skillet. Add the sliced chicken to the skillet.
Salt and pepper the chicken.
Cook the chicken on all sides until golden, about 5 minutes.
Carefully pour off any excess moisture that may have accumulated in the pan.
Pour the Chili's Bold Skillet Margarita Lime Sauce and the mixed pepper and onion into the skillet with the cooked chicken.
Heat on medium until sauce has thickened, about 3 minutes.
Place about a cup of the cooked white rice in the bottom of a bowl.
Add about 1 cup of the cooked Margarita Lime chicken to the center of the the rice in the bowl.
Circle the chicken with warm black beans.
Garnish with lime slices, avocado slices or cilantro if desired.
Top with your favorite toppings such as shredded cheese, sour cream or homemade Cilantro Green Chili Lime Sauce.
Makes 4-6 servings.
Print the Margarita Lime Chicken Rice Bowls recipe below.
Print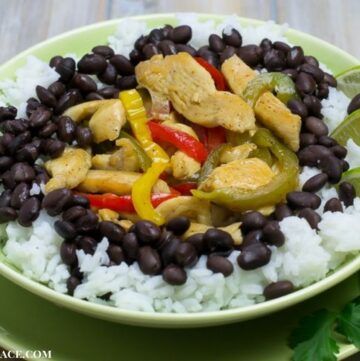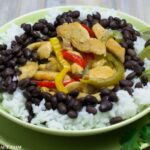 Margarita Lime Chicken Rice Bowls
Author:

Arlene Mobley

Prep Time:

10 Minutes

Cook Time:

13 Minutes

Total Time:

23 minutes

Category:

Main

Method:

Saute

Cuisine:

Mexican
---
---
---
---
Recipe Card powered by
Check out more of my Mexican recipes here. Cinco de Mayo is coming up. Celebrate with delicious Mexican food recipes you can make at home!