Lion King Cake Pops
Back in August I co hosted my soon to be daughter in-laws baby shower. We decided on the Lion King Baby Shower theme. Cake Pops are a huge hit in our party circle. I make them for most of the party's we throw. So I decided I was going to make Cake Pops to match the Lion King Baby Shower theme. I also made the cupcakes and  chocolate lollipops to match the Lion King Theme.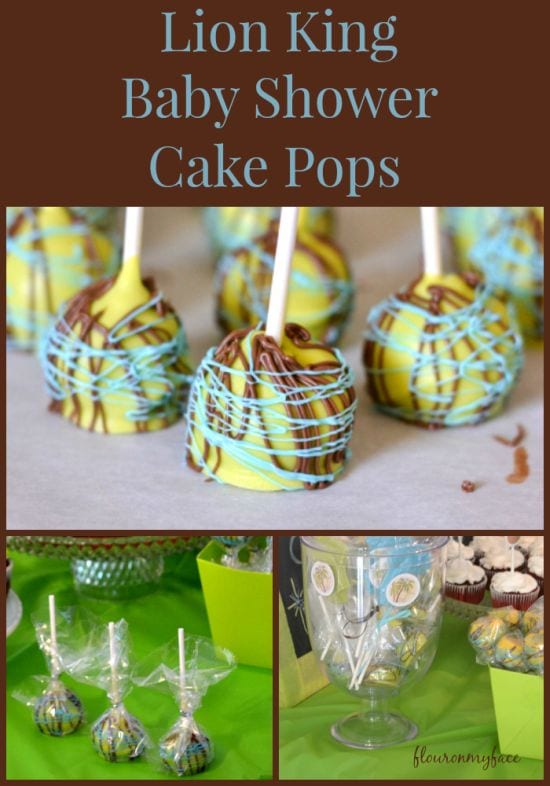 I have made hundreds of cake pops over the years. There are many directions on how to make cake pops floating around out there. I have seen many many different ways to decorate them. I even saw some Baby Lion King cake pops shaped like Simba's head when I was searching for Baby Shower ideas for a Lion King baby shower. My hat is off to those very imaginative and talented cake pop creators. 
 I don't have the talent to form Simba's head out of a cake pop filling. For me I like to make my cake pops the same exact way every time but use colored Wilton Candy Melts and the  cake pop filling  to match the party theme. I can be very creative with a pretty drizzle of melted candy melts.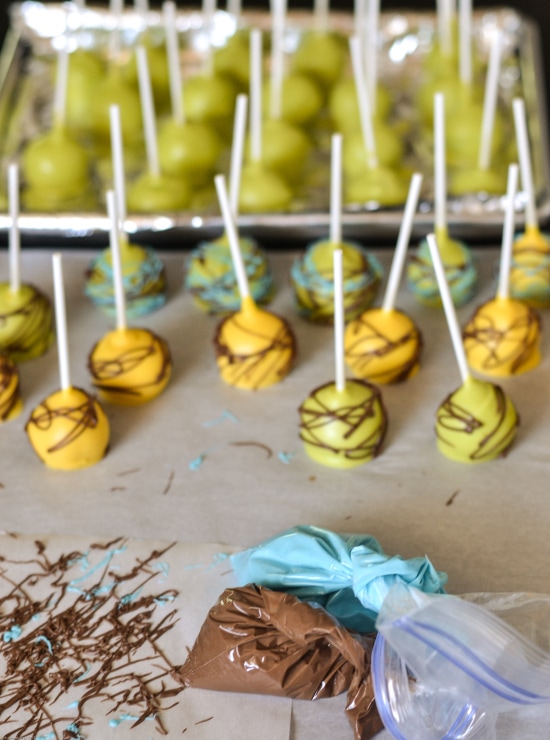 Over the summer I made rainbow Lisa Frank Cake Pops for my granddaughter's Lisa Frank themed birthday party. They turned out beautiful. I'll be sharing them soon. I promise.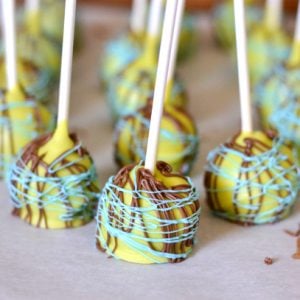 Lion King Cake Pops
Lion KIng Cake Pops are a great baby boy baby shower treat. Easy to make and your guests will love them.
Rate this Recipe
Ingredients
How To Make Cake Pops

¼

cup

Candy Melts in both dark cocoa and light blue

plastic sandwich bags

Crisco shortening
Follow Flour On My Face on Pinterest
Instructions
Put the candy melts into the corner of a plastic sandwich bag with 2 teaspoons of crisco shortening. Melt the candy melts in the microwave for 15 seconds.

Then continue melting at 10 second intervals until the candy melts are liquid.

After each 10 seconds knead the candy melts then reheat.

Once melted snip a tiny tiny hole in the corner of the bag.

Drizzle the melted candy coating over each cake pop.
Nutrition
Calories:
57
kcal
Carbohydrates:
11
g
Protein:
1
g
Fat:
1
g
Saturated Fat:
1
g
Polyunsaturated Fat:
1
g
Monounsaturated Fat:
1
g
Trans Fat:
1
g
Sodium:
85
mg
Potassium:
8
mg
Fiber:
1
g
Sugar:
7
g
Calcium:
25
mg
Iron:
1
mg
Tried this recipe?
Share a picture on Instagram and tag @flouronmyface2
How to make a proper drizzle for Cake Pops
If you have ever attempted to dip cake pops or make a smooth drizzle and just could not get the candy melts to the proper consistency I am about to tell you a little secret. Candy Melts straight from the bag and melted will be too thick to properly dip cake pops or get a thin and flowing drizzle of the melted candy coating.
I may be giving away a cake pop trade secret here because I have read many directions for making cake pops that do not included my Cake Pop secret weapon Crisco shortening. I first blogged about it back in 2011 when I wrote my Cakeball Pops and The Secret to dipping anything in Chocolate post with the cake pops I made for my granddaughter Addison's 1st Birthday. My Cake Pop decorating skills have improved a bit since then but the way I melt the candy melts have not changed. 
 In a couple of weeks I will be making some Fall inspired cake pops for another baby shower taking place in late October. It is amazing how pretty and delicious cake pops can be when you match the filling and candy coating to a theme.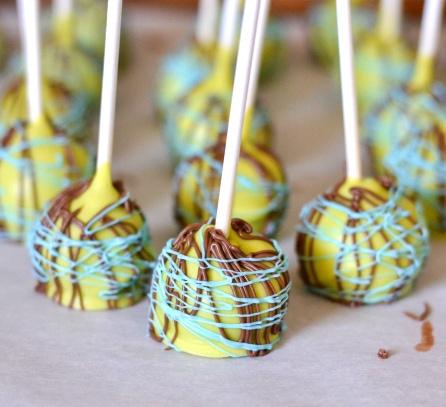 For the Lion King Cake Pops I used a white cake mix and colored half a golden yellow and half a jungle green. For the candy coating I use the Wilton yellow Candy Melts and the Vibrant Green Candy Melts . For the drizzle I used the dark cocoa and baby blue candy melts.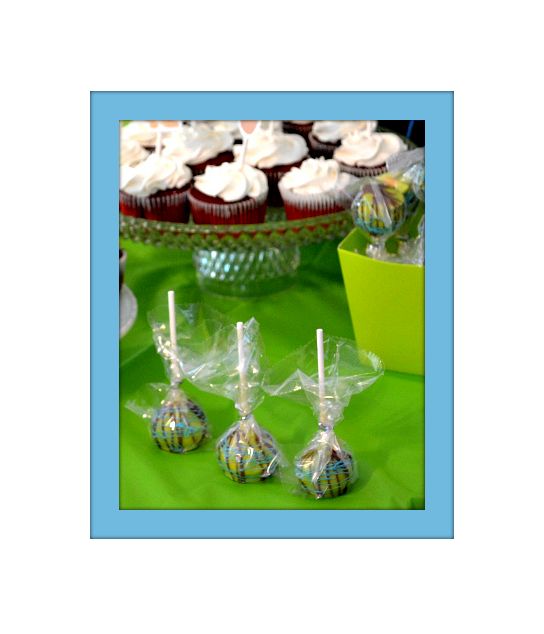 I like to wrap my cake pops in a cellophane bag and tie a ribbon around the stick. It makes a much pretty presentation then just putting the cake pops out on a plate or cake plate. I ran out of time and didn't get a chance to attach a ribbon to these cake pops before the baby shower. So just imagine how a pretty bow tied to each cake pop would look. 
I did a similar presentation for the chocolate Lollipops I made for the baby shower again in colors to match the Lion King theme. I will be sharing that soon also. 
So if you are planning a Lion King Baby Shower making cake pops to match can be as easy as a couple of bags of candy melts in colors to match.