Lion King Baby Shower
I recently co-hosted a Lion King Baby Shower. My sons girlfriend was expecting our first grandson. He was born on September 4th, 2014. After 3 granddaughters who are all pink and frilly princesses having a little boy in the family is going to be interesting.
I was in charge of the baby shower party favors. I wasn't sure what I was going to do at first. When we settled on the Baby Lion King theme I thought I would have no problem coming up with cute little baby Simba baby shower favors but I did. There is only one option out there for buying the Baby Lion King baby shower party decorations. And there is no option for shower favors that I could find so I had to make my own.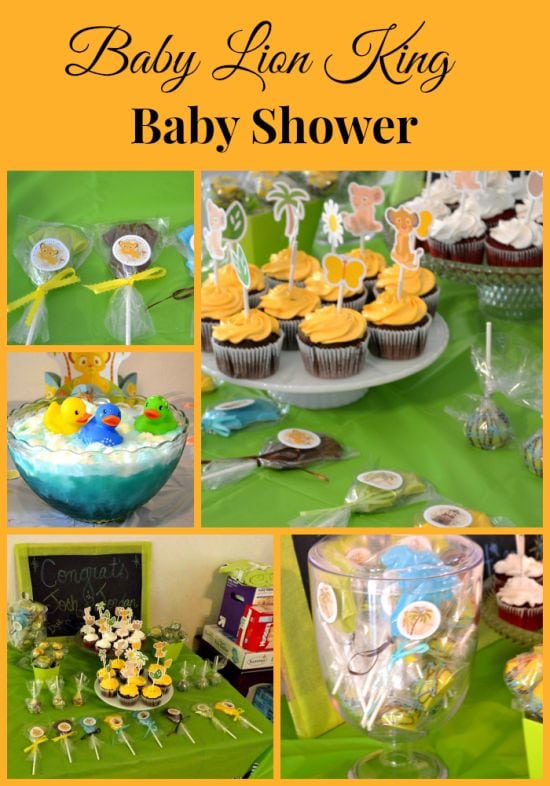 So if you are hosting a Baby Lion King baby shower let me save you some time. If you need to buy your party decorations locally Party City is the only retail store where you can buy all the wall and table decorations. Baby Disney does have some free downloadable printables and I used them also. I'll include the links at the bottom of the page.
I had to come up with some sweet treats for the baby shower that matched the Baby Disney Lion King baby shower decorations. I make cake pops for most of our birthday parties so I decided to make some cake pops to match the Lion King baby shower decorations.
I like to make things easier on myself so there was no way I was going to try to form the cake pops into baby simba's head like I have seen on Pinterest. I'm not that talented so I decided to just use colored Wilton Candy Melts that matched the colors of the decorations. I went with a light green, yellow and brown color theme. I also threw some baby blue in there because we were celebrating the birth of a baby boy.
For our baby shower sweets table we had cupcakes, chocolate lollipops and the Lion King theme cake pops. One of these days I am going to dedicate an entire post on how I make my cake pops. Not to brag but anyone who has ever eaten one of my cake pops will tell you they are the best.
In the next couple of weeks I will also be making some Fall Cake Pops for another baby shower at the end of October for a family friend who is expecting twin boys. 
For those of you who are hosting a baby shower and are looking for directions on making beautiful but cheap baby shower favors I will be posting instructions on how to make the Lion King themed cake pops and chocolate lollipops to match the Lion King theme. 
 I also want to mention the punch I made. I found the recipe for Ducky Baby Shower Punch at TidyMom.net a few years ago when we were hosting another baby shower for my daughter Megan's friend Melea. Yes we do host a lot of baby showers around here. 
This punch is a huge hit. It tastes so good and is the perfect baby boy baby shower punch because the punch is blue and because those little rubber ducky bath tub toys look so cute floating on the top. 
Free Lion King Baby Shower Printables from Baby Disney.
Printable Lion King Baby Shower Invitations
Lion King Printable Baby Shower Banner
Lion King Printable Baby Shower Thank You Notes
Lion King Baby Shower Cupcake Toppers