Fairies Fairies Everywhere: DIY Fairy Dust Glitter Gel
Did you ever want to be a fairy?
What little girl hasn't wanted to flutter around in a pretty fairy costume, wave her wand and cast a spell while pixie dust flies in the air? Make this DIY Fairy Dust Glitter Gel for all the little fairy princesses you know so they can sparkle like a real fairy.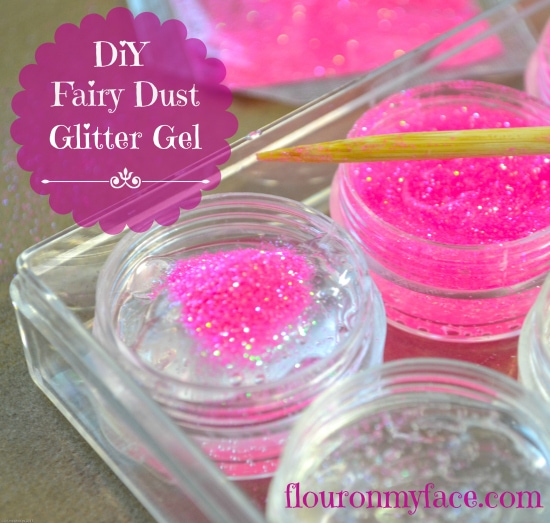 My granddaughter Emma turned four a couple of weeks ago and we celebrated with a Woodland fairy party. Grammy out did herself and created the fairy party favors.
I made woodland fairy crowns, fairy wands and fairy dust glitter gel for all the little fairies that came to the fairy party.
Are you planning a fairy party for your little girl?
The woodland fairy party theme came about because I saw a pin on Pinterest for a homemade fairy glitter gel that was posted on SouleMama's website.
I had to make a few adjustments because I couldn't find some of the supplies she used but all the little fairies loved the way mine turned out.
If you are in the planning stages of your fairy party and you have time to order from Amazon I have included affiliate links to some of the supplies that I had the hardest time finding. They are affiliate links.
Disclosure: Some links are affiliate links. If you make a purchase based on my recommendation I will earn a small commission.
Supplies Needed to make Fairy Dust Glitter Gel
DIY Fairy Dust Glitter Gel a great fairy party favor or fun Summer Kids Activity
Fairy Dust Glitter Gel is so easy to make and can be customized for the color scheme of your fairy party. If you are not having a fairy party then the fairy glitter gel also would make a great summer kids activity.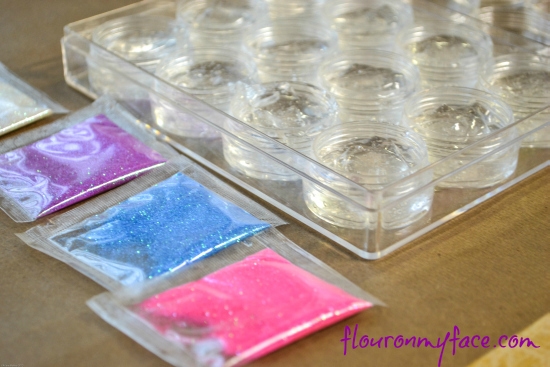 How to Make Fairy Dust Glitter Gel
In a glass jar or bowl add 1 cup of aloe vera gel or the entire container of Vaseline Total Moisture Aloe Fresh.

Add 1 tablespoon of glycerin and mix well. 

Add a few drops of Lavender essential oil and stir.

Set aside overnight if cloudy. If you used aloe gel and it did not cloud up continue to the next step.

Take the lids off all the bead storage containers but leave the individual containers in the plastic case they came in.

Using a small spoon fill each tiny container with the gel. Do not fill them to the brim or they will overflow when you are mixing the glitter in. Just below the lip of the container is good.

Snip a corner a bag of glitter.

Work with one color of glitter at a time so they don't get mixed together.Remove the number of containers for the color you are working with from the case and tap a pile of glitter on top of each one. Stir well with a wooden skewer. Add more glitter if it looks pale in color. The more glitter the bolder the color of glitter gel you will get. 

Twist the lid on each container as you're done adding the glitter and replace it in the storage container.

Repeat with whatever other colors you plan to make until all containers of Fairy Dust Glitter Gel are made. Snap the lid on the container to store or add stickers to the top as I did.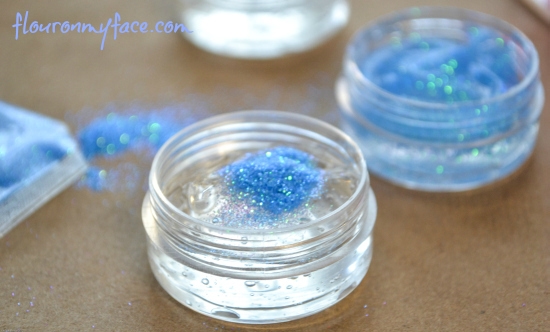 Some notes on making Fairy Dust Glitter Gel
Caution when applying! This is not meant to be used on the face, near the eyes or mouth. Lavender essential oil and the Vaseline Moisture Aloe Fresh will burn the eyes and other delicate areas of a child's face.

I

f using aloe vera gel you may not see the cloudiness that I did.

If you want to omit the lavender essential oil you can. The Vaseline Moisture Aloe has a slight scent and if you are using it you don't need the lavender.

Open only one color of glitter at a time and only work with the containers meant for that color to prevent cross contamination of the colors of glitter. Unless you are going for a multi-colored effect.

I did not use any coloring at all the glitter colors the gel. Doesn't it look awesome!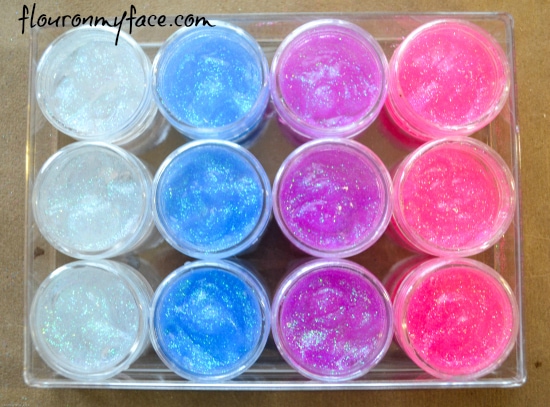 I added puffy stickers to the top of the containers. It looked cute but the storage box wouldn't close all the way. If using stickers to pretty the fairy dust glitter gel containers up I suggest using flat stickers.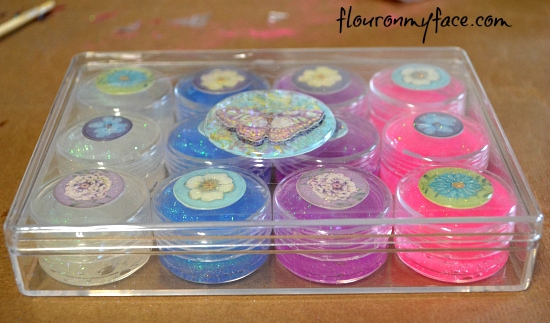 The Fairy Dust Glitter Gel is so easy to make and the girls really loved rubbing it all over their arms and shoulders as they flew around the party with their fairy wings and wands. The party was a hit. My granddaughter loved it and so did the rest of the kids.
If you are not planning a fairy party this is a perfect summer project for the kids. They can help you make it and then they too can glow and glitter like the little fairies at our party.
Your little fairy is going to need a crown. Here are the instructions to make DIY Woodland Fairy Crowns for your fairy themed birthday party.