Crock Pot Vegetarian Soup
Vegetarian soup recipes like this Crock Pot Vegetarian Soup recipe are perfect made in a slow cooker. This is one crock pot slow cooker recipe you can literally leave slow cooking for hours without having to worry about it over cooking.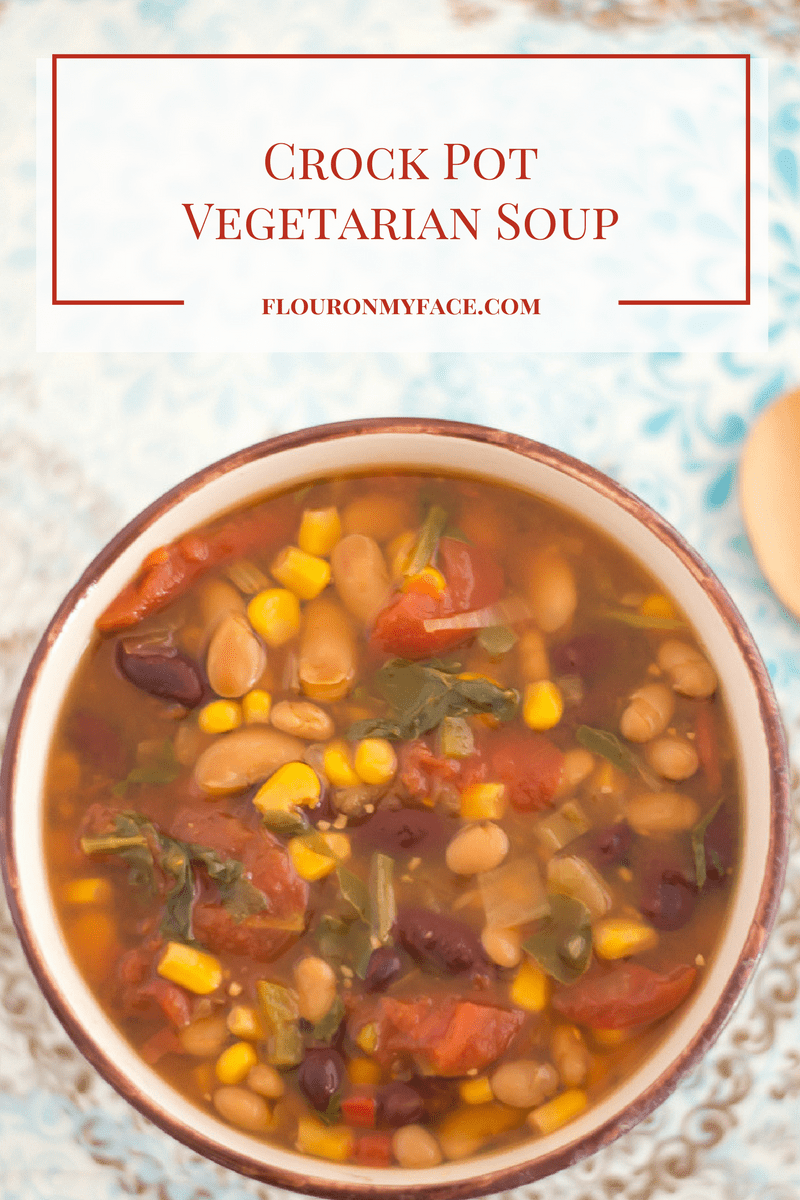 Crock Pot Vegetarian Soup is packed full of fiber from the four different types of beans I used. Red kidney beans, white kidney beans or cannelloni beans and pinto beans all add a delicious flavor.
Feel free to substitute what ever type of canned beans you have at home. No need to make a trip to the store. Black beans would go very well in this vegetarian soup recipe also.
If your a meal planning ninja I bet you have all of the canned beans and vegetables in your pantry right now.
Is Soup just for the cold months?
With the first day of spring just sprung I was wondering if everyone out there was like me?
I eat soup all year long. Even in the dogged days of summer when the heat and humidity is killing me I can still enjoy a big bowl of homemade soup for lunch or dinner.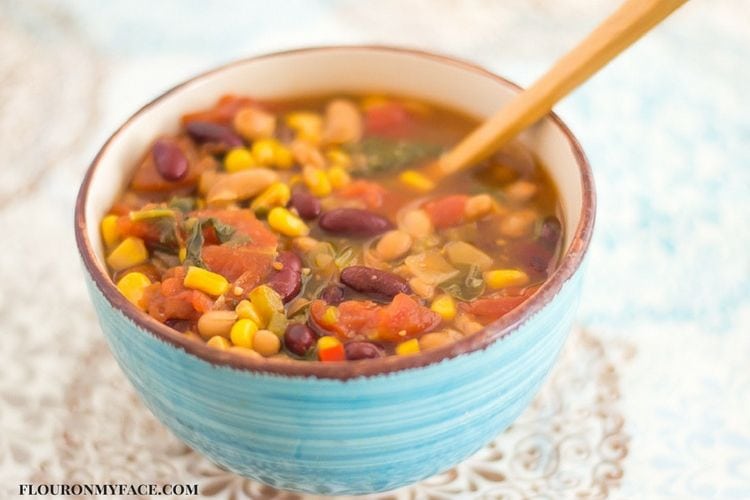 If you think about it soup is on restaurant menus all year long. So I can't be the only one out there who loves to eat homemade crock pot soup all year long.
Meatless Monday Dinner Recipes
The Crock Pot Vegetarian Soup recipe is perfect for Meatless Monday. If you are not a vegetarian you can change the flavor of this recipe by changing the stock you use.
Chicken stock or Beef stock can be substituted for the vegetable stock. Vegan and vegetarians of course will stick with the vegetable stock.
Homemade Vegetable Stock is easy to make!
FYI it is pretty easy to make homemade vegetable stock. If you happen to have a little garden you tend you could really make a bunch of vegetable stock in the summer months and freeze it to use during the rest of the year.
If you don't have a home garden the easiest way would be to save all those raw vegetable scraps and peels while your chopping fresh ingredients up.
Throw them in a zip lock bag  and freeze until you accumulate a pot full of vegetable scraps. Just keep adding to the bag as you trim and peel more vegetables over the course of a week or two.
When you have enough for a pot full throw them in a big pot. Don't worry about thawing them. Cover with water, add some seasonings like salt, pepper, garlic, thyme or rosemary and bring to a boil. Turn down the heat and simmer until the broth has reduced by about half. Then strain and bottle or freeze in ice cube trays. Use as needed.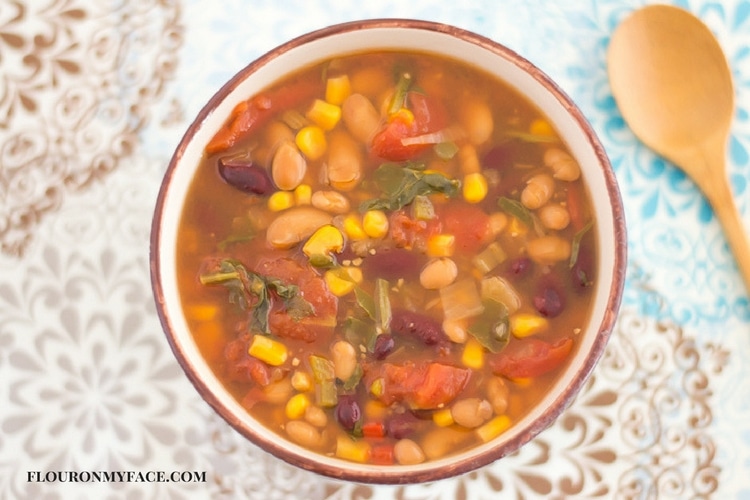 How to make Crock Pot Vegetarian Soup
Ingredients
1 can navy beans, drained and rinsed
1 can red kidney beans, drained and rinsed
1 can cannellini beans, drained and rinsed
1 can corn, drained well
2 cans stewed tomatoes
1/2 cup chopped onion
1/4 cup diced green and red bell pepper
3 small bay leaves
2 teaspoon minced garlic
1 teaspoon salt
1 teaspoon black pepper
1/2 teaspoon dry thyme
32 oz vegetable stock
handful of fresh baby spinach leaves,sliced thinly
 Directions
Place all of the ingredients except the spinach in a 4 quart of 6 quart crock pot slow cooker. Cover and cook on high 4 hours or low 8 hours.
Add the spinach leaves 10 minutes before serving.
Make 6-8 servings.