Crock Pot Chicken Wild Rice Soup is so easy to make and has been called awesome by anyone who has ever eaten it.
Serve a bowl of this deliciously warm and creamy crock pot soup recipe with some crusty homemade bread. Crock pot soup recipes like this are packed full of flavor from the moist chicken and wild rice.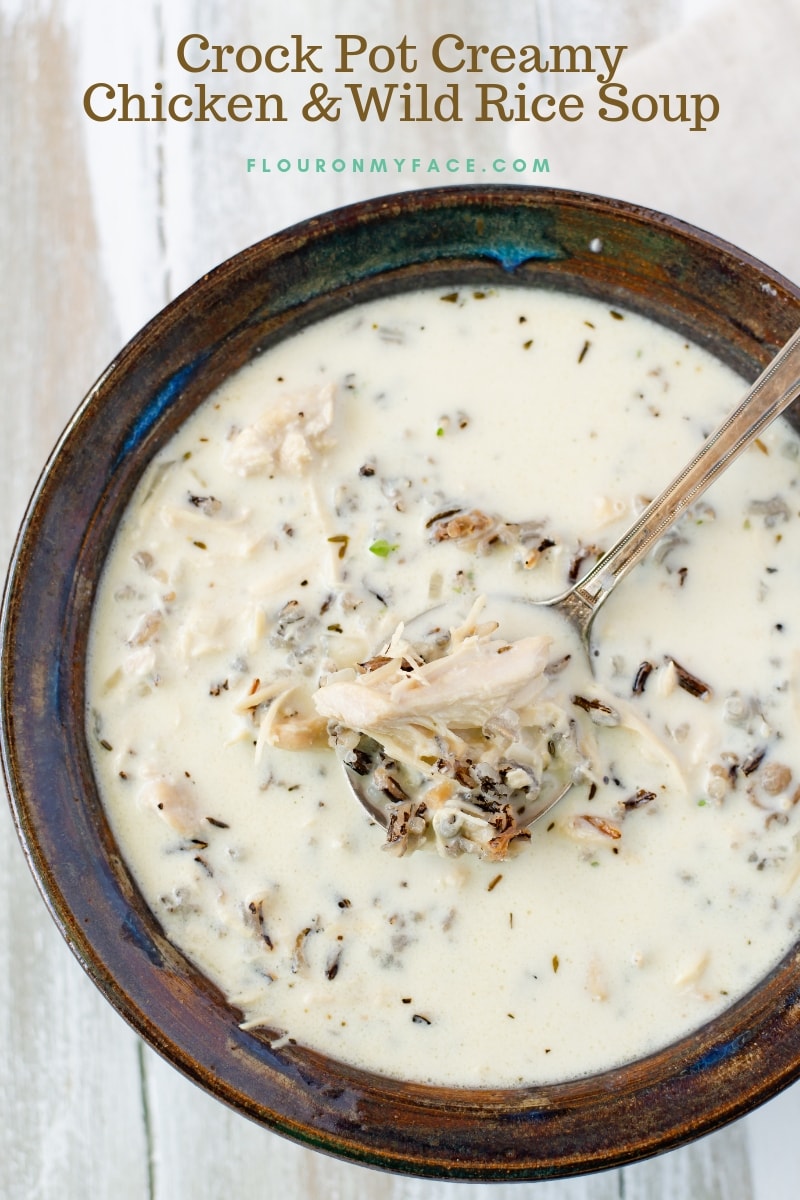 With the cooler weather, it is time to start enjoying soup recipes for lunch or dinner. I love soup recipes and will eat homemade soup any time of the year.
Even in the hot Florida summers.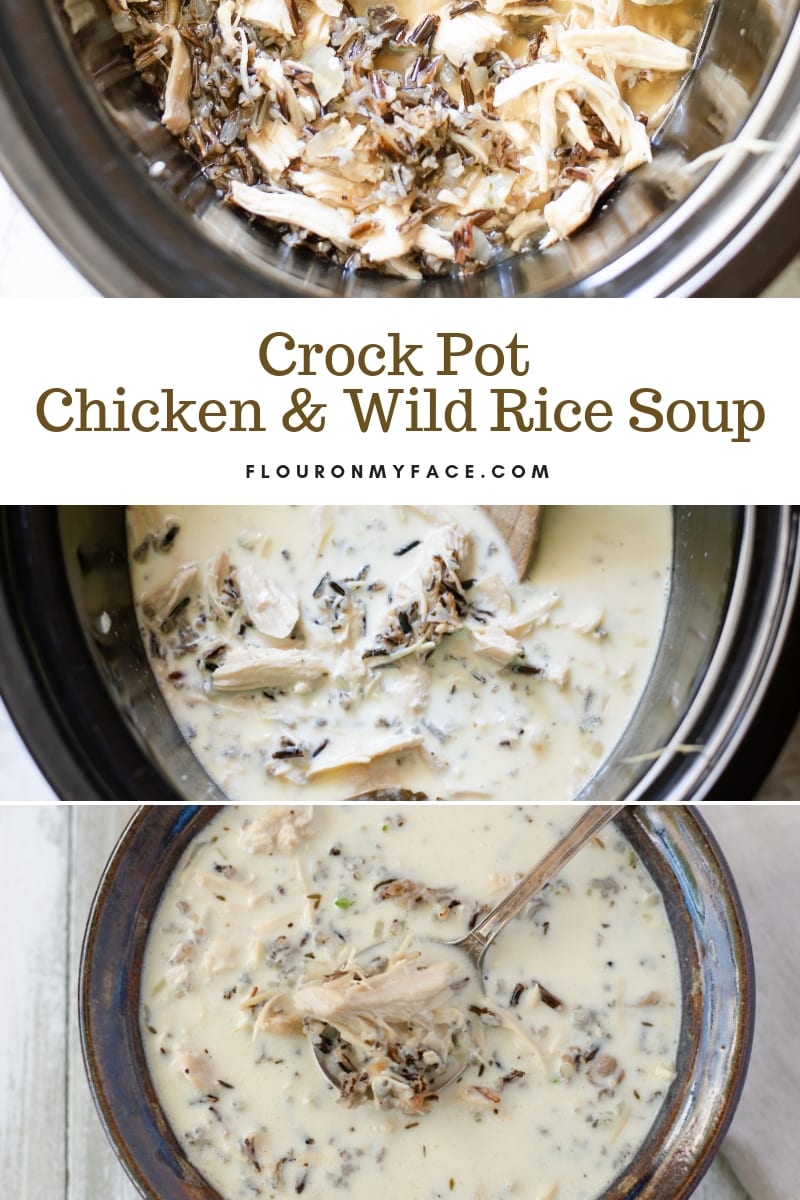 Crock Pot Soup Recipes
Crock Pot Soup recipes are easy to make and can be light and healthy or chunky and hearty.
Crock Pot Soup recipes are great for lunch or dinner.
Almost all leftover homemade soup freezes very well. With the exception of a homemade soup recipe that has noodles or pasta in it.
With the cool weather of Fall moving in Crock Pot Soup recipes like this creamy Chicken and Wild Rice Soup is perfect for dinner when you need a hearty meal that will warm you up.
What herbs are good to use in homemade soup recipes?
I love using fresh herbs in all my homemade soup recipes but sometimes fresh herbs aren't available.
I have three must have herbs I like to use in all of my homemade soup recipes.
Dried Bay leaves, fresh or dried rosemary and fresh or dried thyme are three herbs that show up in almost all of my homemade soup and stew recipes.
I almost always use dried Bay leaves in my homemade soup recipes.
If you ever wondered why your homemade chicken noodle soup tastes like it is missing something and you didn't add a few bay leaves to the soup pot this is the flavor you are probably missing.
How To Thicken Crock Pot Soup Recipes
I use a slurry of cornstarch and cool water as a thickener for all my homemade soup and stew recipes.
Have you ever used flour and water to thicken a soup recipe and ended up with lumps of flour in your soup?
There is no way to get all of those lumps of flour out of your soup pot. You can try using a spoon to scoop the flour lumps out but you will never get all of them.
Cornstarch mixed into cool water and then stirred into the hot soup will never cause lumps.
You just need to make sure you mix the cornstarch and water until the cornstarch has completely dissolved.
Cornstarch thickener is also a gluten-free thickener.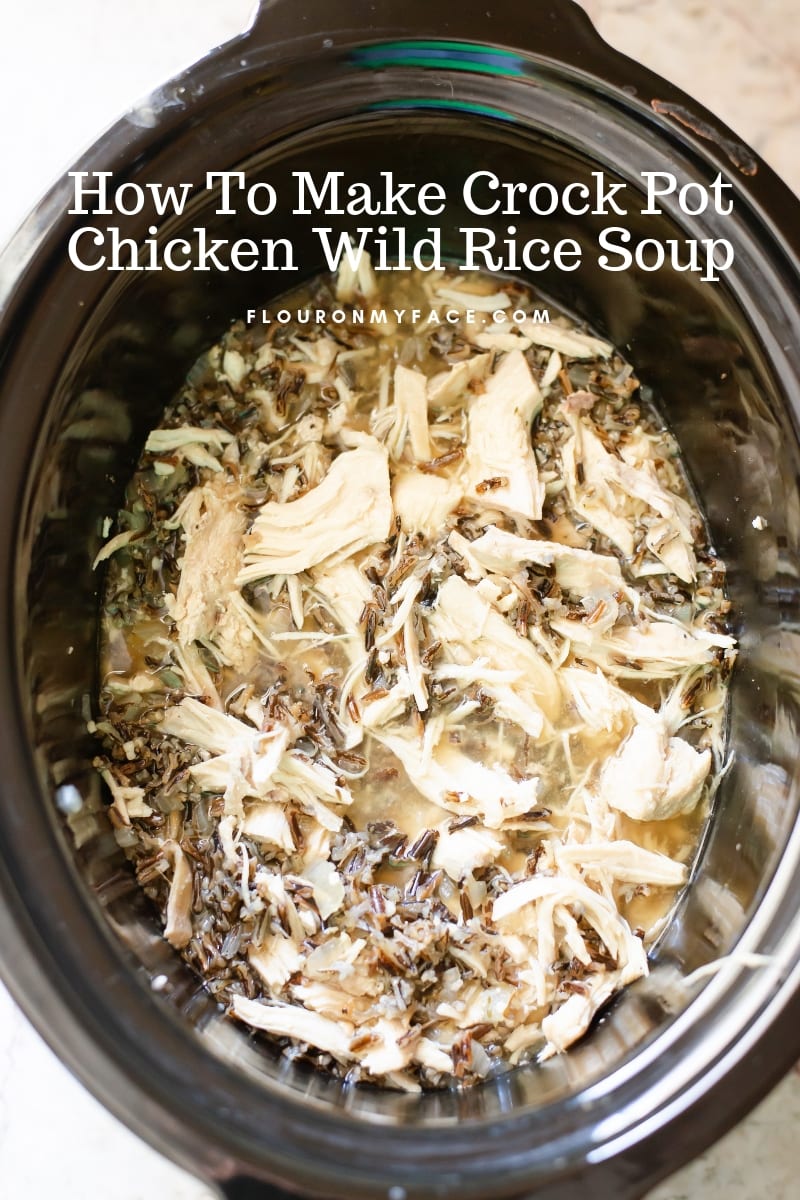 Healthy Wild Rice
Wild Rice is a healthy grain that is better for you than white rice.
Wild rice has fewer calories than white rice and way more protein making it a healthier option for recipes like this creamy chicken and wild rice recipe.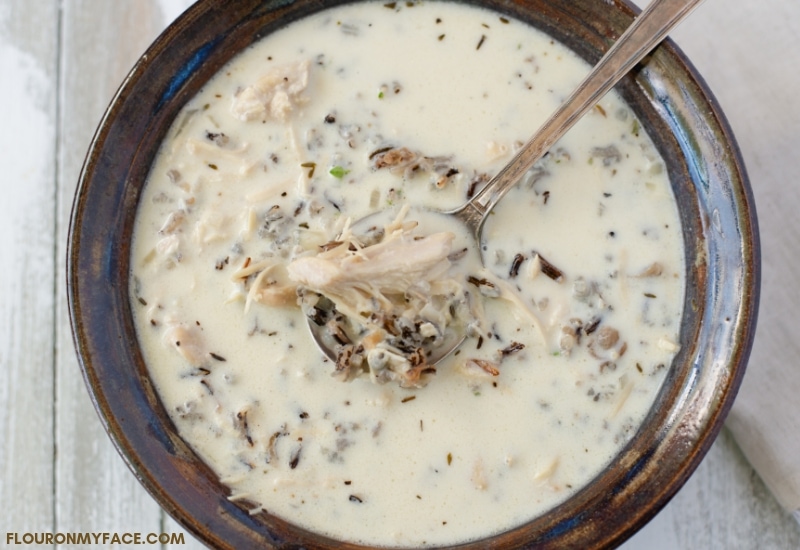 How To Make Crock Pot Chicken Wild Rice Soup
Ingredients
1 ½ to 2 lbs skinless boneless chicken breasts or chicken thighs
½ cup diced onion
2 teaspoons minced garlic
½ teaspoon ground black pepper
½ teaspoon salt
½ teaspoon dried or fresh rosemary
¼ teaspoon dried thyme
32 oz carton low sodium chicken broth (4 cups)
½ to ⅔ cups wild rice
2 tablespoons butter
1 ½ cups heavy cream, half and half or milk (I used heavy cream)
3 tablespoons cool water
3 tablespoons cornstarch
Directions
Place the boneless chicken breasts or thighs in the crock pot. Add the diced onions, minced garlic, spices, and chicken broth in the crock pot.
Cover and cook on high for 2 hours remove the cooked chicken from the crock pot and place in a bowl.
Using two forks pull the chicken meat apart. Add the shredded chicken back into the crock pot.
Add the butter, wild rice, and heavy cream to the crock pot and stir to combine.
In a small bowl mix the cornstarch and cool water. Pour the slurry into the crock pot and mix in.
Cover the crock pot and cook on high for 1 hour or low for two hours. Or continue cooking until the rice is cooked to your liking.
Makes 3 quarts of Crock Pot Chicken Wild Rice Soup or 6 - 8 servings.