Chicken Cheddar Jack and Bacon Quesadillas
#KraftFreshTake
 

I am excited to announce that I am part of the Kraft Fresh Take  Flavor Makers Challenge!
So what does that mean? Well I get to create a couple of great recipes using Kraft Fresh Take, which is a special blend of Kraft all natural cheeses and perfectly seasoned bread crumbs.
You've probably seen it in your grocers cheese and dairy case.
Not only do I get to share a couple of great tasting recipes with you using my Kraft First Take Challenge flavor but I will also be hosting a great giveaway for a $100 gift card in the third post of this challenge. And one of my readers just might have the chance to win a $500 grand prize if they decide to share a recipe using one of the Fresh Take flavors in a recipe of their own. 
Be sure to sign up for my RSS Feed so you don't miss out on the giveaway. More details to come on the giveaways later.
As you may have guessed from the photo above my First Take challenge flavor is Cheddar Jack and Bacon. It is a great flavor combo . Who doesn't like Cheddar Jack cheese and Bacon?
This recipe can be made as a meal or as an appetizer.It is also a perfect way to use up your leftover  Fresh Take chicken from the night before.
 If you're looking for a meal that can be thrown together in about 15 minutes using your left over chicken this is it. 
Kraft Fresh Take is a delicious,  fast and easy alternative to plain bread crumb coatings.
Scroll down to find the recipe in its entirety below the photos.
Let's get cooking. If you have already cooked your chicken the night before you can skip this part and scroll down to the recipe if you'd like. 
The flavored bread crumbs and cheese are in a divided resealable bag. When you are ready to dip your chicken you pull apart the bag and mix the cheese and bread crumbs. Then you simply add the chicken to the bag and shake to coat. 
When I am dipping chicken I like to dip my chicken in an egg wash first. This step is optional. The Fresh Take coating will stick to the chicken with out it.
I also like to clean up my boneless chicken breast by trimming any fat before dipping.
Beat one egg in a bowl and dip each chicken breast in the egg, put it in the bag, zip it up and shake. Remove the chicken and place on a baking sheet. If you have parchment or aluminum foil you can line the baking sheet with it. It makes clean up so much easier. Bake the chicken for 20 to 30 minutes depending on the thickness.
 This is what the chicken looks like after being dipped and before baking.
This is what the chicken looks like once it's done baking.
Yummy! 
 Now to make the quesadillas you will need one large, cooked boneless chicken breast left over from your Fresh Take dinner the night before.
Slice the chicken breast.
Divide the chicken between 3 tortillas and arrange them in a spiral.
Divide the crispy bacon between the 3 chicken quesadillas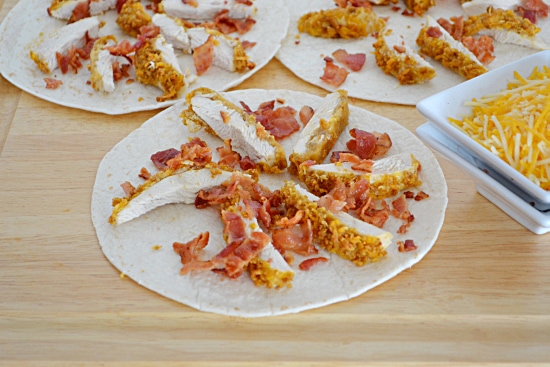 Now sprinkle the Kraft Triple Cheddar cheese over the chicken and bacon.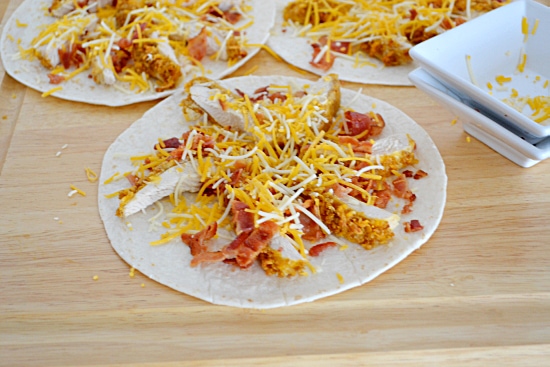 Cover the quesadillas with the three remaining tortillas.
Cook the quesadillas in a skillet until the outside is crispy brown, the chicken is heated through and the cheese is nice and melted.
Serve the quesadillas with your favorite side. Here I have salsa, sour cream, homemade honey mustard and homemade buttermilk ranch dressing.
Chicken Cheddar Jack and Bacon Quesadilla #KraftFreshTake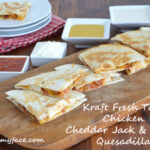 Yield:

3 10 inch Quesadillas
Ingredients
1 large cooked boneless chicken breast that has already been dipped and cooked in the Kraft Fresh Taste Cheddar Jack and Bacon coating mix.
1 cup of Kraft Triple Cheddar Shredded Cheese
6 large flour tortillas
6 pieces of crispy fried bacon
Dipping sauce of choice.
Instructions
To make the Quesadillas
Cook the bacon until crispy.
Slice your already fully cooked chicken breast.
Arrange the cooked chicken breast pieces on three of the tortilla's in a spiral pattern.
Chop or crumbled the bacon and divide among three of the tortilla's
Divide and sprinkle the Triple Cheddar Cheese over the chicken and bacon on the three tortilla's
Cover each Fresh Take Chicken Cheddar Jack and Bacon quesadilla with the remaining three tortilla's. Heat in a medium hot skillet until the meat is heated and the cheese is melted.
Cut each Chicken Cheddar Jack and Bacon Quesadilla into fourths or sixths. Serve with a dipping sauce of your choice.
Disclosure:  This is a sponsored blog post by Kraft Foods. I have received compensation and or products to help me with my review and recipe creation. All opinions and photos are my own.