Pickles
 How to Make Refrigerator Garlic Dill Pickles
A few years ago I tried my hand at making refrigerator garlic dill pickles for the first time.  At that time, I had grown a few vines of Kirby cucumbers just so I could make homemade garlic dill pickles. In my How to Make Refrigerator Dill Pickles post, I mention how I only had enough Kirby cukes to make a very very small batch of pickles. I am so glad I did because they turned out so delicious.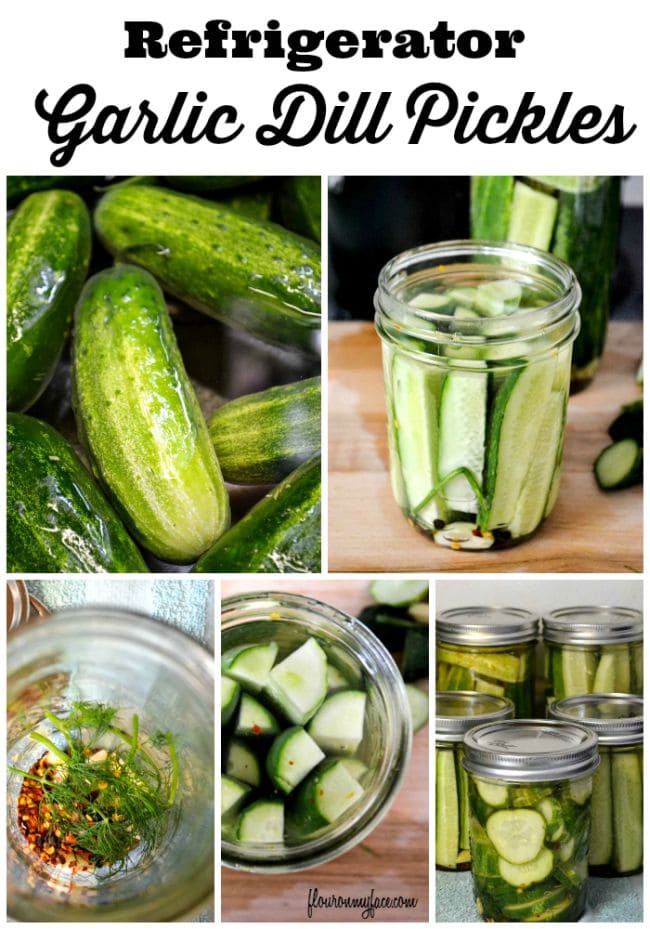 Free Printable Refrigerator Garlic Dill Pickles Canning Labels.
Update 8/18/16 CanningCrafts.com was nice enough to design some custom canning labels for my Refrigerator Garlic Dill Pickles recipe. As a thank for being a Flour On My Face reader download these free printable Refrigerator Garlic Dill Pickles canning labels.
Print them on a full sheet of Avery sticker paper and cut them out or print them on the (affiliate link) Avery Template 5294 round labels.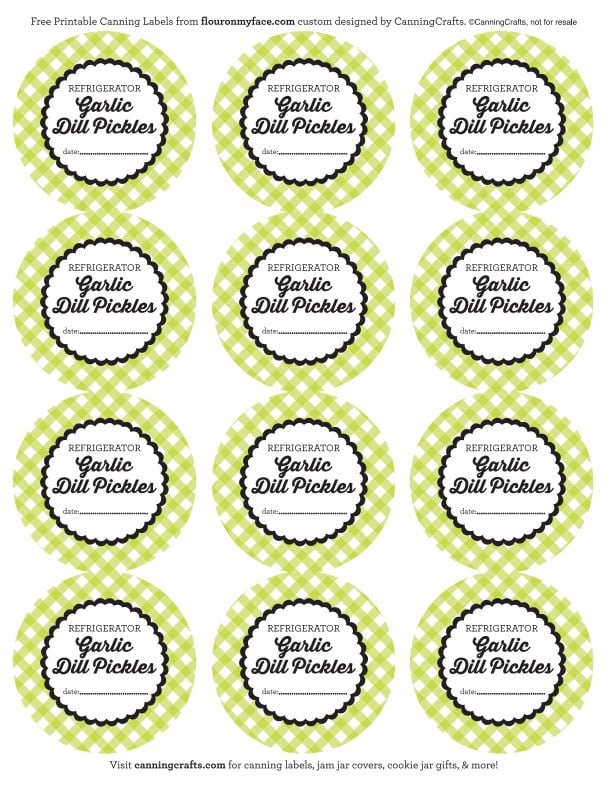 I haven't had much luck growing kirby cucumbers since so when I saw what I knew to be pickling cucumbers at the grocery store I bought almost all they had so I could make a bigger batch of Spicy Refrigerator Garlic Dill Pickles.
Summer is winding down and you may or may not be staring down at a growing pile of pickling cucumbers from your garden. That is if you are lucky enough to have a garden.  Or maybe you happen to have an awesome farmers market close by. Maybe occasionally you entertain the idea of making pickles as you walk by the bins of pickling cucumbers . Making pickles is so easy and they taste so much better than store bought.  So if you have the chance to grow or buy some small pickling cucumbers do it! Try this recipe and I promise you will look forward to cucumber season every year.
What is the difference between refrigerator pickles and canning pickles?
With refrigerator pickles you never process them in a hot water bath. They are not meant to be stored long term. You make them and cure them for about a week and then you eat them. From what I have read with the refrigerator pickling method the pickles stay crunchy because they are not exposed to the high heat from the hot water bath which softens the cucumbers during processing .
I have never canned pickles any other way so I really can't compare the methods. I just know that the refrigerator garlic dill pickles I have made taste awesome.  I like to make them spicy. I even make a few jars extra garlicky and spicy. 
As with any canning process all utensils, jars and lids still need to be sterilized. When canning, whether it be the refrigerator method of making pickles or the long term canning method using a hot water bath to process the pickles be sure to always practice safe canning practices.
Easy Homemade Pickles
If for some reason you thought making pickles was too difficult to do let me ease your mind. If you can….
sterilize jars & lids

measure spices

 cut pickles

boil a brine
Then you can make these pickles. That is all there is to making refrigerator dill pickles. You can make them spicy. You can make them garlicky. You can make them mild. It's up to you. 
Let me know if you try it. I'd love to hear what you think about this homemade refrigerator pickle recipe. 
Canning Supplies Needed to Make Refrigerator Garlic Dill Pickles (affiliate links)
Pickles | How to Make Refrigerator Garlic Dill Pickles
This recipe was adapted from Food In Jars Urban Preserving: Refrigerator Dill Pickles. You can find the original recipe here http://foodinjars.com/2011/06/urban-preserving-refrigerator-dill-pickles/ Take a look while you are there. She has some of the best canning recipes out there.
:
Arlene Mobley - Flour On My Face
Recipe type:
Canning Pickles
Ingredients
To Make the Pickling Brine for about 4 pints jars
2 cups water
1 cup white vinegar
1 tbs pickling salt
kirby or other pickling cucumbers
Into each jar of pickle spears or rounds add
1-2 whole garlic cloves, peeled
4 sprigs of fresh dill per jar
1 tsp peppercorns
½ tsp hot pepper flakes (adjust for personal taste)
Directions
Prepare Jars
Sterilize jars + lids
Put 1-2 garlic cloves into the bottom of each jar. Add 4 dill sprigs to each jar.
Add peppercorns and hot pepper flakes.
Wash and trim the ends of your cucumbers. Cut into thin rounds or spears and pack into the jars tightly.
To make the brine boil the water, vinegar and pickling salt.
Pour the boiling brine into the jars over the cucumbers and put the lids on the jars.
Let cool on the counter and then refrigerate.
Cure for one week before eating.
Please follow proper safety measures for food storage when canning or pickling!
Notes
You may need to double or triple the amounts for the brine depending on how many jars of pickles you are making.

I tasted mine after 4 days and they were awesome.
Please follow proper safety measures for canning or pickling!
Did you enjoy the 

How to Make Refrigerator Garlic Dill Pickles post? Looking for more canning recipes? Head over to my canning recipes page where you will find all my canning recipes.