Baking with M&M's
M&M Sugar Cookie Bars #BakingIdeas
Cookie Exchange Recipe

It is so much fun baking with M&M's. There are so many ways you can make baking special with plain M&M's. Or you can use Peanut M&M's or Milk Chocolate M&M's. During the holidays there are of course the holiday M&M's that are available but you can bake with M&M's any time of the year. 
This time of the year most of us are thinking about holiday treats. My M&M Sugar Cookie Bars can be made anytime of the year, not just at Christmas time. 
This year like every Christmas for I don't know how many years I have taken part in a cookie exchange of some type. Either I have hosted one myself or been a guest of one. Or instead of actually going to a cookie exchange party I have baked up Christmas cookies or made other holiday treats and gave them away to friends and family. I've also sent some with my son in law to work and of course when my youngest daughter was in elementary school I sent some homemade goodies in to the teachers. 
This year my granddaughters teachers will be receiving a gift box of  homemade M&M Sugar Cookie Bars tomorrow morning. And my youngest daughter will be gifting 5 of her friends with a goodie bag of these M&M Sugar Cookie Bars at school this week. 
Cookie Bar recipes are the easiest cookies to make. You mix the dough up and then press it into a baking pan. Once the cookies are baked you cut them up. That's all there is to it. You don't have to worry about cookie cutters, cookie sheets or watching an oven while a batch of cookies are baking. I love baking cookies but there is a lot less time involved when you are baking cookie bars versus individual cookies. 
No matter what holiday you are baking these M&M Sugar Cookie Bars for you can find a wide assortment of M&M's at Walmart at the best price. If you'd like to save a little money on your next M&M purchase head over to this link to download a high value coupon on a purchase of M&M's.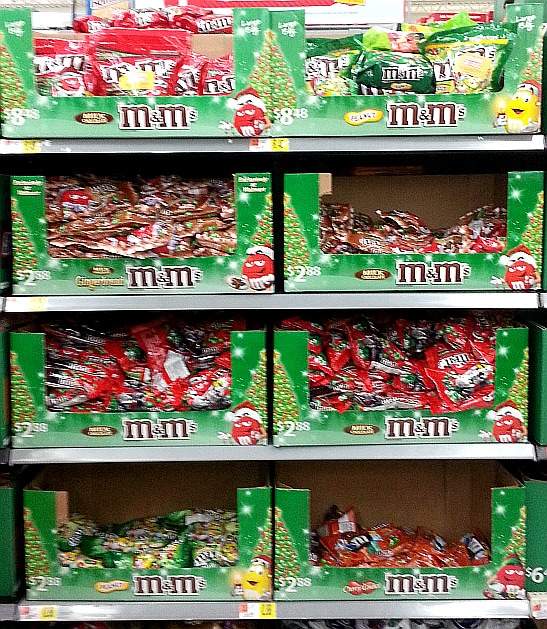 You can find this M&M Sugar Cookie Bar recipe in the Ziplist format at the bottom of this post.
For this recipe I used Plain M&M's but you can use Peanut M&M's, Milk Chocolate M&M's or Holiday M&M's. 
Besides the Plain  M&M's you'll need all-purpose flour, granulated sugar, brown sugar, butter, vanilla, light corn syrup, baking powder, salt and eggs. For the topping I used Dove chocolate and M&M's.
 Measure the dry ingredients into a small bowl. Cream the butter, sugar, corn syrup,eggs and vanilla. 

Combine the dry ingredients with the butter mixture and fold in the M&M's.
After you mix the batter press it down into a prepared 9 x 13 baking pan. Bake the cookie bars for 28-35 minutes.

Remove from the oven and immediately cover with the chopped chocolate. Spread the chocolate once it has melted.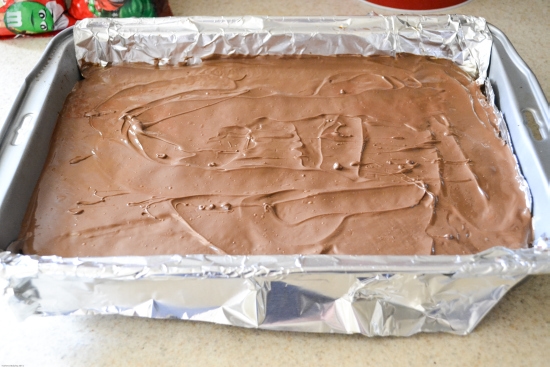 Randomly sprinkle M&M's all over the top of the melted chocolate. Allow the chocolate to harden before cutting.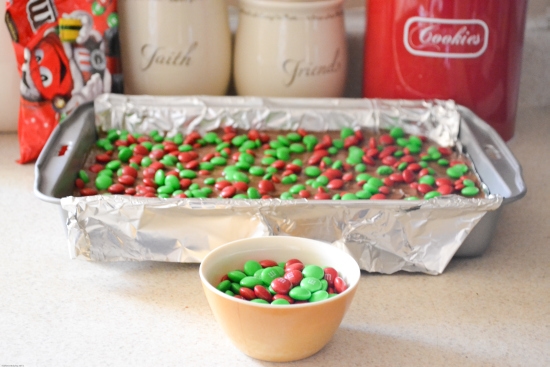 To package up your M&M Sugar Cookie Bars for your own cookie exchange buy a couple of holiday boxes. I picked these cute holiday cupcake boxes up at Walmart. They worked perfect for the M&M Sugar Cookie Bars.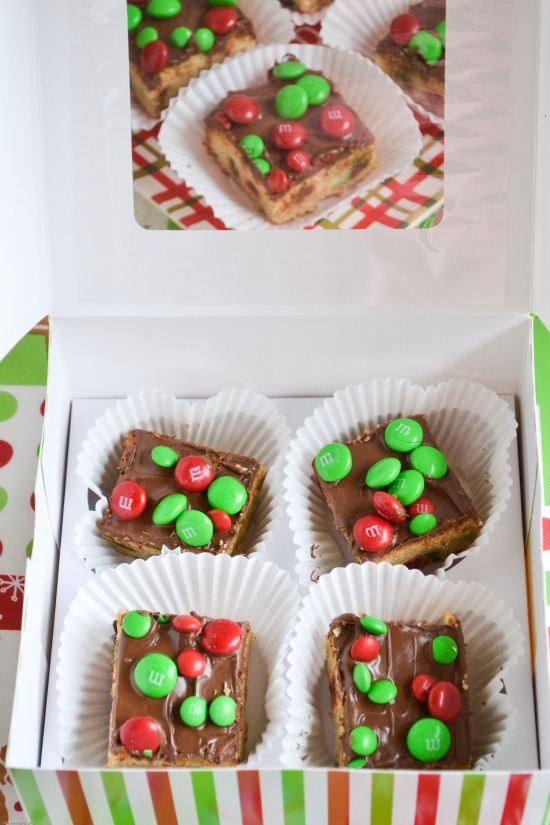 M&M Sugar Cookie Bars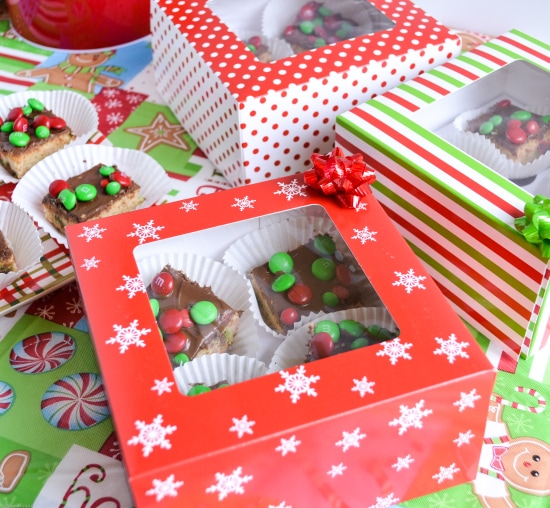 M&M Sugar Cookie Bars | Cookie Exchange Recipe
Serves:
25-35 cookie bars
Ingredients
3 cups all-purpose flour
1½ teaspoon salt
1 teaspoon baking powder
1 cup granulated sugar
¼ cup brown sugar
1 cup softened butter
¼ cup light corn syrup
1 teaspoon vanilla extract
2 eggs
2 cups plain or holiday M&M's, divided
1 cup chopped milk chocolate, chocolate chips or chocolate candy bark
Directions
Mix flour, salt and baking powder in a small bowl and set aside.
Beat softened butter for about 230 seconds until creamy and smooth.
Cream together butter, sugars and vanilla.
Add corn syrup and beat 1 minute.
Scrape sides of bowl, add eggs one at a time scraping the bowl and beating well in between each egg.
Fold in ½ cup plain or holiday M&M's into the batter.
Add flour one cup at a time mixing with a wooden spoon until all the dry ingredients are incorporated well into the cookie batter.
Line a 9 x 13 or two 8 x 8 inch pan/s with aluminum foil folding the edges over the side.
Lightly spray the pan with cooking spray or grease with butter.
Spread the cookie dough into the pan all the way into the corners.
Bake at 350 degrees for 28-35 minutes until golden.
While the cookie bar is baking prepare the chocolate or chocolate candy bark if using by chopping well.
I used Dove milk chocolate candy and chopped it well.
Remove the tray of cookie bars from the oven and immediately sprinkle the pieces over the top of the still hot tray of cookie bars. The smaller the pieces the faster it will melt.
After about five minutes begin spreading the melted chocolate pieces over the top of the uncut baked cookie bars.
Spread the choclate until it covers the entire top of cookie.
Immediately randomly drop the remaining M&M's over the melted chocolate.
Allow chocolate to set up completely before cutting. This can take anywhere from 2 hours to overnight depending on the temperture of your home.