Fresh from Florida :Mango and Peach Salsa.
Another wonderful fruit residents of Florida have access to, if their lucky enough to have a tree in their yard are fresh Mangoes. I'm not lucky enough to have a tree in my yard but one of my neighbors are.  I had to find a recipe for the fresh mangoes so I came up with this mango and peach salsa recipe.
As I mention in my How To Make a Citrus Salad post most of the time if you have a fruit tree in your backyard and that tree is producing very well it is almost impossible to consume all of the fruit yourself.
This time I didn't have to stop and ask if I could pick some of the fruit like I did with the grapefruit I used for the citrus salad.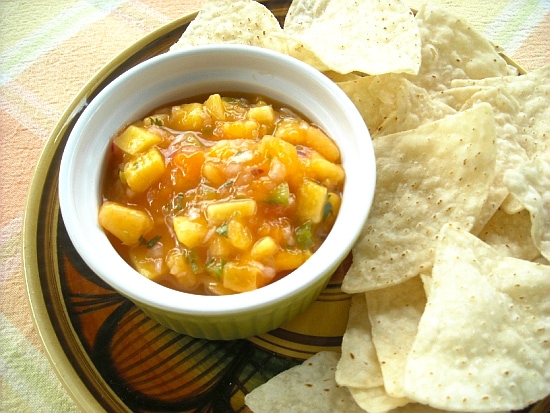 Last weekend while we were driving by on our way to the grocery store my neighbor had a bucket of mango's set beside their mail box with a big sign declaring FREE. I don't know how I managed to catch it out of the corner of my eye because I am relatively short and my husband drives a huge pick up truck and the bucket was on the drivers side of the road.   A flash of orange caught my eye as my husband drove by and I yelled STOP! I am not joking. I yelled stop!
I suspected there was something edible in that bucket because my daughter had mentioned to me that there was a tree with large orange fruit on it growing in that yard.. I've got my daughter trained well. She had been walking around the block with her friend when she spied the fruit tree. From her description I wasn't sure whether it was mango's or papaya growing in that yard.
The time it took for my husband to back up and get out to check things out I had decided if it was papaya I would make some sweetened dried papaya in my dehydrator. If it was mango's well then I had many more options since I am more familiar with mango then with papaya.
From the title of this post I am sure you figured out the bucket held mango's.
Before we move on to the recipe I have to warn you. If you have an aversion to garlic breath you might as well avoid this recipe like the plague. Or you could cut back on the amount of garlic I used but it will alter the flavor and the garlic flavor is one of the things I loved about this salsa. The hot spicy flavor of the garlic mixed with the sweet flavors of the mango and peach are a delightful surprise to the taste buds.
If you love the flavor of sweet, spicy and garlic together gather the ingredients and get to chopping because this recipe is a doozey. Just remember I warned you!
This salsa recipe is meant to be refrigerated and eaten within a few days of making. It is not meant to be canned.
If you're a pepperhead this salsa is going to be tame in the pepper heat department so you may want to add more jalapeno pepper, or your pepper of choice. The spice in this recipe comes from the garlic. I normally love the heat from jalapenos but that was not what I was going for with this salsa recipe.
Fresh From Florida: Mango and Peach Salsa
Ingredients
1 medium mango
1 firm peach
1 jalapeno pepper
2 cloves garlic
½ medium red onion
2 tsp sugar
teaspoon chopped cilantro
pinch of salt
juice of 1 lime
Directions
Chop the jalapeno,onion garlic, and cilantro finely in a food processor, pour into a medium size bowl.
Cut the peach into a small dice and add to the bowl.
Cut the mango into a medium dice and add to the bowl.
Add the salt, sugar and juice of the lime.
Mix well and store in the refrigerator 3 to 4 days.
Prepare this salsa at least the day before you plan on serving it.
Notes
This salsa tastes better the second or third day. I make it then refrigerate it for at least 24 hours before eating.
Prepare this salsa at least the day before you plan on serving it. When I first mixed this recipe up I tasted it and did not care for it. I am not a big fan of cilantro so I had my daughter Megan come over to taste it. After 24 hours I tasted it again and the flavors had come together like I never expected.
I'm am 
ashamed
 to admit that I ate almost the entire pint myself over the course of 3 or 4 days with some really yummy Snyder of Hanover white corn tortilla chips. I hope you enjoy this recipe as much as I did!