Linzer Torte aka A Raspberry Tart
This is one of my most requested Christmas Dessert recipes. A Linzer Torte is a fancy name for a tart. Traditionally raspberry filled but I have also made it with blackberry jam. I love making this raspberry tart.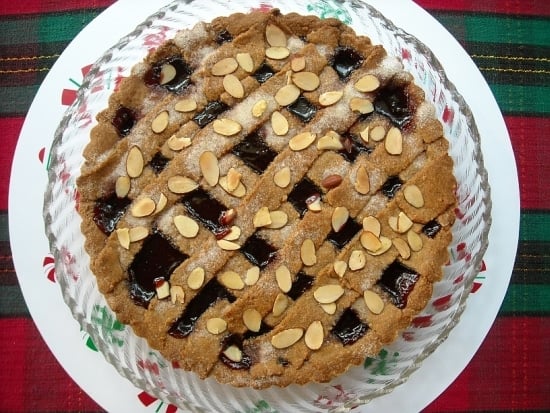 Occasionally I like to entertain you, my readers with a little story to go along with the recipes I post. I hope they are interesting to you. Sometimes I can be very long winded.
 If you just want to get to the good stuff I understand. I promise it won't hurt my feelings….too much.  You can just scroll down to find the recipe.This is another oldie but goodie recipe I have been making on and off for years. Mostly around Christmas but I have made it on other occasions because it is so easy to make and good to eat.
The crust can be a little difficult to handle, especially here where I live in Florida but it is well worth any hassle because it is one of the best crusts I have ever tasted.  
Once you get the crust making down it is so versatile you can change it up just by changing the type of jam you use for the filling. Yes I said jam. The filling is just jam.
So all of you canners out there who have a pantry full of delectable fruit preserves that you have made and are looking for ways to use besides as a topping for toast and biscuits this is the perfect recipe for you to master.
This recipe calls for ground almonds in the crust.
Another way to change up the recipe would be to change the type of nut used in the crust. Hazel nuts, pecans or walnuts could be substituted. I love the almond flavor and that is the only nut I have ever used in the crust.
Upon researching on Google to find out a little more info on the Linzer torte I came across this
Wikipedia article
and was delighted to find out that the Linzer torte is the oldest known recipe in the world. The earliest
reference
found in Verona, Italy in 1653. I love it when I find info like this!
I originally found this recipe on the Martha Stewart site.  With Martha you either love her or hate her. I happen to love her. Before I started this blog I spent a lot of time on her site.
I've
 made many of her recipes and all of them always turn out just as they should and this one is no exception . I did make a minor adjustment by chilling the dough before using it. The heat and humidity here cause this dough to be a bit challenging.
 I tried to find the recipe on Martha's site but it is not there anymore. I've had this printed out for many years so maybe it got lost in one of her updates.
Linzertorte aka A Raspberry Tart

Perfect Christmas dessert

Ingredients

1 ½ cups all-purpose flour, plus more for dusting your work surface
½ cup finely ground toasted almonds ( 2 ounces)
½ teaspoon ground cinnamon
½ teaspoon baking powder
½ teaspoon salt
½ cup unsalted butter, (one stick)
2/3 cup packed light brown sugar (I have used dark with no problem, just makes a darker crust)
1 large egg
1 ¼ cups seedless raspberry jam
Confectioners' sugar for dusting (optional)

Instructions

Preheat oven to 350'
In a small bowl combine flour, almonds, cinnamon, baking powder and salt; set aside
Cream butter and brown sugar until smooth. Beat in egg. Gradually add flour mixture, beating on low speed just until mixture comes together to form a dough.
Pinch off about a third of the dough.
Flatten and wrap in plastic wrap. Chill for at least an hour.
Grease the tart pan well with butter or a nonstick baking spray.
Remove largest piece of dough from the refrigerator and roll out onto a floured surface to about 1/8 inch thick into a big enough circle to fill your tart pan. Trim the edge by running a sharp knife along the edges of the tart pan. Save scraps.
Gently tap or press the dough into the edges of the tart pan with your fingertips. Patch any holes with the dough scraps. Place the prepared tart crust back into the refrigerator to chill.
Remove the smaller dough ball from the refrigerator. On a piece of floured parchment paper roll out a rectangle that is at least 13 inches long and 1/8 of an inch thick. Using a pastry cutter or a sharp knife cut dough into strips. Leave the strips on the parchment paper and place onto a cookie sheet. Chill for at least 30 minutes.
Measure the raspberry jam into a small pot and bring to a boil. Remove from heat and allow to cool.
Remove the tart shell from the refrigerator and pour the cooled jam into the tart. Don't worry if it looks like it is not enough to fill the tart crust. The dough will rise slightly filling the tart completely.
Remove the crust strips from the refrigerator and make a lattice crust. (This is something I have not mastered yet!) Push the ends of the lattice strips down onto the edges of the crust so the stick. Trim edges. Sprinkle pastry crust with some sugar and add some almond slivers to the lattice strips (optional).
Bake in the preheated oven until crust is golden brown and the filling is bubbling, about 30 to 35 minutes. Remove from oven and cool on a wire rack.
Before serving remove the tart from the tart pan ring by placing one hand in the center of the bottom of the tart pan and gently separating the crust from the bottom plate by pulling down on the edge of the tart ring. Put the tart on a pretty serving platter and dust with confectioners' sugar. Top with whipped cream.

http://flouronmyface.com/2012/01/linzertorte-aka-raspberry-tart.html

www.flouronmyface.com