Fruit Cocktail Pudding Cake
The Vintage Recipe Project
While pouring over my collection of vintage cookbooks while I was looking for something yummy to make I came across a recipe that my husband's great grandmother Mrs Leo Rose had circled and wrote " This is delicious " beneath for this Fruit Cocktail Pudding Recipe.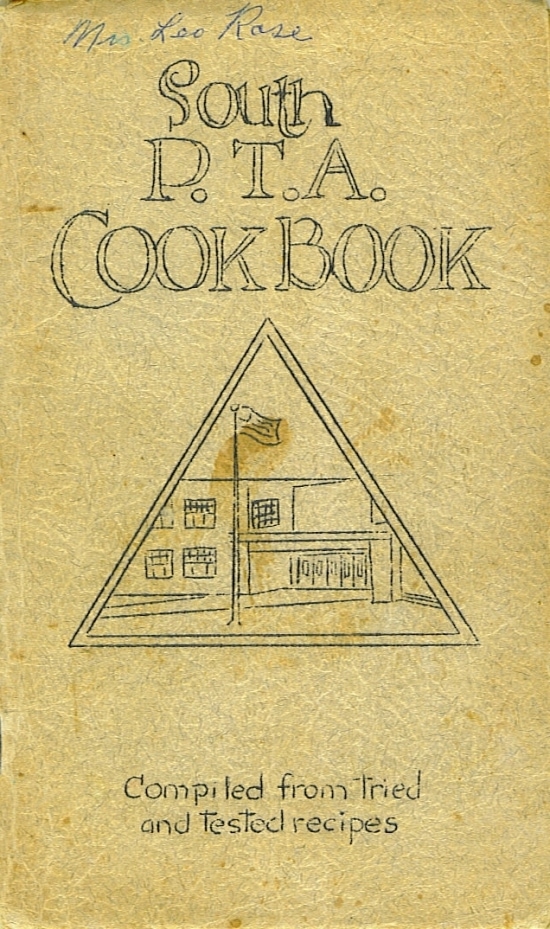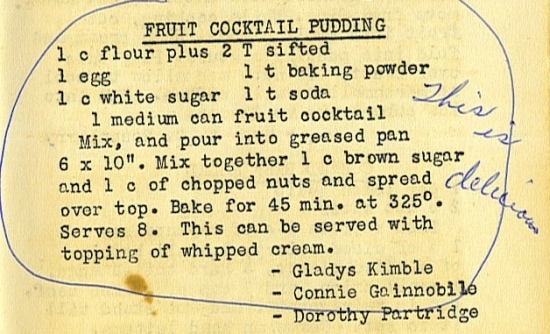 On my quest to revamp these vintage recipes and make them current for today's modern day bakers this is the type of recipe I love to try. 
 Not only does it make me happy to make something my husbands great grandmother had made many many years ago but I also know by the notation that this recipe was considered delicious by her.
I've made some slight changes to the recipe and also decided that the proper name for my revamped recipe should be named Fruit Cocktail Pudding Cake. Some of the recipes in these old cookbooks that are called puddings are not what we now think of as a pudding. 
Fruit Cocktail Pudding Cake
Serves 8
1 cup flour + 2 tbs sifted
1 cup sugar
1 tsp baking powder
1 tsp baking soda
¼ tsp salt
½ stick butter, melted and cooled
½ tsp vanilla
1 egg, beaten well
1 medium can of fruit cocktail
>
Topping
1 cup brown sugar
¾ cup sweetened shredded coconut
Preheat oven to 350 degrees
Grease an 8 x 8 baking dish.
Sift first six ingredients into a medium bowl.
In a small bowl mix the cooled melted butter, the beaten egg and the vanilla.
Pour the egg mixture into the bowl of dry ingredients and pour the entire contents of the can of fruit cocktail, juice and all.
Mix with a wooden spoon until completely combined and the fruit cocktail is even distributed.
Fruit Cocktail Pudding Cake Batter
In a small bowl mix the brown sugar and the shredded coconut. If you would like to add nuts to your topping you can also add 1 cup of chopped nuts.
Bake at 350 for about 45 minutes.
Baked Fruit Cocktail Pudding Cake
I agree with my husband's great grandmother. This cake is delicious! 




It is very moist and delicious. The only thing I might change is that I would cut back on the brown sugar in the topping.  It was a bit much for me. I also might add nuts to the topping next time.


Thanks for stopping by!
Arlene