Slow Cooker Pineapple Pulled Pork Sliders Recipe
Disclosure: This Slow Cooker Pineapple Pulled Pork Sliders recipe has been sponsored by The Kraft Heinz Company. All opinions are my own.
No matter what time of the year it is you can celebrate a fun filled evening with family and friends when you host a Luau-themed family game night.
Head to Publix for all the ingredients you need to make these Slow Cooker Pineapple Pulled Pork Sliders and host a fun Luau themed family game night for your family and friends.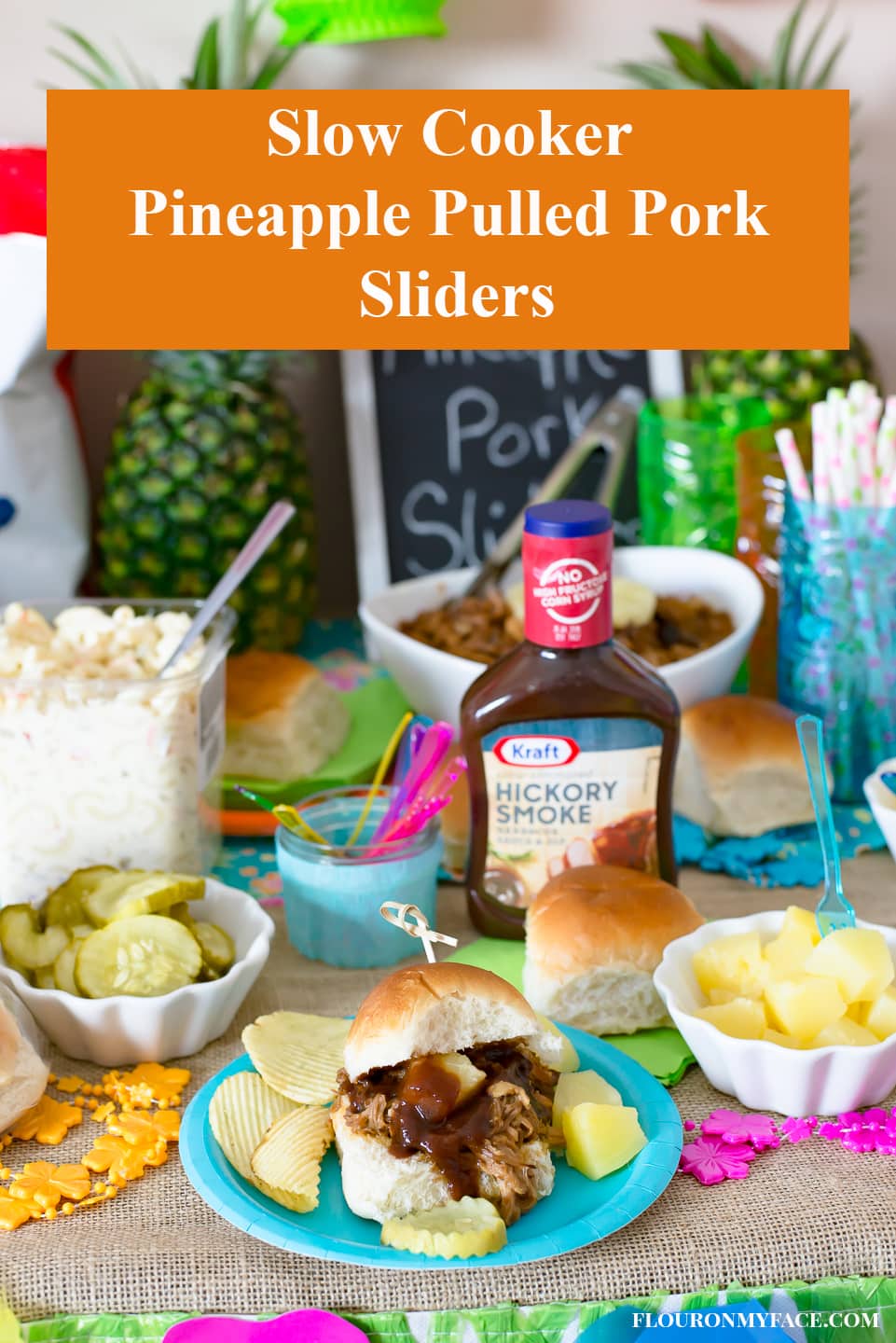 When I plan any type of family gathering or party I head to my local Publix supermarket where I know I will be able to find all the ingredients I will need to make an easy and delicious recipe like these Slow Cooker Pineapple Pork Sliders.
Pulled Pork Sliders are perfect for any type of celebration when you need to feed a crowd.
You'll need just a few simple ingredients that you can buy in one shopping trip to Publix.
Watch the Slow Cooker Pineapple Sliders recipe video below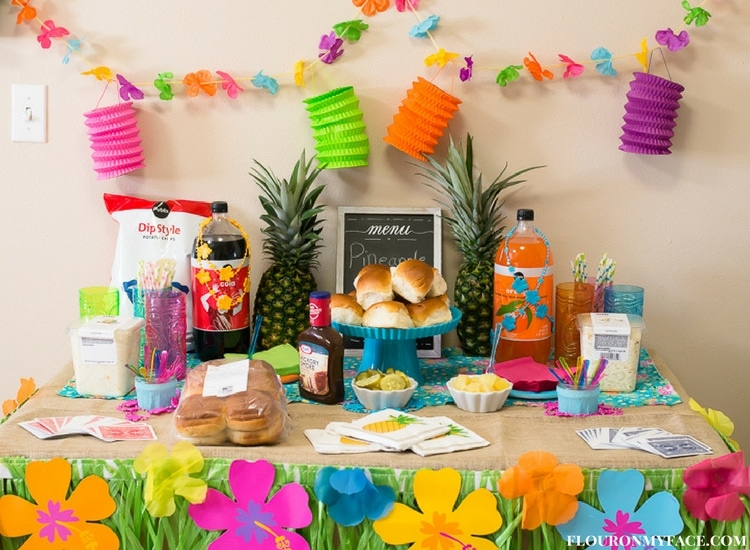 How to throw a Luau inspired family Game Night with Kraft and Publix
It is very easy to throw a Luau themed game night. All you need to do is set up a table for the food and a table where you can play some games. Then decorate them with Luau themed party decorations.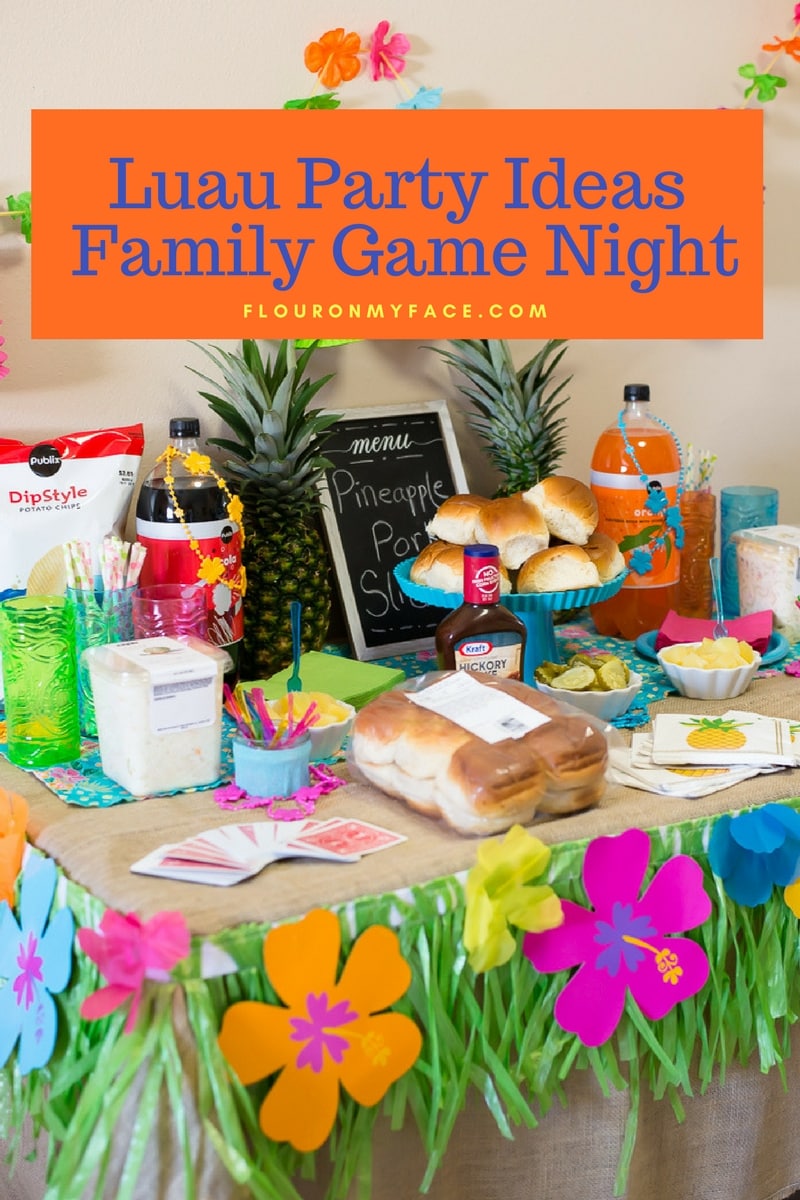 Pick out a few games that are perfect for kids and adults at your family game night celebration.
A great resource for more family fun is YourRecipeForHappiness.com. You'll find more family recipes and celebration ideas from Publix.
Easy Game Idea for Kids on Game Night
I set up a kids game table where the kids could eat and play dominoes.
Dominoes is a very easy game night game for the kids to play. Even the youngest of children can play dominoes as long as they can match up the number dot on the dominoes.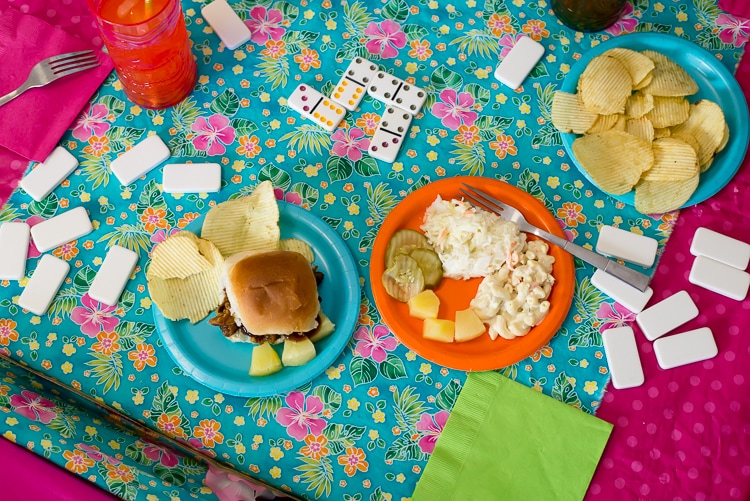 For the adults, I went with a couple of decks of playing cards. Gin Rummy is one of our favorite card games. We are a competitive bunch and our family always has a great time playing cards together.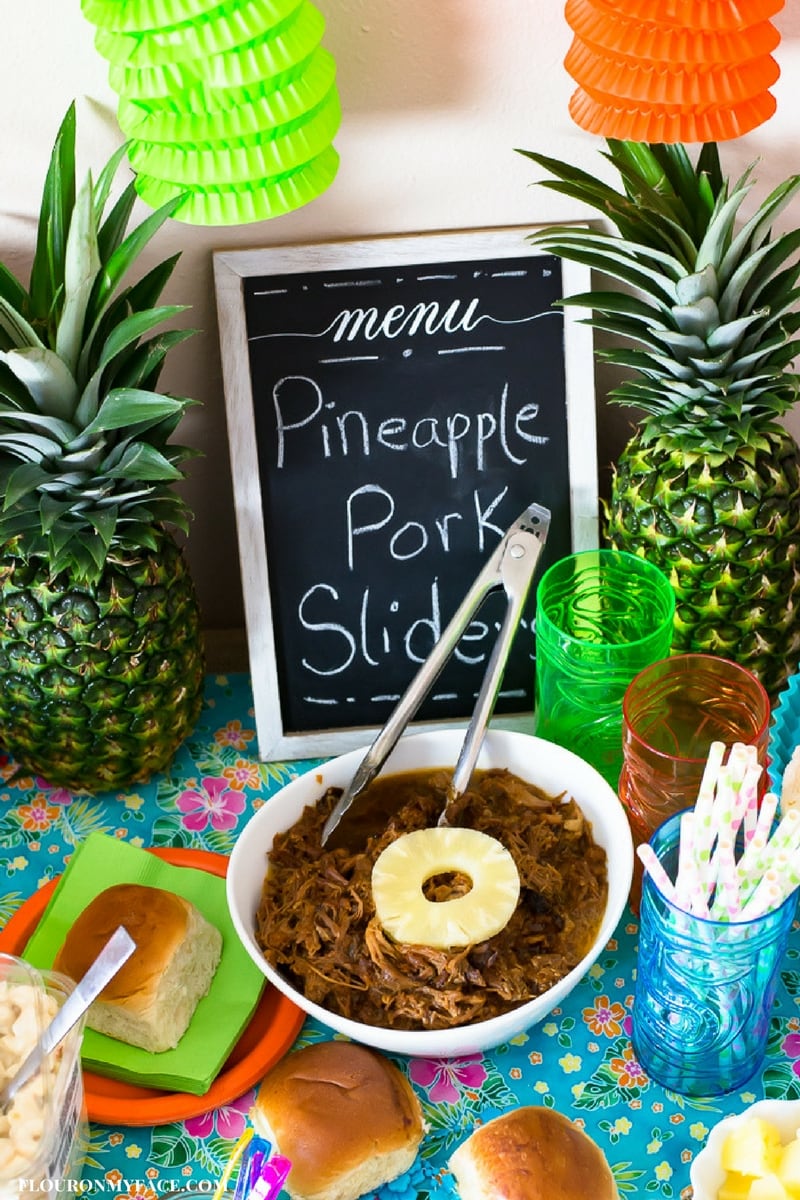 Hosting a family game night is a great way to get the family together and make fun memories.
Luau themed Food for Family Game Night
Make a luau inspired recipe like Slow Cooker Pineapple Pulled Pork Sliders that are not only delicious to eat but also very easy to make in a slow cooker. Pulled pork sliders is a perfect recipe when you need to serve food at a family gathering like game night.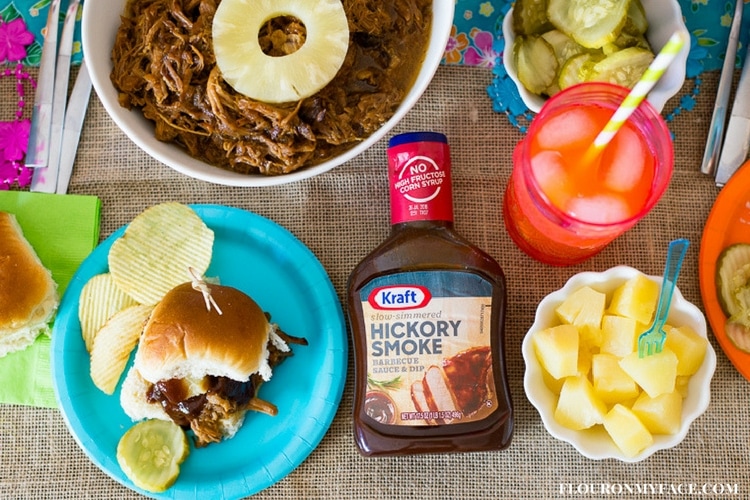 To make Slow Cooker Pineapple Pulled Pork Sliders you only need a few ingredients that you can pick up on your next shopping trip to Publix.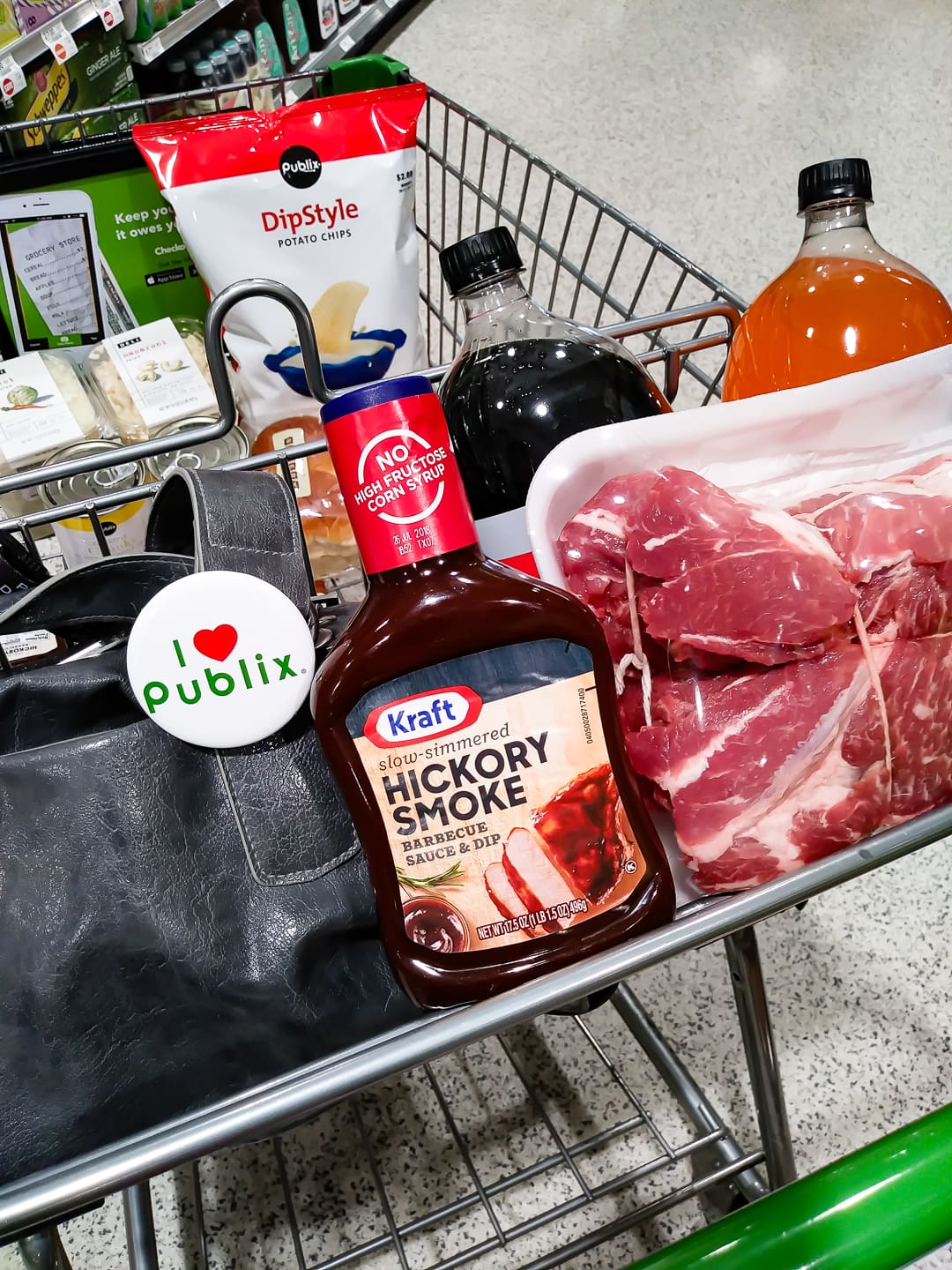 You'll need a boneless pork butt roast, a bottle of Kraft Hickory Smoked barbecue sauce and Publix brand canned pineapple.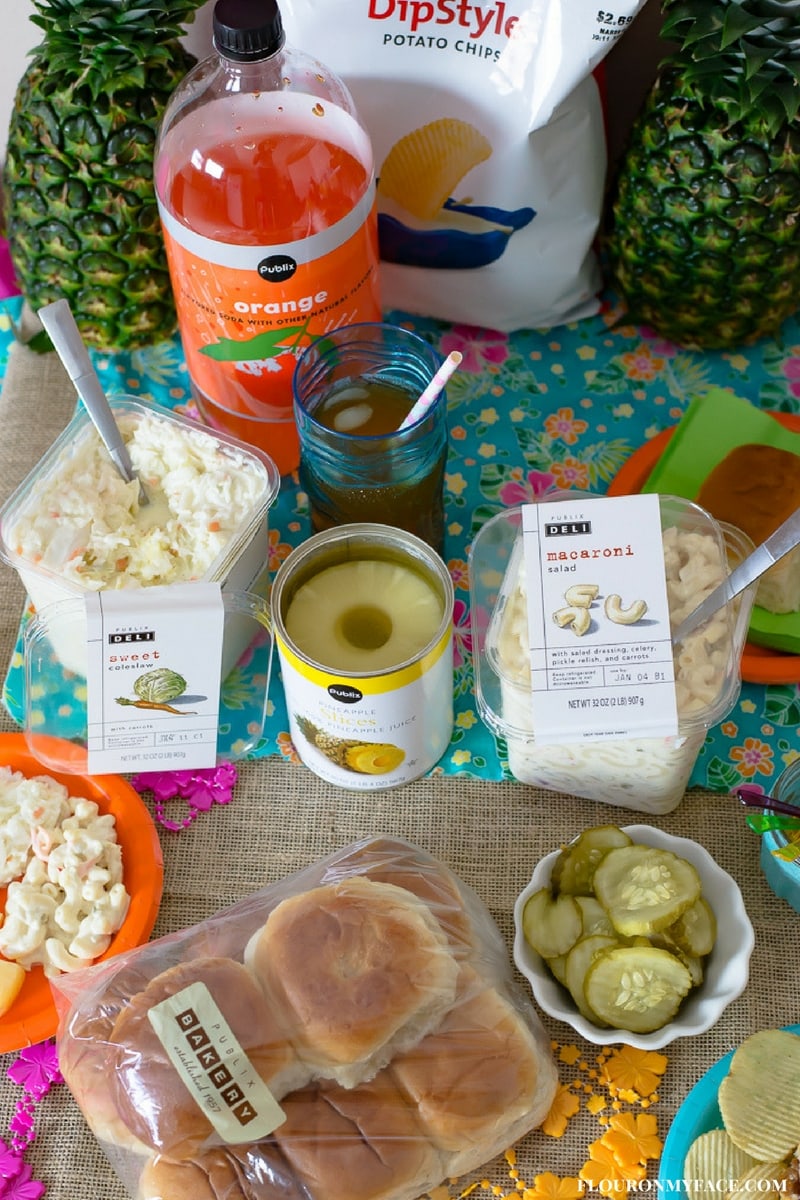 Add some Publix bakery dinner rolls which, by the way, make perfect slider buns and you have the ingredients to serve a tropical-inspired meal reminiscent of a Hawaiian Luau.
The rest of the simple pulled pork ingredients you probably have in your pantry already.
If you can't find a Publix boneless pork Boston Butt or Shoulder Roast in the meat section head over to the meat counter where one of the very helpful Publix butchers will cut one for you.
By the way Publix is the only grocery store where I have found a boneless pork roast that makes making slow cooker pulled pork so easy. When you start your pulled pork recipe with a boneless pork roast you don't have to remove the bones from the pulled pork before you serve it to the family.
Early in the day of your Luau Game Night cook the slow cooker Pineapple Pulled Pork recipe. After you have pulled the tender pork meat apart with a fork and mixed it together with Kraft Barbecue Sauce set the slow cooker on warm to keep the pulled pork warm until it is time to serve the pork sliders.
Serve the Pineapple Pulled Pork on deli rolls with chips, macaroni salad, coleslaw, and drinks.
Place a bowl of pineapple chunks on the table so everyone can top off their pork sliders with a piece of pineapple as they make their plates.