Easy Cherry Tart
This Simple and 
Easy Cherry Tart
recipe comes together so fast you will not believe it. 
If you have a premade crust or even one that is in the freezer like I used here  it will come together even faster.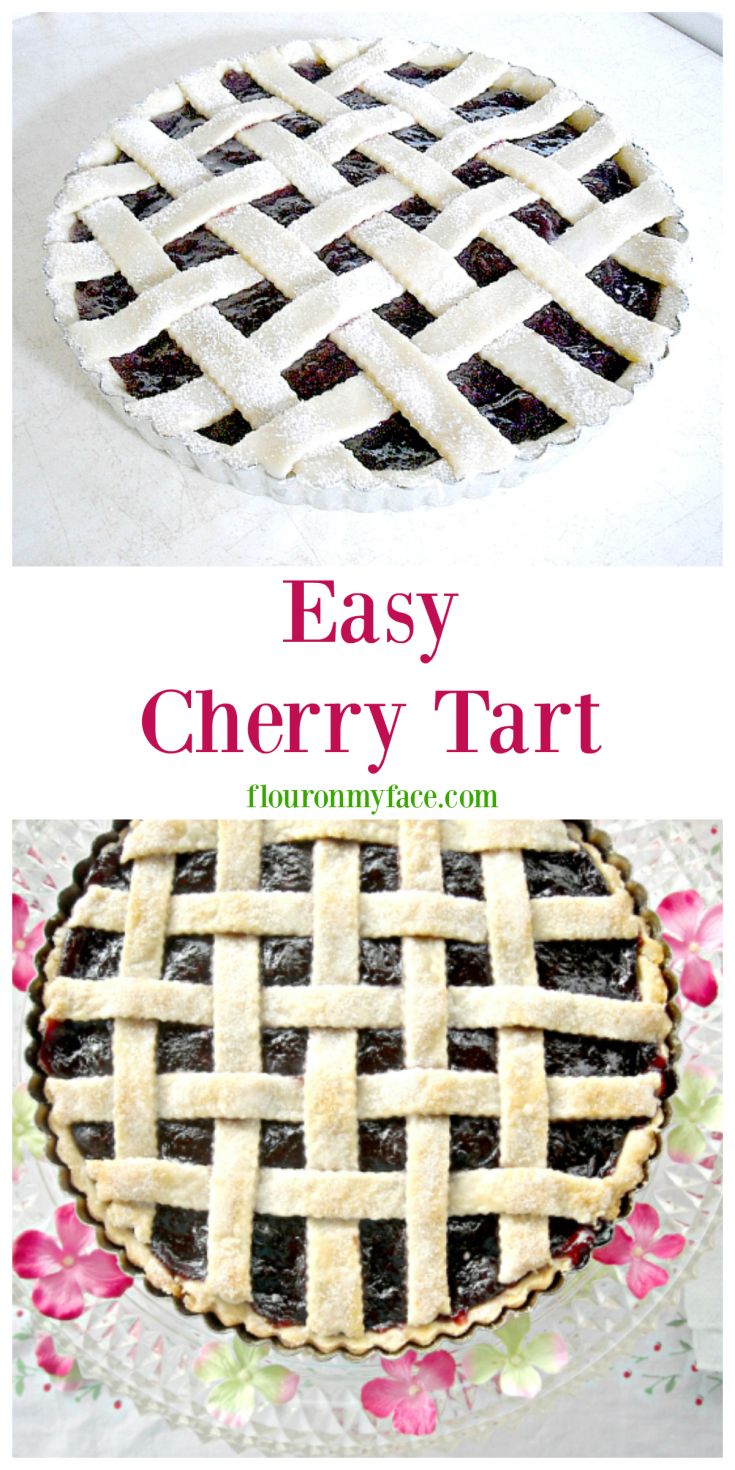 If making a homemade crust recipe for the Easy Cherry Tart it will of course take a bit longer to make but will be so worth it.  Read on for my favorite homemade crust recipe.
Over Father's Day weekend I tried out a recipe for a Crème Fraiche Cheesecake I found online at Roxy's Kitchen. I loved the way the recipe turned out but the pictures turned out blah. I hate it whenever I make something I plan to blog about during an actual meal and the family is sitting around waiting for it.

Have you noticed most of my posts are for dessert recipes like this Easy Cherry Tart recipe? I've been trying to change that.
Taking pictures for my blog is an ordeal that must be done outside my home on my back porch most of the time, with lots of planning. Normally I prepare something early in the day and in the early afternoon the natural light coming onto the porch is almost perfect. Well not really but good enough that I can get a couple of decent pictures.
Roxy's recipe
was made with fresh strawberries but I wanted to change it up a bit and used canned cherries to make a topping. In my zeal I made way too much topping for the cheese cake so I had a small bowl of cherry filling left over.
What to do? What to do? The cheesecake was long gone and I couldn't bear to let the 
leftover
 cherry topping go to waste. Then I remembered that I had a pie crust in the freezer.
You've seen me mention the pie crust from Ree Drummond, The Pioneer Woman's cookbook before. I am not lying when I say it is the best pie crust ever.  Ree mentions in her book and on her blog that the recipe is not actually hers but came from one of her readers, Sylvia L. I agree with Ree, it is the best pie crust ever. It has a great flavor and is so flaky!
One of the simplest desserts to make and one of the most scrumptious to eat is a fruit tart.
And since I had a bowl of topping and a crust in the freezer I threw it together in no time.
The mellow cherry topping was perfect for the richness of the cheese cake but for the tart I needed to bump it up a notch and added some lime zest and lime juice. It turned out sweet with just a tang of tart. Here is how you can make it.
Easy Cherry Tart & Pie Filling Tips
When cooking the easy cherry tart filling if your heat is too high and the filling starts to boil rapidly most of the cherries will break apart and lose their shape. Your topping will still taste good but you won't see any whole cherries in it.
Another problem that might occur if you start out with too high of a temperature is that the cornstarch may lump. If you find you have some unappealing white lumps floating around in your topping scoop them out with a spoon.

If 

you plan to make the easy cherry tart filling ahead of time

 to be used later that day or even the next day as a dessert topping, homemade ice cream topping or pie or tart filling you can store it in a covered bowl in the refrigerator.

You should wait until the easy cherry tart filling is at room temp before moving it to the refrigerator. The condensation from the hot  filling will settle on the lid or plastic wrap and will make your filling watery, affecting the flavor and thickness.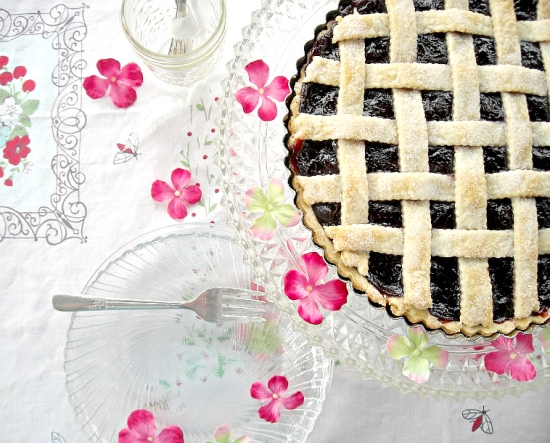 How to make the Easy Cherry Tart Recipe
 Ingredients
2- 15 oz canned Del Monte Dark Sweet Cherries in syrup
3 tbs cornstarch
1 tsp vanilla extract
Zest from one lime or lemon
Juice from half of a lime or lemon
Pie or Tart crust of choice
Directions
Pour the dark cherries and their syrup into a heavy sauce pan.
Add the cornstarch.
Turn your stove on medium low.
Gently stir to break up the lumps of cornstarch.
Once the cornstarch lumps are dissolved turn the heat up to medium.
Bring cherries to a gentle boil, about ten minutes.
Stir until thickened.
Once the filling has thickened remove the pot from the heat.
Gently stir in the vanilla extract, lime zest and juice.
Allow the cherry filling cool to room temperature before using as a pie or tart filling.
Once the topping is room temp then you can fill your tart or pie crust.
Bake tart or pie for 45-50 minutes until filling is bubbling and tart or pie crust is a golden brown.
Cool on a cooling rack.
Serve with whipped cream, ice cream.or sweetened creme fraiche
8-10 servings
Print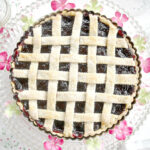 Simple and Easy Cherry Tart Recipe
---
Scale
Ingredients
2

–

15

oz canned Del Monte Dark Sweet Cherries in syrup

3

tbs cornstarch

1 tsp

vanilla extract
Zest from

one

lime or lemon
Juice from

half of a

lime or lemon
Pie or Tart crust of choice
---
Instructions
Pour the dark cherries and their syrup into a heavy sauce pan.
Add the cornstarch.
Turn your stove on medium low.
Gently stir to break up the lumps of cornstarch.
Once the cornstarch lumps are dissolved turn the heat up to medium.
Bring cherries to a gentle boil, about ten minutes.
Stir until thickened.
Once the filling has thickened remove the pot from the heat.
Gently stir in the vanilla extract, lime zest and juice.
Allow the cherry filling cool to room temperature before using as a pie or tart filling.
Once the topping is room temp then you can fill your tart or pie crust.
Bake tart or pie for 45-50 minutes until filling is bubbling and tart or pie crust is a golden brown.
Cool on a cooling rack.
Serve with whipped cream, ice cream.or sweetened creme fraiche
---
Recipe Card powered by
Looking for more cherry recipes? You might also like these recipes using cherries