Chocolate Covered Cherries Cake Pops
Disclosure: I am a member of the Collective Bias™ Social Fabric® Community.  This content has been compensated as part of a social shopper insights study for Collective Bias™. and Renuzit #CBias #SocialFabric.
I love a challenge don't you? Renuzit Air Fresheners has come out with a new line of flavors scents. The new line is called Tempting Indulgences. Red Velvet Cake, Chocolate Covered Cherries and Creme Brulee are new scents. Very tempting scents indeed!
My challenge was to create a recipe based on one of the new scents. But I wouldn't know which of the two flavors I could choose from until my little package arrived from Renuzit.
I rolled some ideas around my head for each new scent. Red Velvet Cake is a favorite around my house. I could make some cupcakes. I've done that many timed before so it wouldn't be much of a challenge. I would need to come up with something more original then cupcakes.
Creme Brulee was the most intriguing scent/flavor for me. I've never eaten it. All I knew is that it  is a very decadent custard and everyone who's ever eaten it loves it. I thought if I had this scent to work with I might make a vanilla bean ice cream and fold a batch of homemade creme brulee into it. Even never having tasted creme brulee I thought this idea sounded delicious.
How can you go wrong with homemade vanilla ice cream and a rich custard?
What could I do for the chocolate covered cherries scent? I could make chocolate covered cherries. I played around with  thoughts of making a chocolate pie crust and filling it with cherries and frosting it with a chocolate glaze. Or even making homemade pops tarts with a chocolate crust and cherry pie filling.
I'm sure by now you've guessed my chosen scent to work with was Chocolate Covered Cherries.
I went to Walmart to pick up the ingredients to make the Chocolate Covered Cherries Cakepops I decided to make.
While I was there I checked out the Renuzit display to see if the new scents were out yet but they weren't available in my location yet.  I also picked up some cake pop making supplies.
Wilton has this great cake pop decorating stand. I bought it but ended up not using it this time because I made a combination of cake pops and cake balls. I've used a foam block in the past that didn't work so well. This stand is going to make decorating the next batch of cake pops I make so much easier.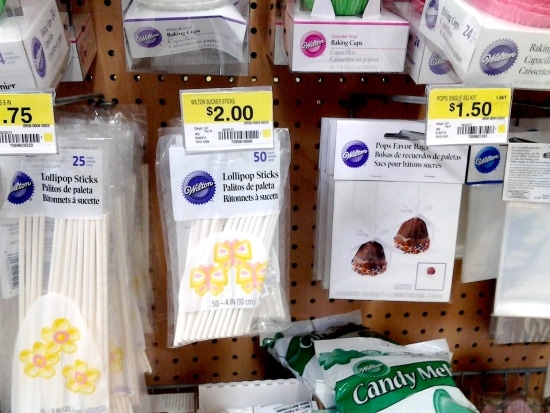 I also picked up some lollipop sticks while I was shopping.
Cake Balls and Cake Pops are all the rage now. I've made them a few times before but never tried stuffing anything in the middle of one. I've got some tips and tricks you can check out in another  post on how to dip cake pops.
Making cake pops can be challenging but I want you to know the more you do it the better things seem to go each time. Melting chocolate can be tricky. Even if it doesn't look perfect they still taste good.