Chocolate Covered Cherries Cake Pops
Disclosure: I am a member of the Collective Bias™ Social Fabric® Community. This Chocolate Covered Cherries Cake Pops recipe has been compensated as part of a social shopper insights study for Collective Bias™. and Renuzit #CBias #SocialFabric.
I love a challenge, don't you? Renuzit Air Fresheners has come out with a new line of flavors scents. The new line is called Tempting Indulgences. Red Velvet Cake, Chocolate Covered Cherries, and Creme Brulee are new scents. Very tempting scents indeed!
My challenge was to create a recipe based on one of the new scents. But I wouldn't know which of the two flavors I could choose from until my little package arrived from Renuzit.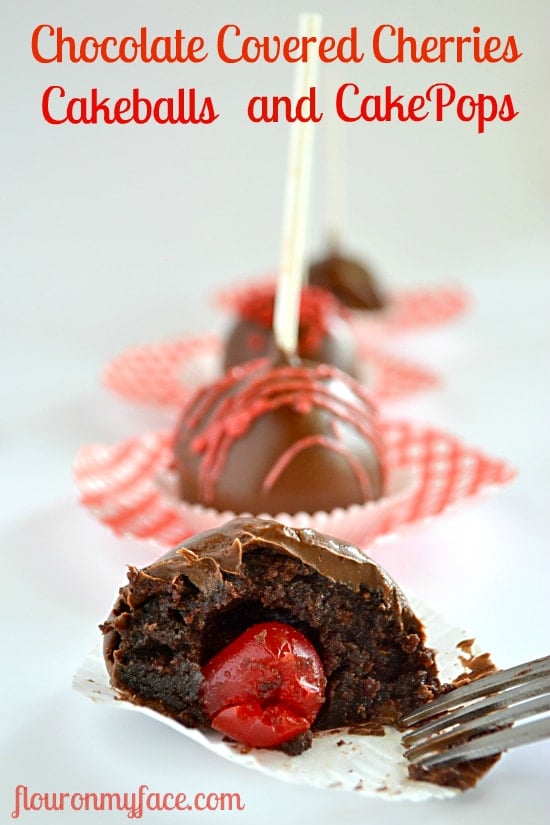 I rolled some ideas around my head for each new scent. Red Velvet Cake is a favorite around my house. I could make some cupcakes. I've done that many timed before so it wouldn't be much of a challenge. I would need to come up with something more original then cupcakes.
Creme Brulee was the most intriguing scent/flavor for me. I've never eaten it. All I knew is that it  is a very decadent custard and everyone who's ever eaten it loves it. I thought if I had this scent to work with I might make a vanilla bean ice cream and fold a batch of homemade creme brulee into it. Even never having tasted creme brulee I thought this idea sounded delicious.
How can you go wrong with homemade vanilla ice cream and a rich custard?
What could I do for the chocolate covered cherries scent? I could make chocolate covered cherries. I played around with thoughts of making a chocolate pie crust and filling it with cherries and frosting it with a chocolate glaze. Or even making homemade pops tarts with a chocolate crust and cherry pie filling.
I'm sure by now you've guessed my chosen scent to work with was Chocolate Covered Cherries.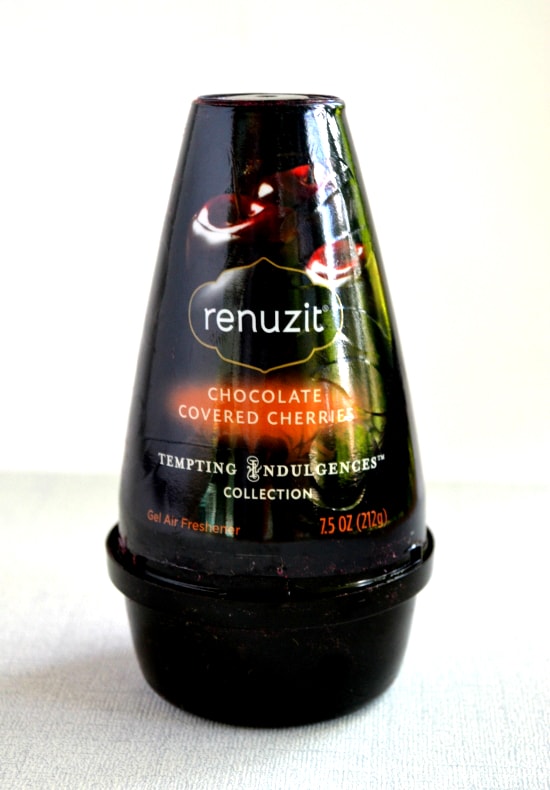 I went to Walmart to pick up the ingredients to make the Chocolate Covered Cherries Cakepops I decided to make.
While I was there I checked out the Renuzit display to see if the new scents were out yet but they weren't available in my location yet. I also picked up some cake pop making supplies.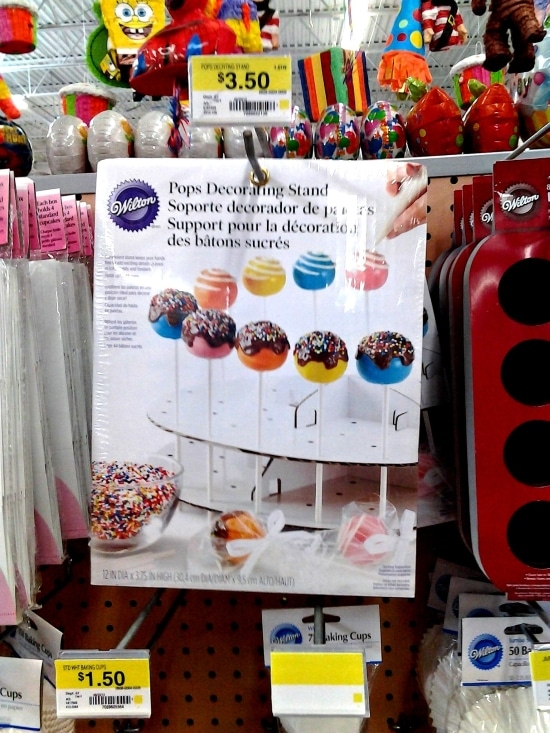 Wilton has this great cake pop decorating stand. I bought it but ended up not using it this time because I made a combination of cake pops and cake balls. I've used a foam block in the past that didn't work so well. This stand is going to make decorating the next batch of cake pops I make so much easier.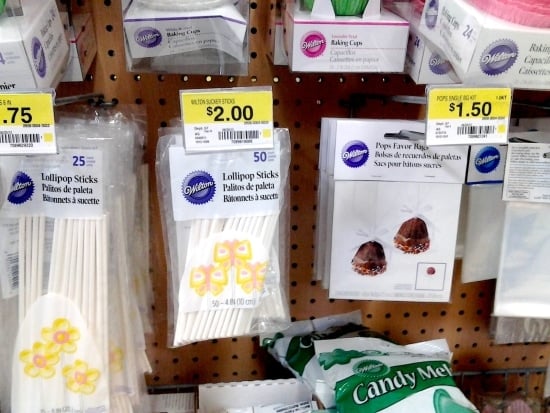 I also picked up some lollipop sticks while I was shopping.
Cake Pop recipes
Cake Balls and Cake Pops are all the rage now. I've made them a few times before but never tried stuffing anything in the middle of one. I've got some tips and tricks you can check out in another post on how to dip cake pops.
Making cake pops can be challenging but I want you to know the more you do it the better things seem to go each time. Melting chocolate can be tricky. Even if it doesn't look perfect they still taste good.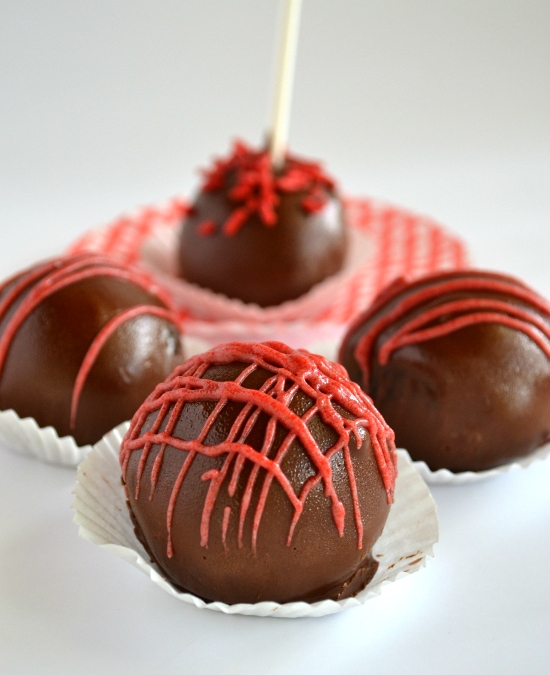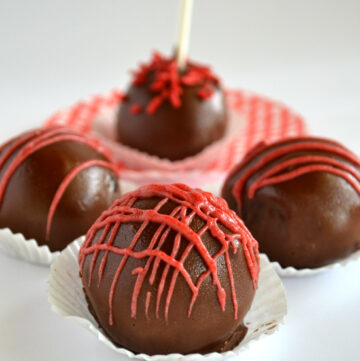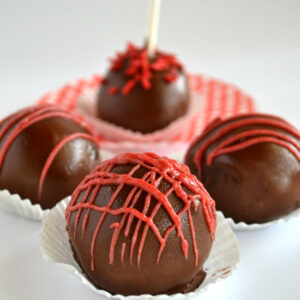 Chocolate Covered Cherries Cake Pops
Chocolate Covered Cherry Cake Pops are a decadent filled cake pop recipe for a special occasion like Valentine's Day or Christmas. Chocolate cake is wrapped around maraschino cherries before dipping in melted chocolate.
Rate this Recipe
Ingredients
1

box

chocolate cake mix

(plus ingredients to make)

⅓

cup

vegetable oil

3

large

eggs

1

container

chocolate frosting

(not the whipped kind)

1-2

bags

small bags or 1 large bag milk chocolate chips

( for dipping)

¼-1/2

tablespoon

Crisco shortening

1

jar

maraschino cherries
Follow Flour On My Face on Pinterest
Instructions
Bake the cake as directed on the box. Allow to cool completely.

While the cake is baking drain the cherries in a fine mesh strainer over a bowl. Reserve the cherry liquid for another use.

Once the cake is cool run a sharp knife up and down through the baked cake from end to end and side to side of the pan to break the cake up into pieces. Dump the cake pieces into a large bowl. Run the sharp knife through the pieces of cake until the cake is nothing but crumbs.

Stir in about ¾ of the tub of frosting. Stir until the cake and frosting are completely combined and you do not see any dry pieces of cake. Add more of the frosting if you need to. You want a wet dough but not so wet that it will not hold shape when you are forming the balls.

Place the cake and frosting mixture into the refrigerator to firm up for about 15 minutes.

Once your dough is firm remove it from the refrigerator. Set a cookie sheet nearby. As you roll the cake balls you will line the cake pops or cake balls up on the cookie sheet.

Scoop a generous tablespoon of dough from the bowl. Roll into a ball and flatten it in the palm of your hand.

Place a cherry in the center of the dough. Shape the cake dough around the cherry and roll it into a ball again. Firmly compacting the dough around the cherry. Place the formed cake ball onto the cookie sheet. Continue until all your cake pop balls are formed.

Place in the refrigerator for about 10 minutes to firm up.
Dipping Chocolate
I found that working with 1 cup of chocolate chips at a time works best for me. In a small but deep bowl melt the chocolate chips with 1-2 teaspoons of Crisco at 20 seconds intervals. Stir every 20 seconds. Do this about 4 times until the chocolate is completely melted. Stop heating as soon as all the chips are melted.
For Cake Pops
Take a lollipop stick and dip it in the melted chocolate. Firmly stick it into the middle of the cake ball. You may have to push firmly if you feel resistance from the cherry. Repeat with as many cake pops as you plan to make.

Dip a cake pop into the melted chocolate all the way down to the stick. Being sure some of the chocolate covers the hole where the stick is inserted.

Stand the dipped cake pop up on the cookie sheet. If you don't want a flat bottom you'll need to purchase a cake pop stand or use a block of foam.

Sprinkle with jimmies, sprinkles or leave plain and drizzle with melted red chocolate candy melts.
Cakeballs
For cake balls use a fork to submerge each cake ball into the melted chocolate being sure to cover the entire cake ball. Carefully slide off the fork onto the cookie sheet.

Decorate with jimmies, sprinkles or melted red chocolate melts.
Recipe Expert Tips
Depending on how big you make your balls of dough the yield could be much higher. I made about 35 large cake balls.
It is best to allow the chocolate to harden on a counter or by placing in the refrigerator for about 5 minutes. Before storing them in an air tight container.
I found that working with 1 cup of melted chocolate chips at a time works best for me.
Nutrition
Serving:
1
Piece
Calories:
136
kcal
Carbohydrates:
19
g
Protein:
1
g
Fat:
7
g
Saturated Fat:
3
g
Trans Fat:
1
g
Cholesterol:
16
mg
Sodium:
132
mg
Potassium:
73
mg
Fiber:
1
g
Sugar:
14
g
Vitamin A:
26
IU
Calcium:
24
mg
Iron:
1
mg
Tried this recipe?
Share a picture on Instagram and tag @flouronmyface2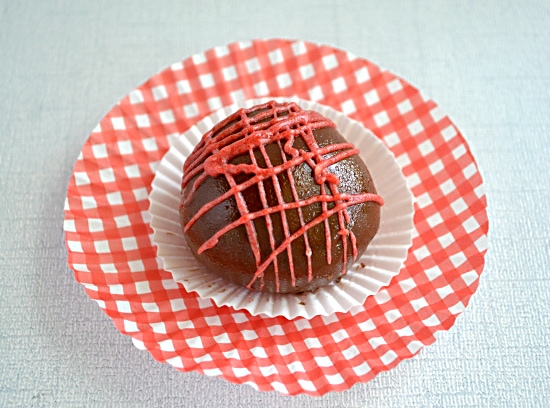 Check out some of my other Cake Pop recipes here. Need step by step instructions on how to make cake pops? You can learn how to make cake pops here.