Chicken and Red Pepper Sauce with Pasta
Disclosure: This is a sponsored post.
It's not every day that I get to sample a product that has me saying WOW with a big exclamation point after the first bite like this Rose Romano Pepper Toppings did. The flavor of this sauce is outstanding.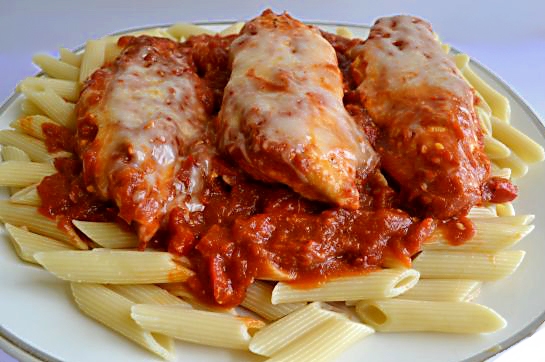 Let me introduce you to Rose Romano 's Italian Gourmet Toppings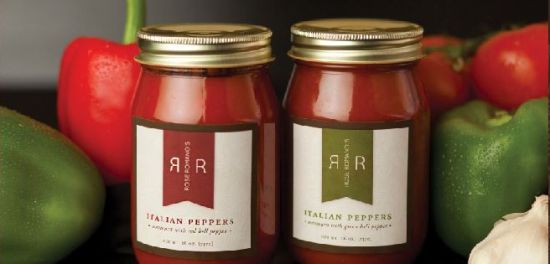 Rose Romano Gourmet Italian Toppings is a special blend of peppers and a marinara sauce made in the traditional Italian way. There really is a Rose Romano behind the recipe and that makes me love this topping even more.
The creator of this gourmet topping sauce is Dr. Marshall Angotti, the son of Rose Romano Angotti who used the knowledge he gained as a child helping his family with the peppers in the grocery stores they owned.
You can read the story here about how this topping came to be. It's a very interesting story.
I love reading about families and the food that is part of their family history.
I decide to try out a jar of the Italian Peppers Marinara with Red Pepper on some boneless chicken I picked up. My mother had an Italian friend when we lived in New York and I remember her cooking a similar meal with a big chuck steak. I'm sure there is a name for the dish but I was a small child of 8 or 9 and of course I can't remember what it was called. I'm more of a chicken person so I decided to do the same thing with a boneless chicken breast as she had done with the chuck steak.
I cleaned up the boneless chicken, browned it a little with some garlic and then smothered the chicken in the topping. I let it bake until it was just about ready to come out of the oven and then grated some mozzarella cheese on top. I put it back into the oven to let the cheese melt and served it over a Rigatoni pasta.
You can find the detailed recipe below.
One other thing I'd like to mention about this recipe is that my daughter who has started doing Weight Watchers Points Plus figured out a single serving Points Plus for this recipe. As we were figuring it out she was so excited because the Rose Romano Pepper Topping has only 1 point for a half cup serving.
Here is the break down for a single serving of this recipe figuring out the WW Points Plus
Chicken Breast 3 points
1 cup pasta 5 points (you could save an extra point by using whole wheat pasta}
½ cup Rose Romano Red Pepper Topping 1 point
scant ⅛ cup of mozzarella cheese 1 point
WW Points Plus total per serving 10 points
 My daughter tells me this is excellent Weight Watchers Points Plus for a pasta meal. As mentioned you could take it down 1 more point by using whole wheat pasta.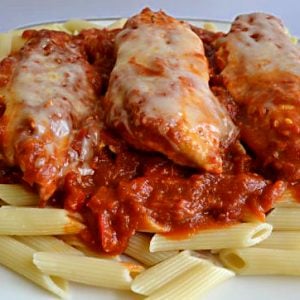 Chicken and Red Pepper Sauce with Pasta
Chicken and Red Pepper Sauce with Pasta has Weight Watcher Points Plus 10-11 points depending on the type of pasta used. It is a satisfying and delicious WW recipe.
Rate this Recipe
Ingredients
4

medium

boneless chicken breasts

(fat trimmed)

½

pound

pasta

Rose Romano Red Pepper Sauce

½

cup

shredded mozzarella cheese

Salt and pepper

(to taste)

2

tablespoons

minced garlic
Follow Flour On My Face on Pinterest
Instructions
Trim the chicken breast of any fat. Spray a skillet with some Pam with Olive oil cooking spray. Salt and pepper both sides of the chicken. Brown both sides of the breasts on medium high.

When the breasts are browned spread the minced garlic on each side of the breasts and flip. Cook for about 30 seconds, just to wake up the flavor of the garlic.

Pour ⅓ of the Rose Romano Red Pepper sauce into the bottom of a baking dish. Arrange the breast in one layer. Pour the remaining sauce over the top of the chicken. Bake for 45 minutes at 350 degrees or until cooked through. Five minutes before they are done cooking grate about ¼ of a cup of mozzarella over the chicken and return to the oven until the cheese is melted.

About 15 minutes before the chicken is completly done boil pasta and cook until eldente, drain.

Pour drained pasta onto a serving platter.

Remove chicken from baking dish and set aside.

Pour or spoon the sauce over the pasta, arrange chicken breast on top of the pasta and sauce.
Recipe Expert Tips
Weight Watcher Points Plus 10-11 points depending on the type of pasta used.
Nutrition
Serving:
1
Serving
Calories:
432
kcal
Carbohydrates:
44
g
Protein:
33
g
Fat:
13
g
Saturated Fat:
4
g
Polyunsaturated Fat:
3
g
Monounsaturated Fat:
5
g
Trans Fat:
1
g
Cholesterol:
78
mg
Sodium:
119
mg
Potassium:
396
mg
Fiber:
2
g
Sugar:
2
g
Vitamin A:
141
IU
Vitamin C:
1
mg
Calcium:
67
mg
Iron:
2
mg
Tried this recipe?
Share a picture on Instagram and tag @flouronmyface2
You can connect with Rose Roman on Facebook
For more information and recipes check out the Rose Romano website.
Disclosure: This is a sponsored post. I received a product sample so that I could write an honest review of the product and create a very delicious meal with Rose Romano Pepper Topping. All opinions are my own.