30 Minute White Bread
This is my very first blog post to my new Cooking & Baking blog so if you have found me please leave a comment so I can know you were here.
I love to browse the cookbook aisle at my local library for cooking and baking books. Friday I pulled Bernard Clayton's New Complete Book of Breads off the shelf.
I wasn't looking for any particular recipe but the awesome picture of a baker with a handful of beautiful smooth dough cradle in his hands made me tuck the book under my arm.
As I was looking through the cookbook I found a recipe for a 30-minute white bread recipe. On the spur of the moment, I decided to try it out.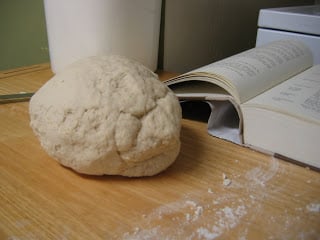 Disregard the washer in the background! In my small kitchen, I use one of those cutting table/microwave stands as my workstation.
This is proof that anyone can bake no matter how small their kitchen. If there is a will there is a way I always say.
One of the things I really love about this book is that he gives directions for each recipe by hand, using a Kitchen Aid mixer or a food processor.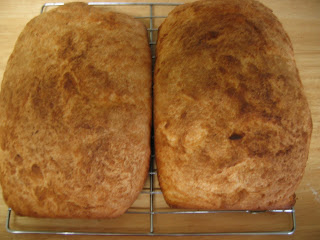 I do happen to own a Kitchenaid and I love it. It is one of the best gifts my husband ever bought me!
But I do also love the feel of the dough under my hands as I knead. So depending on the mood or the recipe I might or might not use the Kitchenaid
Today I decided to mix the dough in the mixer and knead by hand.
The dough felt good and the loaves were rising when I started this post. I've just now turned on the oven to bake. As soon as the loaves are done I will let you know how they turned out!
A quick look in the oven tells me that my bread pans were too big. The bread is browning nicely and the house smells yummy.
I keep forgetting when I bake bread that I need to use my smaller glass pans but I always seem to grab my big nonstick pans. I really need to measure them.
They work great for the delicious cranberry bread I make every winter but for yeast bread, they are too small.
Here 2 loaves of 30-minute white bread fresh out of the oven.
I need to let them cool a few minutes before cutting into them.
My family will probably devour these in just a few minutes smeared with butter. There is nothing better than a piece of freshly baked bread with warm melted butter!