One of my favorite parts of fall is all the wonderful fall recipes. Pumpkin recipes are my favorite fall flavor but apples and cinnamon play a big part in my fall flavors. I've rounded up a bunch of great recipes in this 25 Fall Recipes Roundup.
Can you believe it is November already and Thanksgiving is just a few weeks away? Can you smell fall in the air? I thought I caught a hint of it last night. There was a cool breeze instead of the thick stifling humidity we have been suffering. No changing leaves to be seen here in Florida during the fall so if you are lucky enough to be witness to the beautiful colors of fall I am jealous!
Follow Flour On My Face on Pinterest


Take a peek at some of these delicious fall recipes and maybe you will find your next favorite fall recipe to make and enjoy as the cooler weather and the colors of fall visit you in your part of the country. Since I don't live where the weather is cooling off and the leaves are changing color I will just have to keep pinning all the fall glory as it passes me by on Pinterest.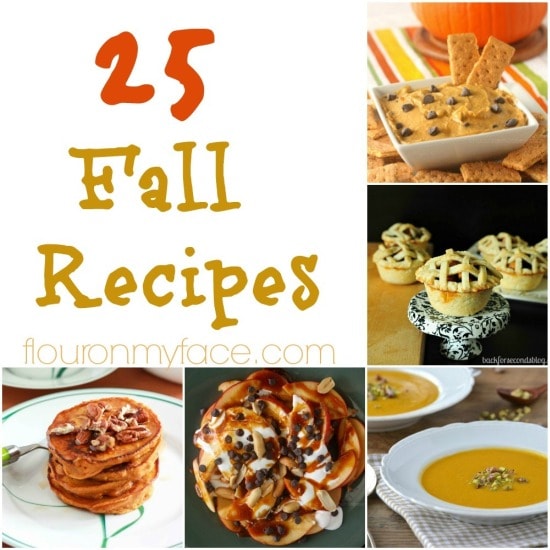 1. Pumpkin Chocolate Chip Cookie Dough Dip
2. Apple Nachos
3. Cranberry Apple Turnovers
4. Roasted Butternut Squash Flatbread
5. Healthy Oatmeal Pumpkin Pancakes
6. Individual Apple Pies
7. Roasted Butternut Squash Soup
8. Caramel Apple Butter Cheesecake Dip
9. Cheddar Apple Biscuits
10. Pumpkin Ravioli
11. Quinoa Black Rice Fall Salad
12. Fall Spiced Popcorn
13. Plum Biscoff Shortcakes
14. Delicious Fall Vegetable Stew
15. Apple Dumplings with Maple Syrup
16. Zucchini and Broccoli Soup
17. Persimmon Creme Brulee
18. Italian Sausage Kale and Cannellini Bean Soup
19. Pumpkin Spice Hot Chocolate
20. Pumpkin Soup with Veggies
21. Roasted Portobellow Mushrooms with Lime Cream Cheese
22. Perfect Cinnamon Rolls
23. Vegan Pumpkin Doughnuts
24. Roasted Carrot Soup
25. Apple Cinnamon Chimichangas