Disclosure: This is a sponsored post written by me on behalf of the American Egg Board.
Are you looking for breakfast ideas for kids?
School is back in session and mornings are rushed and crazy. As we all know breakfast is the most important meal of the day, especially for school age kids. Fueling their bodies and brains before they head out to school is probably the most important thing we can do as parents. The American Egg Board challenged me to replace our regular breakfast cereal with eggs for 10 days. Eggs are a healthier breakfast choice. Eggs have the highest-quality protein found in any food, are full of vitamins and minerals and only have 70 calories per egg.
I was looking forward to the challenge. My families' choice of sugar loaded cereal needed to go.
Now you're probably thinking just like I did that there is no way you can manage to cook eggs for breakfast in the morning before school. The mornings are crazy in my house. My daughter gets on the bus at 6:10 a.m.
How did the challenge go?
The hardest part is getting into the habit of cooking eggs instead of just grabbing a bowl, box and milk. We always have eggs in the refrigerator. I already cook scrambled eggs for breakfast a couple of days a week when my granddaughter is here. And my daughter loves an egg and cheese breakfast burrito on the weekends.
With the quick and easy recipes from the American Egg Board like the one below eggs for breakfast are very do-able. But I had to do a little prep work since my daughter gets on the bus so early in the mornings. So over the weekend I made up 5 breakfast burritos, wrapped them in plastic wrap and put them in the freezer.
Each morning while she was getting dressed I heated one up in the microwave and she ate it while we waited for the bus. Most mornings she goes to school without eating breakfast. The one thing I noticed during the challenge is that when she got home from school she didn't act like she was starving. When I asked her how she felt at school after eating the Egg & Sausage Burrito each day she said she felt more alert during her morning classes.
We have always eaten hardboiled eggs as a snack. We also eat deviled eggs frequently. But since the challenge I have started making hardboiled eggs and keeping them in the fridge for a late afternoon protein snack before I go on my daily walk.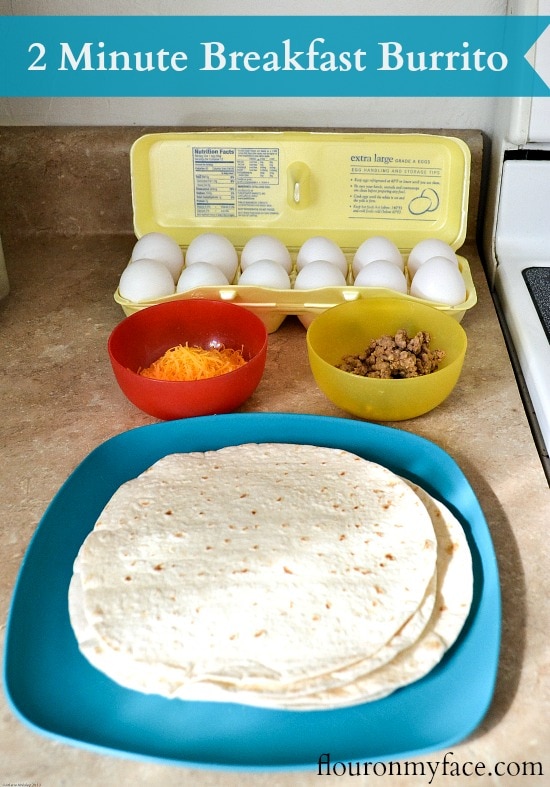 This 2 minute Egg and Sausage Taco or Burrito can be made in less than two minutes in the microwave. You can have this protein packed kids breakfast ready in the time it takes your child to find two matching socks and put their shoes on. The best part. It costs less than $2 a serving. AND you can make them ahead, freeze them and have the entire weeks' worth of school morning breakfasts ready in advance so you can just zap a breakfast burrito in the microwave.
Why eggs for breakfast?
Eggs are all natural and filled with essential vitamins, minerals and six grams of high quality protein. They are a perfect breakfast to give kids the energy they need for busy school days and they can be prepared in a number of ways.
Research shows that a protein-rich breakfast, such as an egg breakfast, improves appetite control and leads to increased feelings of fullness. This makes it easier for children to focus and learn in school.
To make this easy egg & sausage breakfast taco or burrito you will need one egg, 1 flour tortilla, fully cook sausage crumbles, a tablespoon of milk and some cheddar cheese.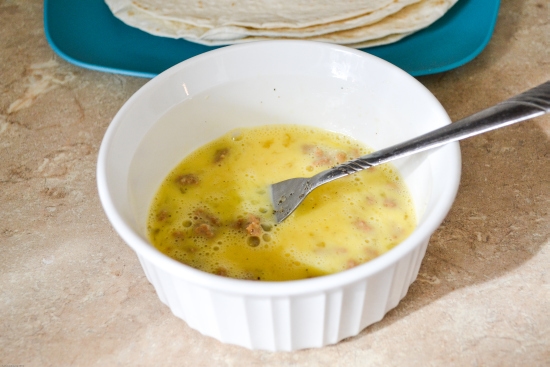 I
In a microwave safe bowl mix the egg, milk and sausage.

Microwave on high for 30 seconds. Mix and return to the microwave for an additional 15-45 seconds until the egg is cook but still moist. The egg will continue to cook for a few seconds more. Do not

overcook

.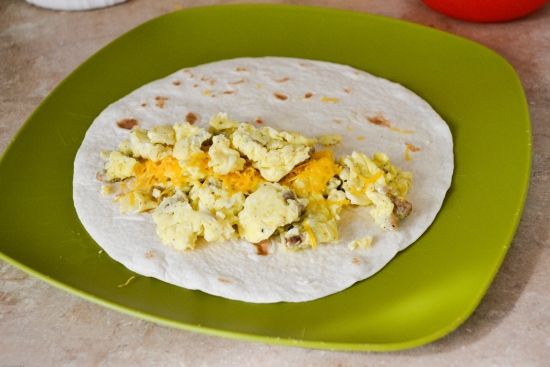 Spread the cooked egg and sausage on one edge of a tortilla. Sprinkle with cheese and fold or roll up into a burrito.

Serve as is or add a little salsa before folding.

Enjoy!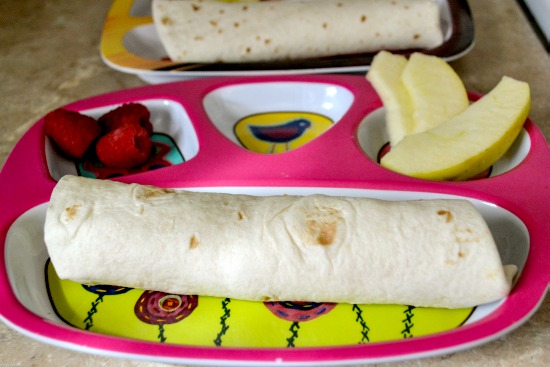 For more kid breakfast ideas visit IncredibleEgg.org for kid friendly breakfast recipes, tips and more.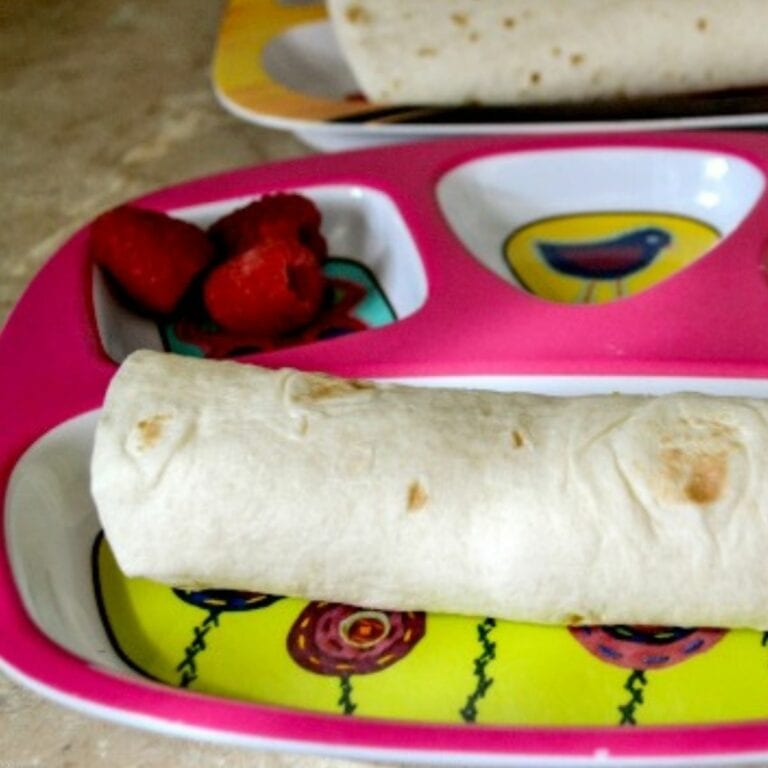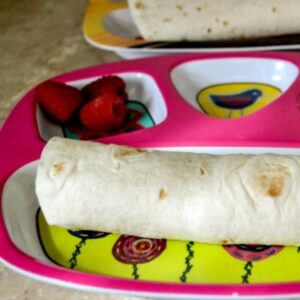 2 Minute Egg and Sausage Breakfast Burrito
Get the kids out the door fast in the morning with this 2 minute Egg and Sausage Breakfast Burrito recipe.
Rate this Recipe
Ingredients
1

large

egg

(beaten)

1

tablespoon

milk

2

tablespoon

fully-cooked breakfast sausage crumbles or 1 fully-cooked breakfast sausage link or patty

(chopped)

1

large

tortilla or thin flatbread

(warmed)

2

tablespoons

finely shredded Cheddar cheese or Mexican cheese blend

1

tablespoon

Salsa

(optional)
Follow Flour On My Face on Pinterest
Instructions
Beat egg and milk in 2-cup cereal bowl until blended. Add sausage.

Microwave on high for 30 seconds; push cooked edges toward center. Microwave again until egg is almost set, about 15 to 45 seconds longer.

Fill the tortilla with the eggs and top with shredded cheese.

Roll the tortilla up and serve with salsa, if desired.
Recipe Expert Tips
Recipe Source: http://www.incredibleegg.org/recipes/recipe/microwave-egg--sausage-breakfast-taco
Nutrition
Serving:
1
Serving
Calories:
334
kcal
Carbohydrates:
18
g
Protein:
18
g
Fat:
21
g
Saturated Fat:
9
g
Polyunsaturated Fat:
3
g
Monounsaturated Fat:
8
g
Trans Fat:
1
g
Cholesterol:
227
mg
Sodium:
690
mg
Potassium:
270
mg
Fiber:
1
g
Sugar:
3
g
Vitamin A:
563
IU
Vitamin C:
1
mg
Calcium:
207
mg
Iron:
2
mg
Tried this recipe?
Share a picture on Instagram and tag @flouronmyface2
Eggs provide a number of excellent dietary benefits, can be easily cooked in a variety of ways, and are very cost effective. The American Egg Board highlights the many benefits of eating eggs in addition to providing tips and delicious recipes. For more information, please visit https://IncredibleEgg.org/.
This is a sponsored post written by me on behalf of the American Egg Board.