The Vintage Recipe Project: Lemon Sponge Pie
 There are a couple of really fun aspects of recreating vintage recipes like this Amish Lemon Sponge Pie recipe.
I enjoy collecting these old vintage recipe cookbooks. I enjoy reading how the recipe themselves are written. Each recipe is really pared down to the bare minimum of directions and sometimes they are not in the order that this modern day cook is used to finding them in.Some of the ingredients are called by different names or different terms are used for  processes that I am used to in modern terms.
Some of the ingredients are called by different names or different terms are used for  processes that I am used to in today's modern terms.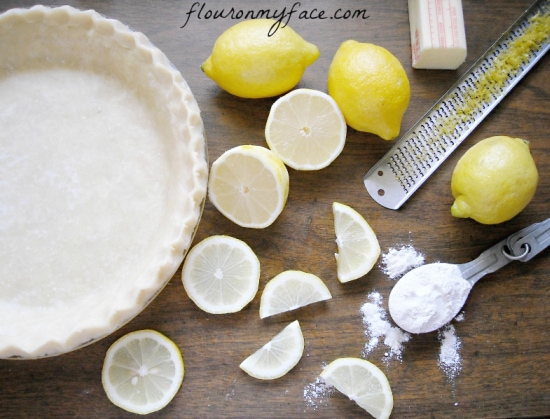 Note to self CAREFULLY check the vintage recipe ingredients before making. More on that in a minute. Some vintage recipes might also be missing an ingredient that an experienced baker should hopefully realize and add.
This recipe for Amish Lemon Sponge Pie came together beautifully. Which is a surprise since I had a little 40 lb distraction working in the kitchen with me this morning. My granddaughter Hailey was here.
 Luckily I had a small piece of pizza dough in the refrigerator, that I had saved from a few days ago just for her. She loves to roll the dough out and make her own creations.
 So while I was working on my pie dough she was decorating her piece of pizza dough with pepper mint candies. Yes I know not a yummy combination but I am not going to stifle her culinary creativeness.
Who knows she might be the next Martha Stewart, Paula Deen or Pioneer Woman. Ya never know!
 Even though I had read this recipe about six times. Even though I had transcribed it into my notebook. And even
though I read it, at least, three times before I started baking and who knows how many times while I was putting everything together I still missed that it was missing salt.
As I sat down to edit my pictures and write this blog post I realized that the salt was missing. I even thought for a minute, and it was a good possibly that I just forgot the salt because of the little baker working beside me but when I checked the written recipe and the actual cookbook I saw that salt was not listed in the list of ingredients.
Now salt is always a minor ingredient in most recipes but there is a reason for it being there.The salt balances out the sweetness and as in this case the tartness of the lemons. Hopefully, it won't make much of a difference because in a recipe for a single pie like this you would only add a 1/4 of a teaspoon of salt. The pie is still cooling and will need to be chilled in the fridge for a bit before I can taste
it but if you should make this recipe you should add the salt unless of course you are on a salt-restricted diet.
After I made the Strawberry Sponge Pie I became a bit obsessed with the "sponge pies" and started going through all of the vintage cookbooks I own to see if it was a very popular recipe back in the day.
One of my blog readers left a comment and told me that the sponge pies are very popular Amish or Pennsylvania Dutch recipes and wondered if the area the cookbook had come from had any Amish nearby.
"Tina said,   Sponge pies, especially lemon sponge, are very typical Amish or Pennsylvania Dutch recipes.
The vintage cookbook the Strawberry Sponge Pie recipe came from is indeed in an area of Ohio where there is a large population of Amish living.
This recipe for Lemon Sponge Pie came from a cookbook from the area of Bradford County, Pennsylvania. Another area that has a large population of Amish.
I try not to bore my readers while I am rambling on. I know some of you come here just for the recipes so I decided to start another blog where I will go into much more detail on my thinking and musings about the recipes in the Vintage Recipe Project. You can find that blog at 
The Vintage Recipe Project There isn't anything on there yet but follow it on google friend connect or sign up for email updates so when I do start posting you will be notified.
Now on to the recipe….. I have rambled on enough!
Lemon Sponge Pie Recipe
Adapted from a recipe taken from A Cook Book Of Favorite Tested  Recipes. Compiled by Home Economics Committee of Bradford County Pamona  Grange, No. 23 1950 Recipe submitted by Rachel Schmoll of Wysauking  Grange, No. 58
Ingredients
1 tablespoon butter, softened
1 lemon, juice and zest ( about 1/3 cup)
Preheat oven to 300 F. degrees.
Prepare your pie crust and line an 8-inch pie pan with it.
Put your crust in the fridge while you prepare the pie filling.
Cream the butter and the sugar together with a wooden spoon until
There is no creaming of the butter and sugar in the modern
1 tablespoon of butter and 1 cup of sugar will not
Just mix them together so the butter is completely incorporated into the sugar.
This recipe called for mixing the flour into the egg yolks slowly. This does not work well and I knew it wouldn't work but I try to make the recipe as written and only make changes when I have to. This was one of those cases.
How to Make a Amish Lemon Sponge Pie Recipe


See the picture above. This is what happens when you attempt to mix 2 tablespoons of flour into to egg yolks. After that mess, I changed things up a bit.
Beat the egg yolks into the cup of milk and slowly added the flour. Whisk until all lumps are gone.

In a separate bowl beat the egg whites until stiff peaks form.

Once you have the egg whites ready you can safely add the lemon juice and lemon zest to your egg and milk mixture.
Next mix the egg mixture with the sugar mixture until well combined.
Fold the stiffly beaten egg whites into egg and sugar mixture.
Pour into chilled pie crust and bake for 50 to 60 minutes in a preheated 300-degree oven.
For the last 8 to 10 minutes of baking time 
I turned the oven temp up to 375 degrees to get a little color on the crust and the top of the pie. Cool on a wire rack.
Once the pie is cool put it in the refrigerator and chill at least, two 
hours or even overnight before serving.
Serves 8
Made your lemon sponge pie last night.  Declared as the best lemon pie my husband has ever eaten!  Thanks for the recipe, it certainly is a keeper!!! Jaime