Roasted Pork Tenderloin with Potatoes & Carrots
Roasted Pork Tenderloin is another one of my family recipes that my family loves. I usually make it on a Sunday and we use the leftovers to make pork sandwiches the next day.
Pork tenderloins are one of those cuts of meat that come in all sizes. You can buy a small, one to two pound tenderloin that will feed 2 people or you can buy one that is over five pounds that will feed a large family and still have leftovers for the next day.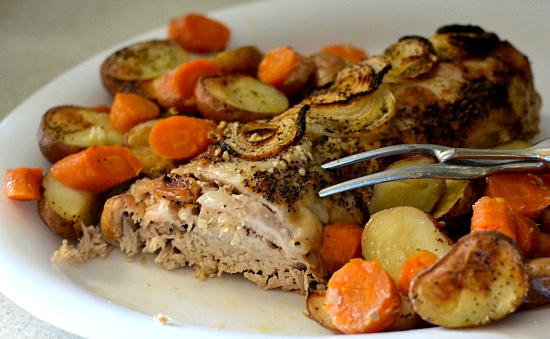 Roasted Pork Tenderloin is a perfect Sunday dinner. You place the pork and vegetables in a roasting pan and bake it in the oven. There is no extra work that needs to be done.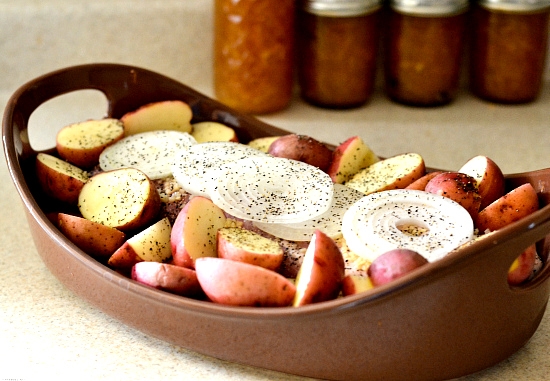 Matter of fact it is best to leave the aluminum foil in place until you get to the point when it is time to brown the top. Trapping the heat and moisture in the roasting pan is what makes this roasted pork tenderloin fall apart tender.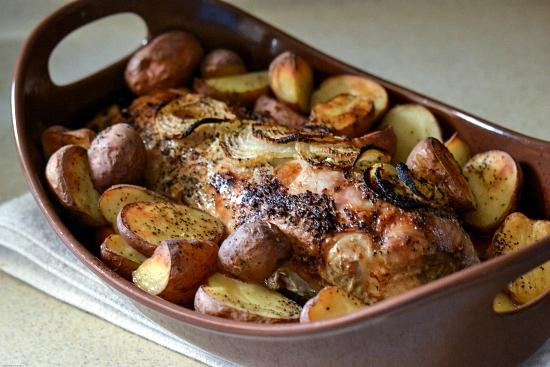 When the Roasted Pork Tenderloin is done cooking allow it to rest about 10 minutes before carving. I was in a hurry to get dinner served and didn't wait long enough and I had a hard time carving the pork roast.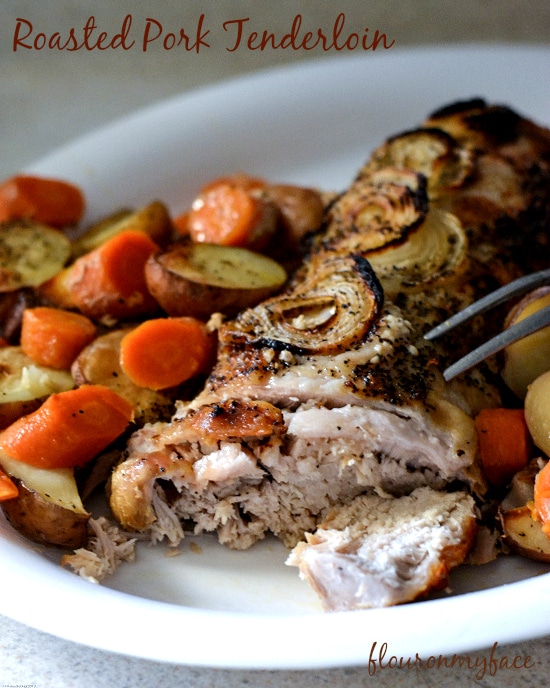 Roasted Pork Tenderloin
Ingredients
1 Pork Tenderloin, 2-3 lbs
baby red potatoes, about 3 lbs
2-3 large carrots, or a bag of baby carrots
1 small onion
2-3 tablespoons chopped garlic
1 stick butter or ½ cup margarine
salt & pepper
Directions
Preheat oven to 350F
Remove pork tenderloin from package and rinse with cold water, pat dry.
Place the tenderloin, fat side up in the center of a baking dish.
Cut baby potatoes in half and rinse in a colander.
Arrange the potatoes along the edges of the tenderloin.
Cut carrots into medallions and place on top of potatoes around the tenderloin.
Spread the garlic over the top of the tenderloin.
Salt and pepper the top of the tenderloin and the vegetables.
Thinly slice the onion and arrange on the top of the tenderloin.
Salt and pepper the onion slices.
Randomly drop pieces or tablespoons of the butter or margarine on the top of the pork loin and vegetables.
Tightly cover the roasting pan with aluminum foil.
Bake in the preheated oven for 2 hours.
Remove the aluminum foil, increase the oven temperature to 375F and cook for about 1 hour.
Or until the potatoes and top of the tenderloin is golden brown and the center of the tenderloin is cooked through.
Roasting time will depend on the size of the tenderloin.
Use pan drippings to make a gravy.
Adjust roasting time for larger or smaller pieces of tenderloin.