Peach & Jalapeno Pepper Jam
My favorite flavor of homemade jam is this Peach and Jalapeno Jam. I love the sweet flavor of the peaches combined with the hot and spicy flavor of the jalapeno peppers. Sweet pepper jams are my favorite types of jams. Blueberry and Poblano Pepper Jam is pretty good also.
Prepare your jars and lids accordingly. If you have never made jam or jelly before I suggest you read the Fresh Preserving site. You can find out all the information you need on canning. There are some important information you need to know so that you can safely preserve food for your family.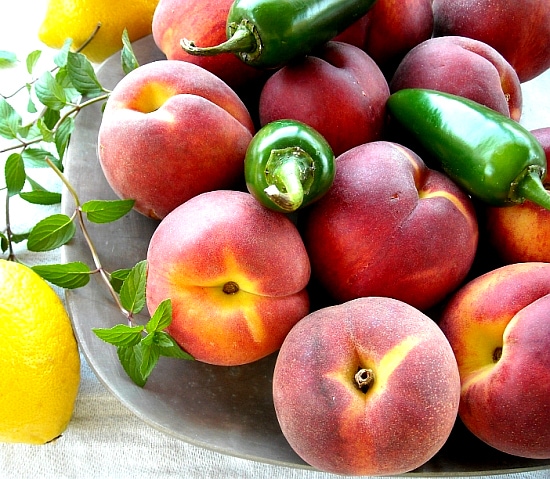 If you like smaller pieces of fruit in your jam you can mash the peach slices with a potato masher or even the bottom of a heavy glass.
Peach and Jalapeño Pepper Jam
Prepare your jars and lids accordingly before beginning this recipe
:
Arlene Mobley - Flour On My Face
Ingredients
3 ½ lbs peaches
3 medium jalapeno peppers
7 ½ cups sugar
1 pouch liquid pectin
¼ cup lemon juice
1 – 2 tablespoons butter or margarine
Directions
Add the sliced peaches, chopped peppers, lemon juice and 7½ cups of sugar to a large pot.
Turn the stove on a medium low heat.
Stir the fruit and sugar.
Stay close to the pot and keep stirring from the bottom of the pot.
As the sugar starts to melt stir it into the fruit to keep the sugar from scorching on the bottom of the pot.
Once the sugar has melted turn the heat up to medium.
Continue stirring periodically.
As the mixture starts to boil throw a tablespoon of butter or margarine in the pot to cut down on foam.
Bring to a roiling boil.
Cook until the peaches become soft, about 20 minutes.
Once the peaches are soft add the pouch of liquid pectin to the pot, stirring.
Bring the mixture to a full rolling boil.
Start your timer for 1 minute and if the jam foams up and looks like it might over flow carefully stir it down.
Keep the jam boiling for one full minute.
Once your timer goes off remove the pot from the hot burner.
Skim any foam from the top and fill your jars leaving a ¼ inch head space.
Once you have filled all your jars you will need to process this jam in a hot water bath.
Please follow the direction on the box of liquid pectin for the processing time for your part of the country.
Makes 4 pints.
Use caution when chopping jalapenos

or any hot pepper for that matter. Wear gloves while cutting them and hold the food processor away from your face when you remove the lid. I had a very bad experience some years ago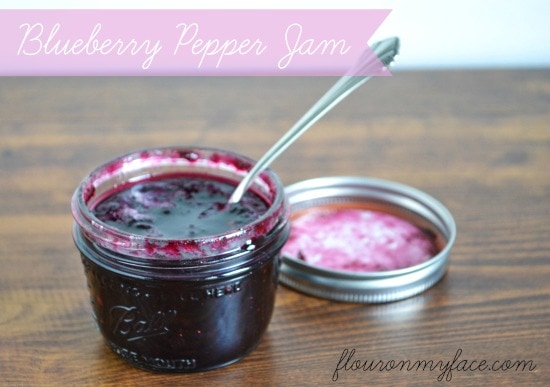 Looking for more canning recipes like this Peach and Jalepeno Pepp Jam recipe? ? Check out my canning recipe page to find more delicious summer canning recipes from Flour On My Face