Homemade Creme Fraiche Cheesecake Ice Cream
Happy Ice Cream Day!

I made a homemade creme fraiche cheesecake ice cream to celebrate National Ice Cream Day.
I never really paid attention to all of these national food holidays until I started blogging about food. Did you know almost every day of each month has been designated a national food holiday?
Neither did I until I kept seeing mention of these food holidays on other food blogs. Then I went in search of and found a calendar that listed all of these food holidays. I added it to my google calendar so I could keep up will all the holidays. You can read more about the food holidays here.
I'm not sure about the other national food holidays because I really haven't done much research on the subject but President Reagan actually signed into law a proclamation making July National Ice Cream Month.
This year Sunday, July 17th is National Peach Ice Cream Day.
I decided to put my own spin on National Ice Cream day this year and come up with my own recipe in celebration of the holiday.
As you know if you've been reading my blog this past month I have been on a huge crème fraiche kick. I can't stop making it and I can't stop coming up with delicious desserts to use it in.
Since I made my Crème Fraiche Cream Cheese Frosting and I loved the way the two flavors came together I thought a Crème Fraiche Cheesecake Ice Cream would be just the thing. Let me warn you right now. This ice cream will knock your socks off.  It is so creamy and decadent.
I was planning on drizzling it with some blackberry syrup I made but it tasted so good I decided to just eat it plain.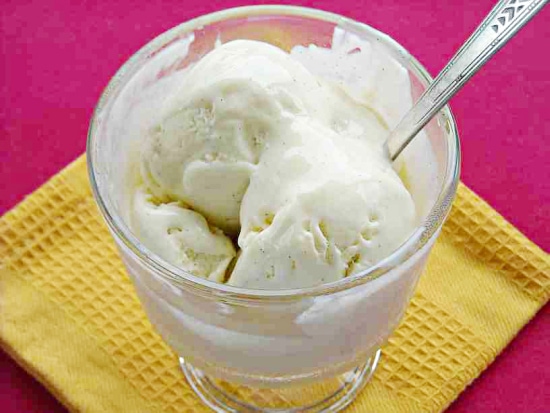 Homemade creme fraiche cheesecake ice cream
Crème Fraiche Cheesecake Ice Cream
¾ cup  softened cream cheese
1 vanilla bean or 1 teaspoon of vanilla extract
I think some people shy away from making homemade ice cream for two reasons.One is they don't have an ice cream maker and two they think it is too hard to make the custard base. You do not need an ice cream maker to make homemade ice cream.
 It's nice to have one. I think it may make a difference in the texture of the ice cream but never having made ice cream without one I am not really sure. You will still get the same awesome flavor of the homemade ice cream if you skip the "process in your ice cream maker" step.
I'll let you know in the directions what to do if you don't have an ice cream maker. Ice cream makers are a bit pricey and there is no sense is running out and buying one if you're only going to use it once or twice a year.
 Now if you're one of those people who thinks it is too hard to make the custard part of the recipe I just want to let you know as long as you can use a whisk you can make a custard.
 Do it once and you will never shy away from a custard again. I promise you!
This recipe is really pretty simple. There are only 6 ingredients. How simple is that? But maybe you don't have 2 of the ingredients. Crème Fraiche and vanilla beans are not in everyone's pantry. I know this. It is simple to make the crème fraiche. That's why I included a link to the instruction above.
Now the vanilla bean is a different story. You can purchase a jar of 2 or 3 vanilla beans in the spice section of most grocery stores. I know Target carries a brand and Sweetbay also carries Rodelle Vanilla Beans in the spice section. Using a vanilla bean in this recipe is probably the most important ingredient. The flavor you get from a vanilla bean blows vanilla extract out of the window. You can use vanilla extract instead but there might be a slight difference in the flavor.
 Step one: Separate the yolks and reserve the whites for another recipe. This would be the perfect time to try your hand at macarons. Put the yolks and sugar in a bowl and whisk them until they turn a pale yellow.
Step two: Making the custard base.
Put the milk into a heavy sauce pan. Scrape the vanilla bean and add the seeds and scraped pod to the pot of milk. (If you're using vanilla extract do not add the vanilla extract to the milk. The heat will evaporate most of the flavor from the extract.)
Turn the burner on medium low and bring the milk to a low simmer. Continually whisk the milk so it doesn't scald. You'll see bubbles forming around the edge of the pot when the milk has reached a low simmer. Remove the pot from the burner.
Step Three

:
Tempering the yolks and hot milk.
 Carefully temper the hot milk and the egg yolks by slowly drizzling a ladle full of the hot milk into the bowl of the egg yolks while quickly whisking the two mixtures together. Put a dish towel under the bowl of yolks to help keep it from sliding around while you whisk. Do this with two ladles full of hot milk. Once you've added the two ladles full of hot milk to the yolks you can slowly pour the rest of the hot milk into the bowl of tempered yolks. Quickly whisk while you're doing this. Once you've mixed in all of the milk to the yolks return the mixture to the pot and turn the heat on medium low.
 Step four: Cooking the custard base.
Cook the custard on a medium low heat until thickened. Continually whisk the custard while it cooks. The custard is done when you can coat the back of a spoon and run a trail through the custard with your finger that doesn't fill back in. Remove the pot from the burner and strain through a fine mesh strainer into a bowl to remove any lumps and the vanilla bean.
 Step five: Chill the custard.
Cover the bowl and refrigerate at least 4 hours or overnight.
 Step Six: Making the ice cream.
Now that your custard base is chilled prepare your ice cream maker if you're using one per the manufacturer's suggestions. You should have had your ice cream makers bowl freezing in the freezer already. I keep mine in the freezer all the time so it is ready to go when I am ready to make ice cream.
Add the vanilla extract to the custard if you're using extract. Mix it in well.
 Step 7: Making the Cheesecake portion
Using a handheld mixer beat the cream cheese until it is smooth and fluffy, about 2 minutes. Add the crème fraiche and the custard to the bowl of cream cheese and gently fold it all together leaving some lumps of cream cheese visible.
 Step 8: Process in your ice cream maker for 20 minutes. Scoop ice cream into an airtight container and freeze overnight.
 No Ice Cream Maker: If you don't have an ice cream maker after you have folded all the ingredients together pour the ice cream base into a airtight container and freeze overnight.