Zserbo Szelet A Hungarian Dessert
Vintage Recipe Project
In one of the vintage recipe binders I own I found a lovely piece of parchment paper with a recipe written on it. The name of the recipe was not written in English ( and I doubt there is an English translation for it because I never came across one.) 
Written at the top of the parchment paper is Zserbo Szelet
An old Hungarian recipe
Check out all the lovely comments from readers who have enjoyed Zserbo baked by their grandmothers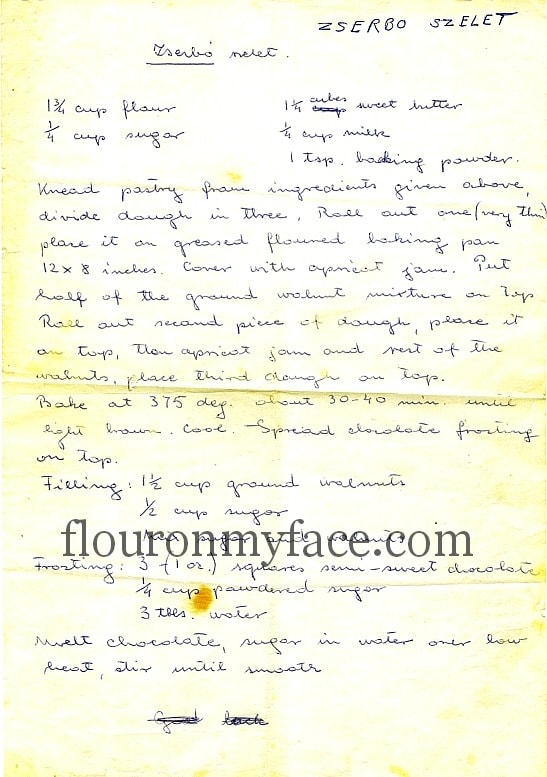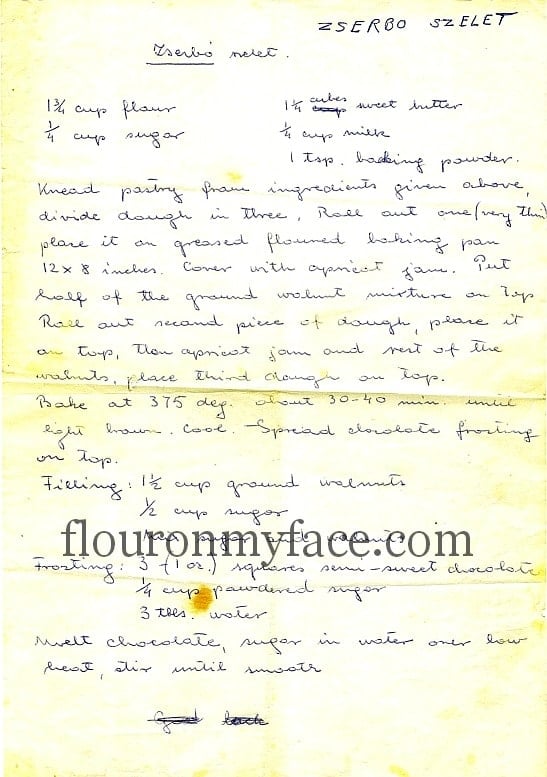 Sad as it makes me English is the only language I speak. I wish I knew how to speak German like my ancestors did but I grew up in a home where only English was spoken. I often wonder why if my grandmothers parents immigrated from Germany to the US and German was the language they spoke why didn't they teach it to my grandmother. I wish she was still around so I could ask her.
After searching the internet so I could figure out what this recipe was for I found that it is a Hungarian dessert. I am not sure if it would be considered a cookie or a cake like confection. Maybe one of you will have my answer.
There was a bit of confusion on my part since the handwritten recipe called for what looks like 1 1/4 cubes of butter. Again as I researched the recipe I paid attention to the amounts listed in the recipes I found. Some recipes included sour cream. Others didn't. Some recipes called for baking soda and no yeast. Others called for baking powder and yeast. Some called for eggs and egg yolk. Others did not list egg as an ingredient.
The vintage recipe was my inspiration but I tweeked it a bit. The vintage recipe used a much smaller amount of flour for a smaller batch compared to the ones I found online. Most of the recipes made a huge batch which contained 3 or 4 cups of flour. I would have ended up with tons of this confection so I based my recipe creation partly on the vintage recipe I had and partly on the recipes I found on the internet. I also watched a video on youtube of a Hungarian Grandmother making a batch. Since I couldn't understand a word she said or read the recipe that flashed on the video I am not sure if this dessert is supposed to be cake like or cookie like.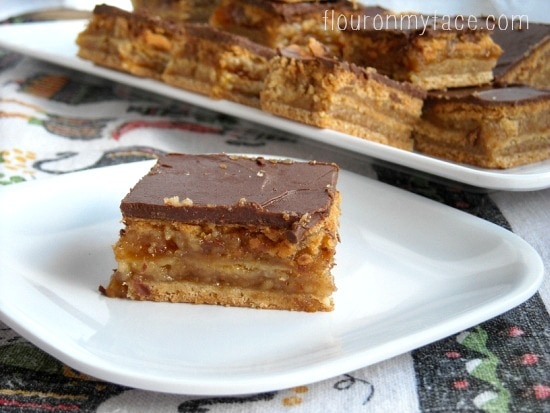 Mine turned out cookie like and I am very happy with it. Matter of fact I couldn't stop eating it while I was taking my photos. So if you see a smudge of chocolate where it isn't suppose to be accept my apology for being messy.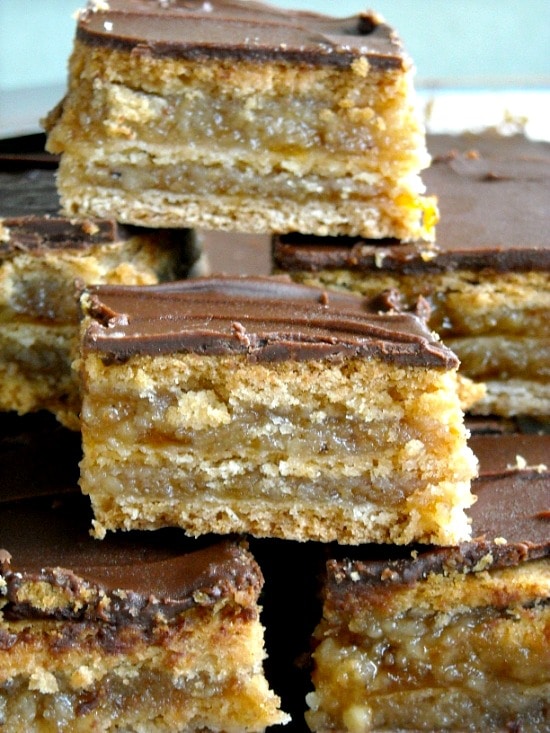 2 cups all purpose unbleached flour
1 stick of unsalted butter, softened
Apricot Jam or any jam of your choosing but apricot is the traditional jam used for this dessert.
1 12 ounce bag of bittersweet chocolate chips.
1) Grind 1 1/2 cup of of walnuts in a food processor, coffee bean grinder or a nut mill. Grind the nuts until they look almost like flour. You don't want large pieces of nuts, you want a fine  powder. Put the walnut meal into a bowl and mix with 1/2 cup sugar.
2) Warm the milk in the microwave slightly. You want the milk to be luke warm. Add the yeast and stir. Set aside.
3) In a large bowl sift all dry ingredients together.
4) Cut one stick of unsalted butter into little pieces and stir into the flour mixture. Use your hands or a pastry cutter to work the softened butter into the dry ingredients. You don't want the butter completely incorporated but to form crumbs.
5) Pour the yeast and milk into the bowl and then add the 1/4 cup of sour cream to the bowl. Stir with a wooden spoon until the dough comes together and forms a ball. Turn the dough out onto a floured surface and knead until smooth.
6) Cut the dough into 3 equal sized pieces. You can use a scale if you'd like.
7) Butter the bottom of a 8 1/2 by 13 inch sheet pan.
8) Roll out one piece of dough at a time until the piece of dough is large enough to fit into the bottom of your pan. Carefully roll the dough around your rolling pin and lay it into the pan. Streching and adjusting the dough so it completely covers the bottom.
9) Spread a generous layer of Apricot jam all over the top of the first layer of the dough. Be generous! Sprinkle half the walnut and sugar mixture over the jam and spread it to all corners with the back of a spoon.
10) Roll out the second piece of dough and repeat step 9.
11) Roll out the third piece of dough and carefully lay it over your second layer. You can sctretch the dough a bit if you need to so it covers the second layer completely. If not don't worry about it!
12) Cover and let rise/rest about 1 hour in a warn spot. 
The dough will not rise hardly at all. I'm not sure if it needed more yeast or what. At this point I thought I was going to end up with a bunch of wasted ingredients because the dough didn't seem to rise at all.
There is no way I was going to throw everything in the trash. As long as it tastes good I will eat it LOL.
I turned the oven on to 350″ and preheated it. Then I baked it in the oven for 20 minutes at 350 and cranked it up to 375′ for the last ten minutes to get some color on the top.
I pulled it from the oven and dumped the bag of chocolate chips on top of the hot dough. Once they started to melt I used an off set spatula to spread the melted chocolate over the top.
3/4 of the bag of chips would probably have been enough.
Allow to cool completly before cutting so the chocolate and the filling can set up.
I put mine in the fridge overnight because the chocolate just wasn't setting up.
Once the chocolate is hard you can cut it into 1 1/2 or 2 inch square pieces. 
As I mentioned before I wasn't sure whether this dessert is suppose to be cake like or cookie like but I have to tell you the recipe turned out cookie like and it tastes so good! I can't get enough of it really. I am going to have to share it with  family and neighbors because I will eat the entire tray if it stays in my house.
Let me know if you try it out and what flavor of jam you use. This would be a great dessert to make for any family get together, baby shower or birthday party you might be going to. This recipe makes a bunch. 
I of course ate a bunch but I measured my tray and I figure I cut at least 36 or more 1 1/2 to 2 inch square pieces.
Thanks for stopping by! I hope you enjoyed the second recipe in my new Vintage Recipe Project.