Homemade Holidays eBook
This Christmas share the love of a homemade holiday with the same Christmas recipes I have enjoyed year after year for a homemade holiday. In the Homemade Holidays – 25 Holiday Sweets & Treats ebook I share all my favorite homemade holiday treat recipes compiled in one easy to read ebook. You'll never have to search around my website for that perfect homemade holiday treat recipe.
You will find easy recipes that are perfect for your Christmas cookie exchange, as teacher gifts, and as stocking stuffers. Homemade treats are so much better than store bought and cost so much less to make during the holiday season.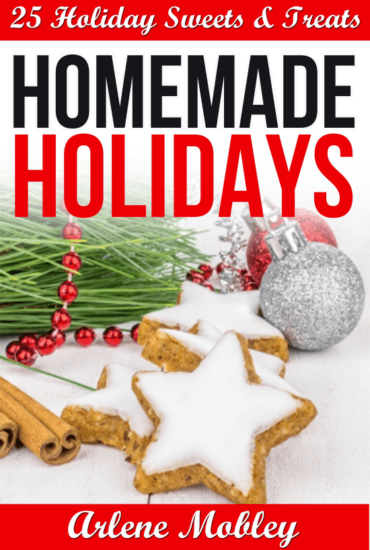 Some of the recipes you will find in the Homemade Holidays – 25 Holiday Sweets & Treats
How to make Homemade Vanilla Extract
A perfect gift for the cooks and bakers in your life.
Peppermint Hot Cocoa Mix
Need a cheap and easy gift to make for friends, teachers, and even the mailman? Mix up a batch of this Peppermint Hot Cocoa Mix then package it into cellophane bags that can easily be tucked into holiday mugs and gift baskets.
Peppermint Hot Cocoa Mix
Jenna says ……..Awesome! I wanted to make small jars of peppermint cocoa mix for Christmas gifts for friends, and this is perfect. Thank you, so much.
Homemade Vanilla Extract
Paula says………Homemade vanilla extract is probably THE best gift! The flavor is unbeatable and the uses are endless. Who wouldn´t want to receive this?
What if I don't have a Kindle, iPad or tablet? You can still enjoy all your favorite ebooks on you computer. Simply download the Kindle Desktop app and all your Kindle books will be available to read on your computer.
FREE BONUS with each purchase: Once you've purchased the Homemade Holidays: 25 Holiday  Sweets & Treats eBook you'll gain access to free printable recipe cards for every recipe in the ebook.
These printable recipes cards make it easy to print and attach the recipe to your Homemade Holidays gifts. These recipe cards are only available to owners of the Homemade Holidays: 24 Holiday Sweets & Treats ebook and will be available forever. Year after year you can make and share these fun holiday treats recipe cards.