Flour On My Face Weekly Meal Plan 9
Weekly Meal Plan 9 from Flour On My Face is here. One of my favorite family recipes is included in this weeks meal plan!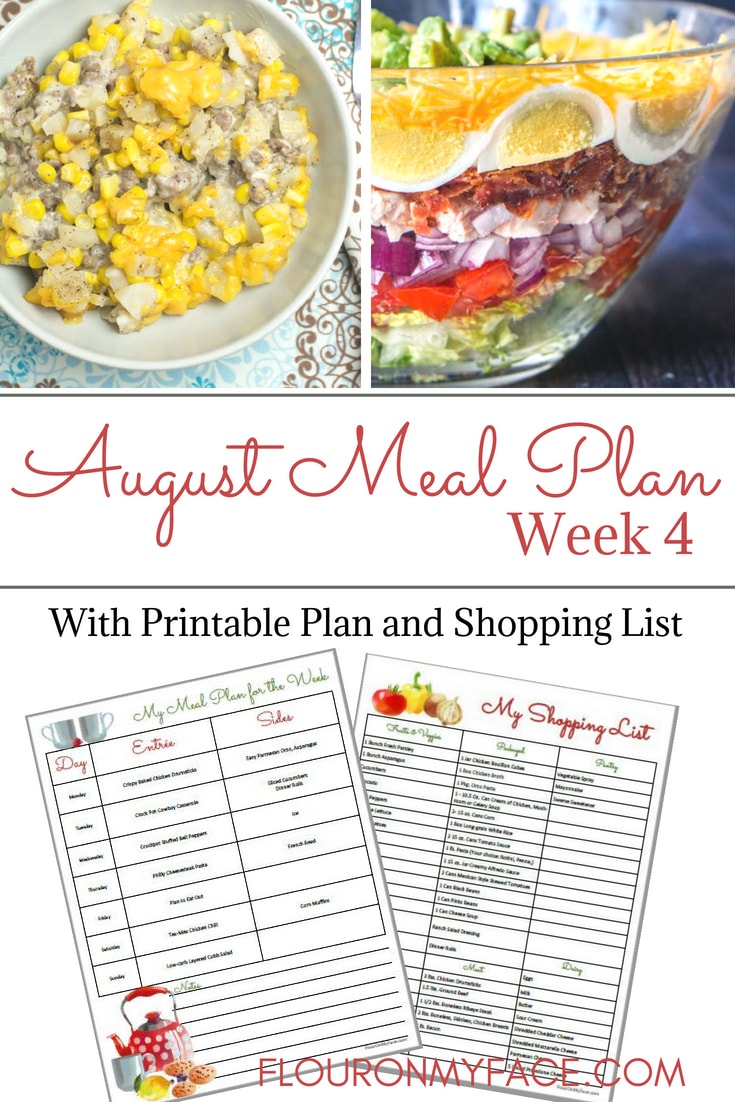 Meal Planning Tips
One of my best meal planning tips is to take advantage of the grocery store sales. Almost every week no matter which grocery store or supermarket you shop at there will be one meat item on sale at a great price.
Plan your meal plan accordingly. If ground beef is on sale buy enough to use this week and then buy an extra package or two if you can. When you get it home separate the ground beef into meal size portions.
For instance. If Baked Spaghetti is a family favorite bag up 1 pound portions, write baked spaghetti on the freezer bag and pop it in the freezer. This is an easy way to incorporate freezer meals into your meal plan.
Flour On My Face Weekly Meal Plan 9
Monday: Crispy Baked Chicken Drumsticks from Fluster Buster won't blow the budget during this last week of the month. Since drumsticks can be easily bought in bulk for low costs they make a great end of the month meal. Pair them with Easy Parmesan Orzo from It Is a Keeper for a filling side dish and some flash sauteed Asparagus.
Tuesday: My hearty Crock Pot Cowboy Casserole dinner recipe is perfect for the meat and potato lover in the family. Serve with sliced cucumbers and dinner rolls.
Wednesday: Stretch your grocery budget with Crockpot Stuffed Bell Peppers with Rice. These tasty stuffed peppers are a classic flavor that everyone will enjoy.
Thursday: Creamy, Cheesy, Savory goodness is what you'll find with this Philly Cheesesteak Pasta from It Is A Keeper, add some toasty, crunchy French bread and you'll discover no leftovers after you feed the family.
Friday: Plan to Eat Out
Saturday: This Tex Mex Chicken Chili is packed with flavor. It's one of my recipes for freezer meals, but you can always cook it right up too. Or, double the ingredients, freeze half for later and cook tonight's dinner as well. Serve with Corn Muffins.
Sunday: This Low Carb Layered Cobb Salad from My Life Cookbook is packed with protein! Making it a healthy, delicious, and filling all-in-one meal.
Flour On My Face Weekly Meal Plan Printables
Free Flour On My Face Weekly Meal Plan 9 Menu and Shopping List Printable
Free Flour On My Face Menu Planning Template Printable
Free Flour On My Face Menu Planning Shopping List Template Printable