Flour On My Face Weekly Meal Plan 7
Weekly Meal Plan 7 August Week 2 is here. This week's free weekly meal plan has dinner recipes everyone will enjoy.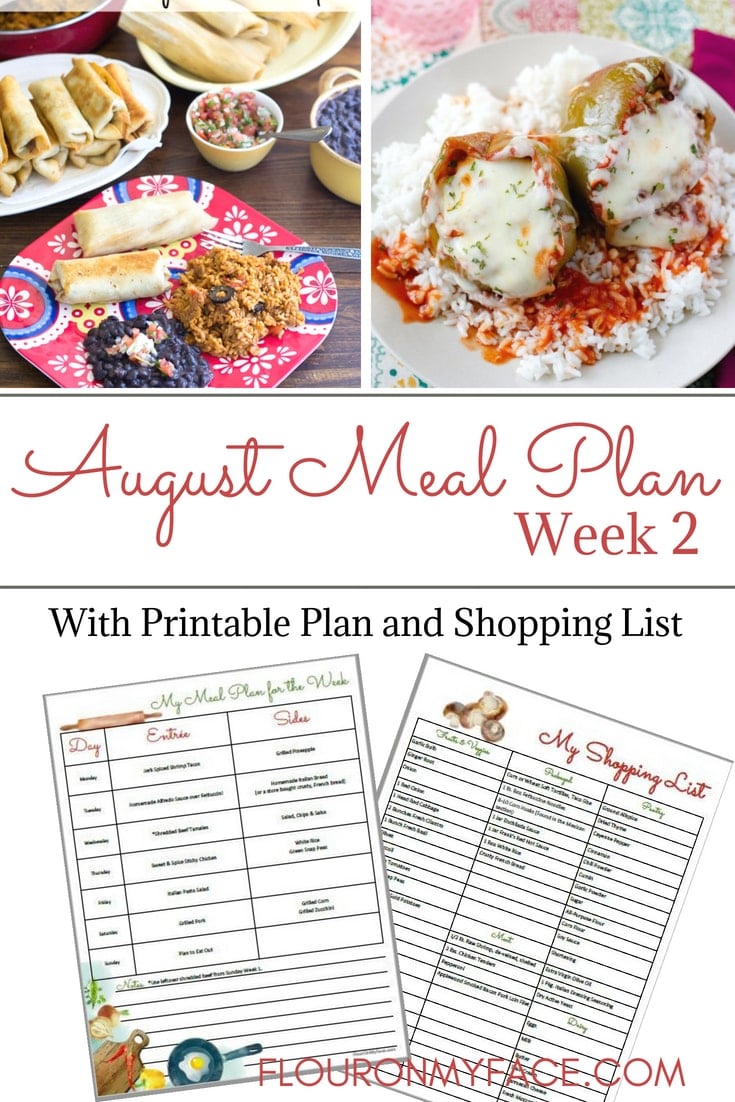 Meal Planning Made Easy
The Flour On My Face Weekly Meal Plan is here to make your life easier. A weekly menu plan in hand is going to make the stressful dinner hours so much easier for you.
Ask anyone who has been meal planning and they will tell you that knowing in advance what they are going to cook for dinner every day of the week has made their life so much easier.
Planning meals ahead of the time, buying the ingredients all at once (saves money on gas and impulse buys!) and having all the ingredients already in the house allows them to simply go to the freezer or refrigerator each day and pull everything out to cook at dinner time.
Flour On My Face Weekly Meal Plan 7
Monday: You're gonna love these Jerk Spiced Shrimp Tacos from Caroline's Cooking. You really don't have to have a side with these since they have Coleslaw on the tacos, but Grilled Pineapple from Recipes Just 4U accompanies so well with a fresh, sweet, taste. They'll quickly become a family summertime favorite.
Tuesday: Easy to Make Homemade Alfredo Sauce over Fettucini noodles is a full-flavored. Serve with Homemade Italian Bread, or buy a crusty French Bread at the store.
Wednesday: Using leftover beef from Sunday's (week 1) dinner you can make up these Shredded Beef Tamales, that are filled with incredible flavor. Serve with a Salad, and Chips and Salsa.
Thursday: Who doesn't love a bit of zestful Asian flavors? With Sweet & Spicy Sticky Chicken served with rice and green snap peas, you'll savor every bite.
Friday: On a hot summer day, Italian Pasta Salad from Crafty Morning is a great way to fill the family up, without the heat of a hot dish.
Saturday: Saturdays are the best time to fire up the grill and get the family outdoors. This Grilled Pork from Mess for less, along with Grilled Corn & Zucchini means you can cook the whole meal outdoors and keep the house comfortably cool for when you head back indoors.
Sunday: Plan to Eat Out
Flour On My Face Weekly Meal Plan Printables
Free Flour On My Face Weekly Meal Plan 7 Menu and Shopping List Printable
Free Flour On My Face Meal Plan Menu Template Printable
Free Flour On My Face Meal Plan Shopping List Template Printable