Flour On My Face Weekly Meal Plan 5
This week's Flour On My Face Weekly Meal Plan 5 is here. By now you should be feeling a little more comfortable and confident about planning your weekly menu.
If not, don't worry. It will all start to come together for you soon enough. It takes a little while to form a new habit.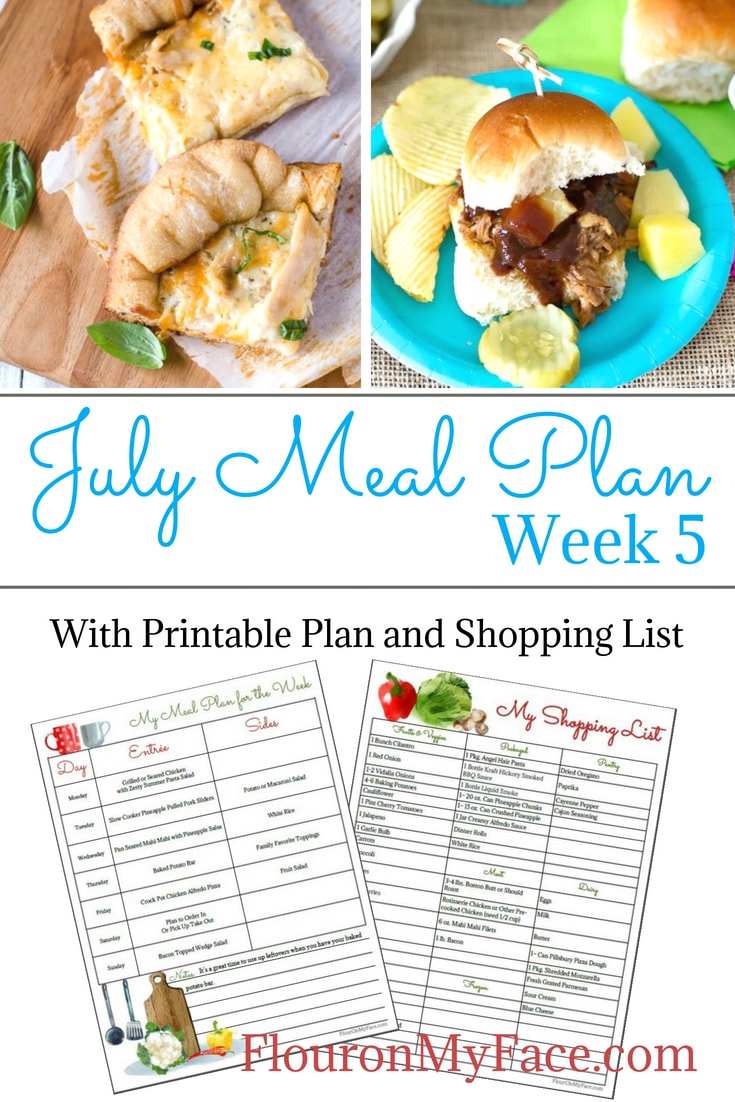 Need a few good reasons to start meal planning? Check out the How To Start Meal Planning post.
Here we are and it is the last week of July already! Before we know it the first day of school will be here. Then those crazy busy weeknights where we are running around crazy with the kids and all their after-school activities.
Meal planning can help you get dinner on the table during those crazy school days!
July Weekly Meal Plan 5
Monday – Zesty Summer Pasta Salad from We're Parents is a cold summertime salad that is sure to please. It can be a main dish, but if you need some more protein serve with some seared or grilled chicken breasts.
Tuesday – You can't go wrong with BBQ Pineapple Pulled Pork Sliders. You'll just want to make sure you have plenty of buns on hand cause they'll disappear fast when everyone wants seconds or even thirds. Serve with potato or macaroni salad from the deli and you'll love how easy it is to get everyone fed.
Wednesday – This one is full of summer flavor goodness! Pan Seared Mahi Mahi with Pineapple Salsa from Elena at The Rising Spoon. Add some rice to the plate and you'll be full in no time.
Thursday -Baked Potato Bar with all your families favorite fixings. This is a great way to use up leftovers, from pulled pork to grilled chicken, broccoli, and cheeses. Doing a baked potato bar is a cinch! Just cook the potatoes in the crock pot for the easiest meal ever.
Friday – For a fun Friday night twist, mix it up with this Crock Pot Chicken Alfredo Pizza. It's easy to make but it's also a tasty treat. This can certainly stand alone but you can serve a fruit salad on the side to help fill up kiddos or hungry teens.
Saturday– Plan to Order Delivery or Get Take Out
Sunday – A Wedge Salad like this one from Women Living Well looks fancy but is super quick and easy to make. Cook your bacon in the oven and you don't even have to worry about cleaning up the stove top and greasy fry pan. Just line a baking pan with foil, set a cooling rack on top, lay the bacon across the rack. Bake at 400° for 10 to 20 minutes until it reaches your desired level of crispiness. Then pat dry with paper towel, transfer to a plate, crumble for the salad. Clean up is a breeze.
Flour On My Face FREE Meal Planning Printables
Free Flour On My Face Weekly Meal Plan 5 Menu and Shopping List Printable
Free Flour On My Face Weekly Meal Plan Menu Template Printable
Free Flour On My Face Weekly Shopping List Template Printable
Want to check out all of July's Weekly Meal Plans?