Flour On My Face Weekly Meal Plan 3
Okay, how is it going? This is the 3rd week of the new Flour On My Face Weekly Meal Plan 3. Did you have an easier time planning out your weekly menu last week?
Still wondering how to meal plan? It's pretty easy once you get used to this new way of grocery shopping and planning a week's worth of meals before you go on your shopping trip.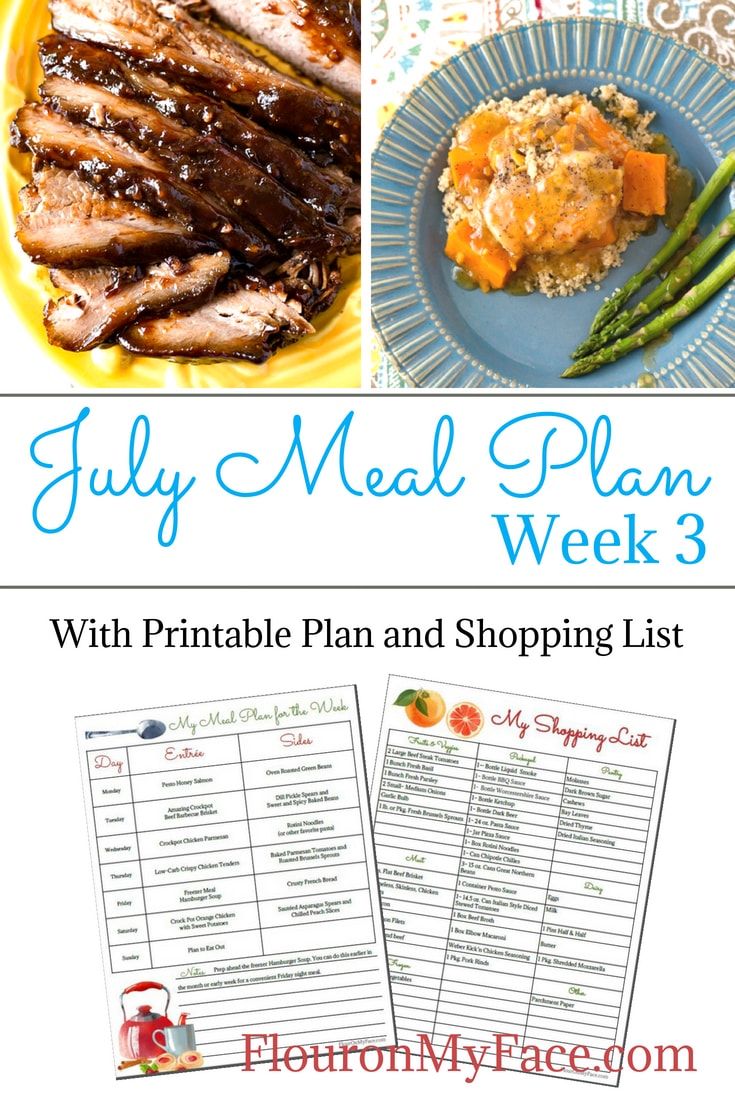 You can check out my How To Start Meal Planning post for more details on how beneficial meal planning for families can be.
July Weekly Meal Plan 3
Monday – Pesto Honey Salmon from Crystal and Comp. offers an easy, yet healthy meal. Enjoy it with these Oven Roasted Green Beans from Elaina at The Rising Spoon.
Tuesday – Traditional brisket takes hours on low heat. But, with a slow cooker, you can get the similar results without having to man a smoker. My Amazing Crockpot Beef Barbecue Brisket will give you all the flavor you crave without all the work. Add some Dill Pickle Spears, and these Sweet and Spicy Baked Beans from Christina at It Is a Keeper to round out a sumptuous summer barbecue meal, and I suggest, doing the beans in a second crockpot for 1-2 hours on high heat, or 4-6 on low.
Wednesday -No frying! That's what this Crockpot Chicken Parmesan is all about, because who wants to stand over a hot fry pan in the summer? Not me. Serve over rotini noodles or use your favorite pasta, or spiraled veggie.
Thursday – Combine these Low-Carb Crispy Chicken Tenders from Laurie at Successful Homemakers with Baked Parmesan Tomatoes from Crafty Morning and this simple Roasted Brussels Sprouts recipe from Mary at Living a Sunshine Life
Friday – You can prep this ahead of time, any time of the month because it's a Freezer Meal Hamburger Soup. It's both economical and convenient. Serve with a crusty French bread or dinner rolls.
Saturday– Chicken thighs are so affordable, and using them in this Crock Pot Orange Chicken with Sweet Potatoes makes for a tasty zing from the marmalade. For your sides flash sauté asparagus spears and serve chilled peach slices on the side.
Sunday – Plan to Eat Out or enjoy some leftovers.
Flour On My Face FREE Meal Planning Printables
Free Flour On My Face Meal Plan 3 Menu and Shopping List Printable
Free Flour On My Face Meal Plan Menu Template Printable
Free Flour On My Face Meal Plan Shopping List Template Printable
Check Out All of July Meal Plans