Flour On My Face Weekly Meal Plan 2
Here is the second Flour On My Face Weekly Meal Plan 2 for the month of July. Now if you didn't follow the Weekly Meal Plan 1 that is okay.
Like any new habit, it takes about 4 weeks to get into your groove. This week's weekly meal plan has something for everyone.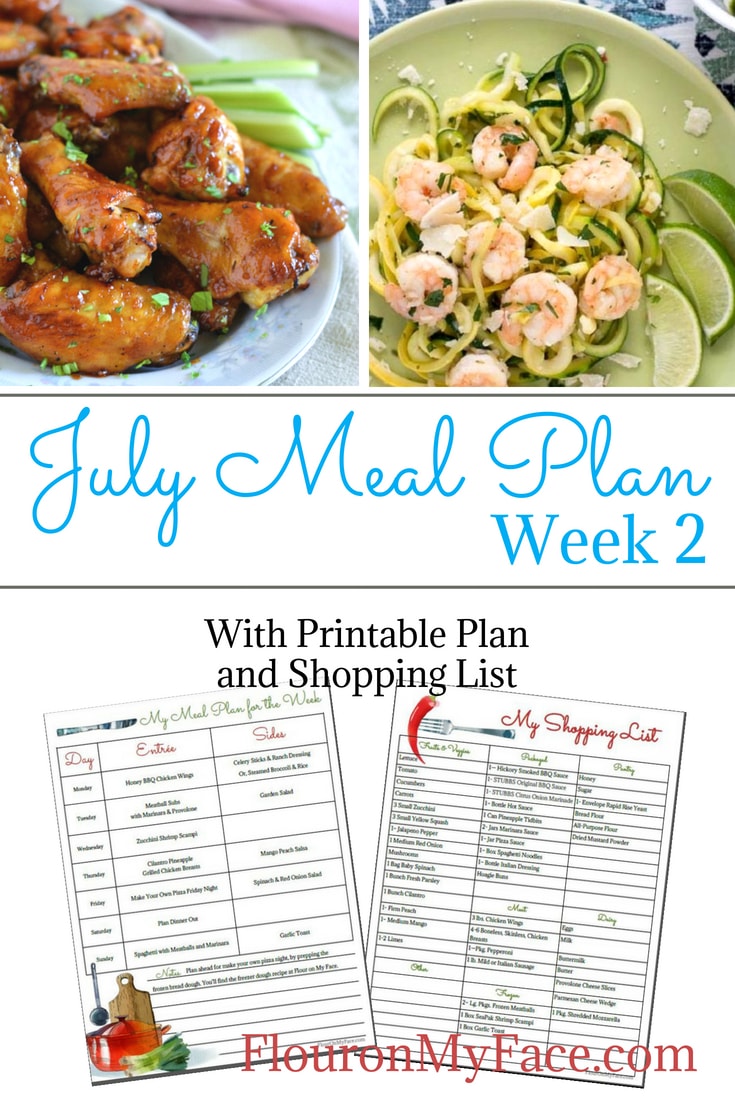 Flour On My Face Weekly Meal Plan 2 Tips
If you're still on the fence about meal planning head over to the How To Start Meal Planning post where you'll find all the reasons you should start meal planning today.
Free weekly Meal Plan 2 Printables
Scroll to the bottom of this post to find the free July Weekly Meal Plan 2 Printables.
You'll also find a blank Meal Plan template printable so you can customize the Meal Plan 2 menu to fit your weekly meal planning schedule.
You'll also find a blank meal plan grocery shopping list if you need it.
Flour On My Face Weekly Meal Plan 2
Monday – BBQ Chicken Wings are just the thing for a sweet and savory bite. These wings are so good you'll be licking your fingers.
So, on a really hot summer day, slice some celery spears and add some ranch dip and enjoy the cold, refreshing, deliciousness of a simple meal. Or, pair with steamed broccoli and rice for a complete meal.
Tuesday – Meatball Subs with Marinara and Provolone Cheese are so easy to throw together. In fact, if you buy a good frozen meatball, and a jarred sauce, you can start the meatballs and sauce in the slow cooker at midday on low.
By the time you are ready to eat, they'll be ready for some melt in your mouth goodness. Spoon into hoagie buns and top with provolone. Serve with a garden salad featuring all the ripe goodness of the summer.
Wednesday – On a hot summer day, no one wants to stand in a hot kitchen cooking over a hot stove or cleaning a lot of dishes. This one skillet, one-dish Zucchini Shrimp Scampi is sure to make everyone happy, especially mom since it requires very little prep and clean up.
Thursday – Get everyone outdoors for this evening meal. Light up the grill for some Cilantro Pineapple Grilled Chicken and serve with a fresh Mango Peach Salsa to keep the meal light.
And, of course, serve tall glasses of southern sweet ice tea. Maybe by the time dinners done everyone can have fun in the backyard catching fireflies.
Friday – Make your own pizza Friday night is a sure crowd pleasure, and brings everyone together for family time. Early in the week, you can prep ahead with frozen pizza doughs.
Let everyone add their own toppings. I've included standards on the shopping list, but be sure to add your family's favorites if they aren't already there. Serve with a simple spinach and red onion salad drizzled with Italian dressing.
Saturday– Plan to Eat Out
Sunday – It might be an old standby, but who doesn't love Spaghetti and Meatballs in Marinara Sauce, with Garlic Toast on the side? And sometimes, you just need simple and delicious so this fits the bill.
Flour On My Face FREE Meal Planning Printables